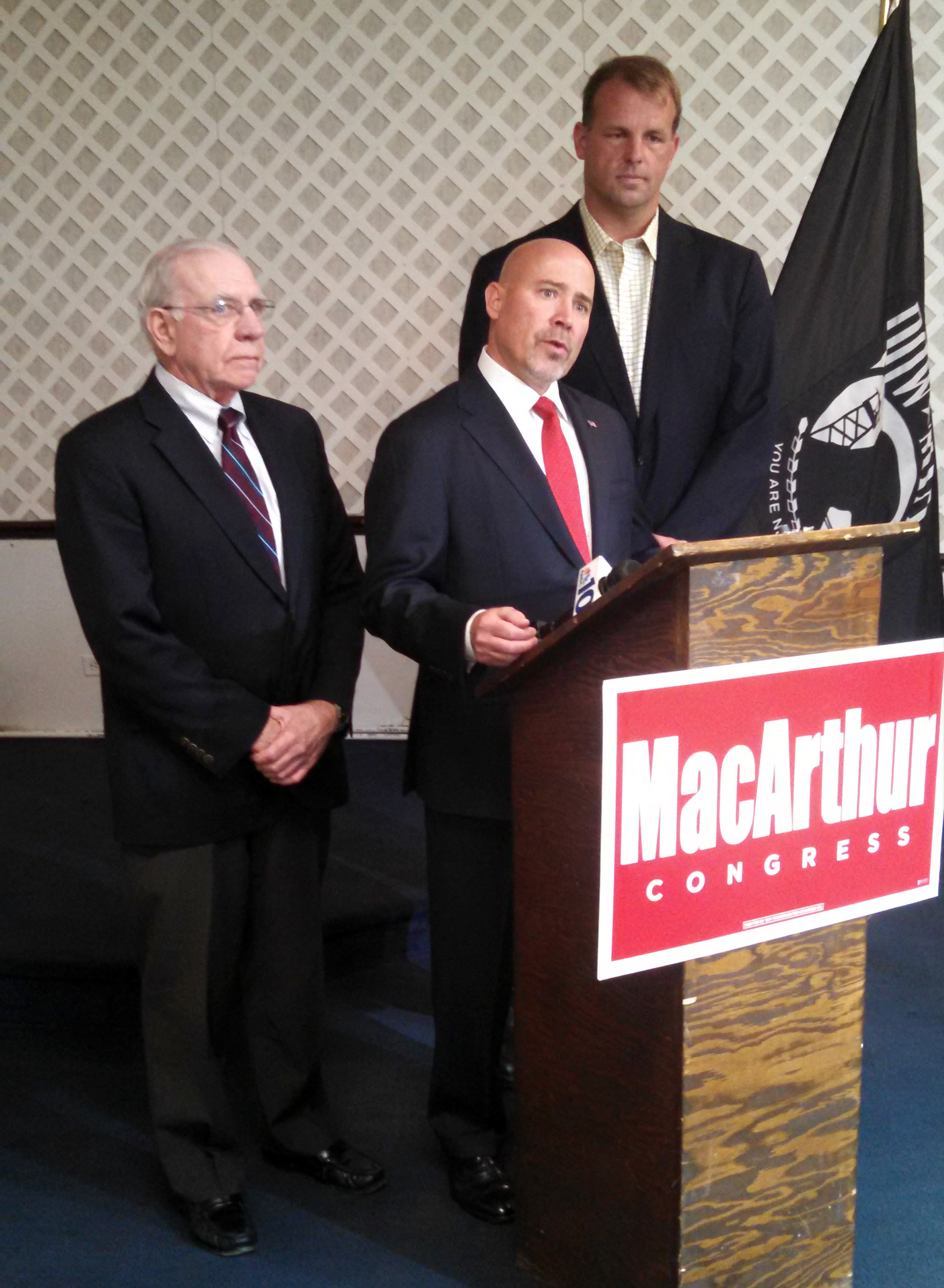 PEMBERTON – As the Ebola virus continues to ravage West African nations and incite nervous panic in the jittery but by most measures at-low-risk American public, third congressional district candidate Tom McArthur today offered his own assessment of the problem and blasted the federal government for dealing with the crisis "terribly."
"Well the federal government is dealing with it terribly, in my view. And I want to be careful not to throw gas on that fire because there can be a lot of political issues on both sides," MacArthur said at an unrelated press conference this afternoon. "This is about human lives. People are sick and dying, and that needs to be the focus. I believe there are some things we should be doing. Anybody who's been to one of the countries affected by Ebola I believe should be in a 21 day quarantine when they come back."
Ebola — a fluid-borne illness currently confined only to West Africa and Dallas, Texas — has bordered on international crisis as it continues to make headlines in the U.S. and abroad. Experts say countries outside West African nations like Liberia and Sierra Leone have little to fear when it comes to facing similar epidemics, but that hasn't stopped legislators in Washington — particularly Republicans — from urging that the federal government take strong action to thwart any possible outbreak of the deadly virus with travel bans to and from affected countries and, more recently, the appointment of an Ebola czar to coordinate the federal government's efforts.
The debate has also hit New Jersey's own Senate race, where U.S. Senator Cory Booker and Republican hopeful Jeff Bell sparred over the issue last week. Bell called for a ban on entry by foreigners with visas from the three countries hardest hit by Ebola, while Booker, who said he's been in frequent communication with public health and homeland security experts, argued that a travel ban is not the best approach to protecting Americans from the spread of this disease and "could actually make matters worse."
MacArthur, for his part, seemed to side with Bell and other Republicans, pointing out that screening and in some cases banning travelers going to and coming from affected countries would eliminate business and personal traffic and allow medical and crisis management workers, "people that can actually help to solve the problem," from moving between countries more freely.
"I know it's inconvenient, but I believe they should be for the health and safety of themselves and our population," MacArthur said. "I also believe anybody returning from any other country, whether they've been in an Ebola-affected country or not should be screened before they're allowed on a vessel coming back here. And I know some of that's being done but it's not being done with excellence everywhere. We need to insist as a country that no vessel comes here unless we're satisfied."
MacArthur appeared here today to kick off his 53-town "get out the vote for TMac" tour as he prepares to face Democratic challenger Aimee Belgard in the final leg of the CD3 race. He was joined by former Congressman Jim Saxton and retiring Congressman Jon Runyan.