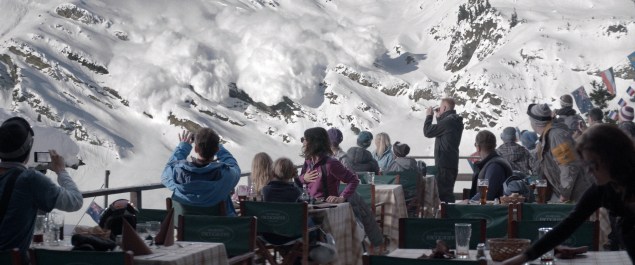 Lives are changed and a marriage is shaken after a critical incident during a five-day ski holiday in the French Alps in the Swedish film Force Majeure. Like Ewan McGregor and Naomi Watts in The Impossible, the attractive, bourgeois couple with two children on vacation in this film is also sidetracked by a natural disaster. This time, instead of a tsunami, it's an avalanche that gives award-winning Swedish director Ruben Östlund the raw material for a psychodrama that probes the darker survival instincts of so-called regular people. When faced with death, do they save themselves or the people they love?
---

FORCE MAJEURE ★★★
(3/4 stars)

Written and directed by: Ruben Östlund
Starring: Johannes Kuhnke, Lisa Loven Kongsli and Clara Wettergren
Running time: 118 min.

---
On their second day, a modern, enlightened, upscale family—handsome businessman father Tomas (Johannes Bah Kuhnke), wife Ebba (Lisa Loven Kongsli) and their two children—are enjoying lunch in a posh rooftop restaurant with spectacular views when their meal is interrupted by a rumbling sound from the mountain above. Tomas dismisses the threat of danger as nothing to worry about, but the thunderous noise grows in volume until they are in the middle of a terrifying "how-did-they-film-that?" snow slide that sends diners scurrying for safety in every direction. While Ebba tries to gather the kids together for safety, Tomas grabs his cellphone and runs away in fear, leaving his family alone and unprotected to fend for themselves. Unlike the life-altering tsunami in The Impossible, nobody gets injured or separated, tragedy is averted, and the crisis ends almost as fast as it started, but the psychological fallout from the incident leads to another kind of damage—a moral debate that plagues the rest of the family's holiday and has a toxic effect on the couple's relationship.
Tomas refuses to admit he did anything wrong. Ebba tries to shrug it off like nothing happened, but secretly feels irritated, deserted and betrayed. Inferring the man she married can no longer be trusted drives a wedge between their intimacy, while their conflict affects another visiting couple who question their own values and almost break up. Principles and codes we live by are examined as the husband questions the macho roles men are expected to play, loses his grip on self-respect, and surrenders to his own guilt. Mr. Kuhnke, as Tomas, has a powerful scene of uncontrollable sobbing that leaves the viewer trembling, and Ms. Kongsli, as Ebba, struggles with the nagging anxiety that the man she loves may not be the man she can trust. The cinematography is thrilling, the actors are marvelous and director Mr. Östlund shifts masterfully between violent confrontational outbursts of anger and moments of quiet, introspective feelings without words.
There's an ironic finale. As the tourists leave the resort and head for the station, the bus loses control and this time it's the wife who takes over, forcing the other passengers off the bus to walk. As they stand on the edge of the mountain watching the bus drive safely away, leaving them stranded, it's obvious that anyone can judge unwisely and act impulsively regardless of motive. Force Majeure is a good movie, but as thought provoking as the ending is, it peters out ineffectually, while the actual staging of the avalanche to the crashing movements of Vivaldi's "Four Seasons" seems vaguely comedic and disappointingly corny, if you ask me.