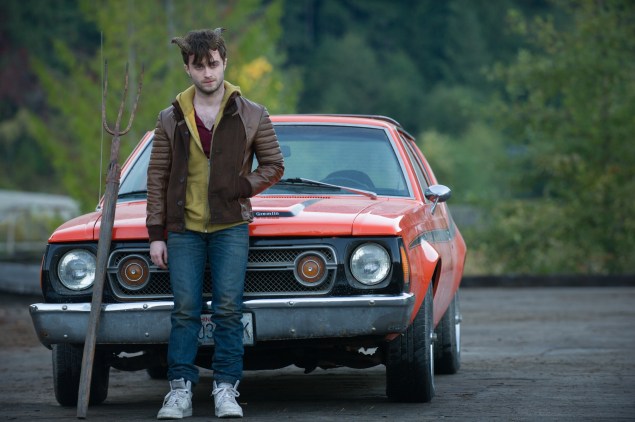 In his desperate attempts to prove there is life (and a career) after Harry Potter, Daniel Radcliffe has had diverse success on the stage, but he's accepted so many bad movie roles that patience is lagging. Following on the heels of the disastrous romantic comedy What If (a.k.a. The F Word) comes a load of silly supernatural corn called Horns that was unveiled at the 2013 Toronto International Film Festival and shelved for more than a year for obvious reasons. It is borderline unwatchable.
---

HORNS ★
(1/4 stars)

Written by: Keith Bunin
Directed by: Alexandre Aja
Starring: Daniel Radcliffe, Juno Temple and Heather Graham
Running time: 120 min.

---
Based on an overly imaginative book by Stephen King's son Joe Hill, it's a movie that doesn't exactly unfold as much as hyperventilate. It involves a tortured slacker in a small logging town in the Pacific Northwest named Ignatius "Ig" Perrish (Mr. Radcliffe), suspected of the brutal rape and murder of his girlfriend Merrin (a thankless role for Juno Temple), hated by his neighbors, crucified by the press and suicidal with depression. One morning, after a night of drugs, drinking and destroying a religious statue at the crime site, he wakes up with horns growing out of his forehead. Suddenly every person he meets spews a torrent of evil truths masquerading as confessions. Like Pinocchio's nose when the puppet lied, Ig's antlers grow longer as he uses them to control the behavior of everyone who regards him as a symbol of Satan. Even his mother reveals her ugliest secret—hoping he will go away and never come back.
This leads to heartbreak, which gives Mr. Radcliffe a chance to stop shaving, gnash his teeth, show off his hairy chest and over-act in a tirade of tantrums and nonstop suffering. It also affords screenwriter Keith Bunin and horror-flick director Alexandre Aja (The Hills Have Eyes, Piranha 3D) ample opportunities for cheesy special effects and scenes of forced humor, like forcing a trashy one-night stand to eat an entire box of doughnuts. One feverish critic in Toronto praised Mr. Aja's "maturing directorial vision." In Horns, that vision has developed cataracts.
If only the horns stood for something special—like some kind of valid point the film fails to make. But the direction is so dopey and unfocused that they drag in everything that can occur, from moment to moment, to keep this mess going. Guns. Pitchforks. Fire. Snakes. Hundreds of snakes! All manner of violence and plot twists that make no sense. It's all filler to seduce lovers of the surreal into thinking they're watching another Twin Peaks while distracting them from the fact they're actually watching a movie in which absolutely nothing is happening at all.
While Ig attempts to uncover the identity of who really killed his girl, his parents turn on him, his slacker musician brother goes down in a pool of blood, those damn snakes crawl in and out of people's mouths, Ig's best friend defense attorney turns on him, and the two macho cops who investigate rip off each other's uniforms and start making passionate love. Talk about making it up as you go along. The suspense found in even your most basic bottom-drawer thriller is nowhere to be found. Anyone who doesn't know who the killer is from the get-go flunks Agatha Christie 101.
Whenever some slight ray of coherence threatens to turn the gibberish into a murder mystery, the narrative reverts to confusing and disjointed flashbacks involving relationships with friends and lovers—a childhood prank in which Ig falls into a log jam, a traumatic breakup when the girl who stole his virginity confesses that she's sleeping around—that only drag out the film to an insufferable length. David Morse, Max Minghella and Kathleen Quinlan are among the criminally wasted talents on view too briefly to matter, and if there is any redeeming factor, it is Mr. Radcliffe's on-again off-again charm, which is tested to the limits in a running time of more than two hours. He's made some lousy movies, but the absolute nadir has arrived with Horns.