Inc. celebrated its 35th anniversary this fall with a party that was markedly hipper than one would expect from a magazine once associated with buying yogurt franchises. It felt like stepping back into the 1990s, when there was plenty of advertiser money to throw at magazine parties and the word lavish still had a positive ring.
"Yeah, that's Questlove. I don't know why, though," a middle-aged man told his companion. The Roots drummer, a last-minute sub for no-show Sky Ferreira, spun deafening tracks as the crowd danced and posed for pictures. "I think we don't belong in this crowd," another besuited man said.
Back when the magazine started, the word entrepreneur "was sort of a derogatory term," said Eric Schurenberg, the magazine's president and editor in chief. "An entrepreneur was seen as the guy who tried to sell you a hose when your house was on fire. It was like a synonym for opportunist. And now, it's like a synonym for hero of the economy, innovator, job creator."
At 35, Inc. is having a moment, its currency rising alongside the entrepreneurs it covers—no longer connoting a dowdy franchise owner in the Midwest, the new Inc. is a becoming a splashy and relevant title, positioning itself as a magazine that speaks to Silicon Valley start-up culture and those aspiring to join its ranks.
In January, James Ledbetter was named editor of the publication. On the surface, Mr. Ledbetter may seem like an unlikely shepherd to inject youthful swagger into the publication. The 49-year-old Yale grad is wonky and intellectual rather than slick and flashy. He dresses more like a reporter than an editor: just well enough to fit in at a cocktail party, but slightly frayed around the edges (when I met him at the swanky Inc. offices in 7 World Trade Center one Tuesday, I noticed that we both could benefit from taking our shoes to the cobbler).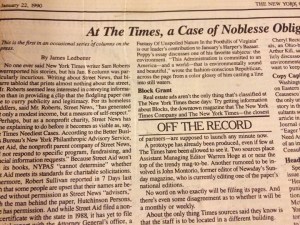 What's more, Mr. Ledbetter is better known for smart critiques than the reader service articles Inc. peddles. He made his name in the '90s as The Village Voice's "Press Clips" columnist (and wrote the Observer's first "Off the Record" column back in 1990). Even though he left media criticism in an official capacity when he left the Voice 16 years ago, many people who got their start in 1990s New York media remember Mr. Ledbetter's weekly column, which scrutinized what was then a still thriving industry. Mr. Ledbetter brought a sharp analytical eye and dissected editorial decisions at the city's top publications, transforming a gossip column in a lefty paper into a watchdog for journalistic standards.
"He's like a wunderkind. Everyone thought of him as this young kid, even when he wasn't, because he had this press column so early," said writer Alissa Quart, who first became friends with Mr. Ledbetter on the Voice's picket line when the union shop went on strike during his tenure.
Shortly before he left the Voice in 1998, this newspaper called him "the city's most prominent leftist media critic." ("That's awfully nice, but the fact is that very few are vying for the title," he wrote in his final dispatch, where he envisioned "a fully functioning Internet" where it would make sense to publish his column multiple times a week.)
And few editors have as keen a sense of the fragility of start-ups as Mr. Ledbetter, who has logged many years both writing about them and experiencing their failures first-hand at media companies that went bust. "Start-ups are intrinsically hard, which is one of the messages of this magazine," said Mr. Ledbetter. "And I've seen my share of a few, on all sides."
In 1998, Mr. Ledbetter left The Village Voice after eight and a half years to become the New York bureau chief for The Industry Standard, a San Francisco-based start-up magazine that, like the tech boom it covered, burned bright before it burned through its cash.
In 2001, after he moved to London to run the Standard's European coverage, the magazine folded. Mr. Ledbetter chronicled the experience in Starving to Death on $200 Million, a book he wrote in the months after the Standard's demise.
"The experience taught me tons, not only about business reporting and managing a staff, but also about the importance of not buying too much hype, even when it comes from the people running your own company," Mr. Ledbetter wrote in the epilogue.
Mr. Ledbetter, who is the author of several books, (his most recent title, published in 2011, is about Dwight D. Eisenhower and the military industrial complex and he edited a volume of Karl Marx's journalism) cautioned that Starving to Death is not, in his opinion, his best. He signed the contract in August 2001 to write shortly after the Standard folded. Just weeks later, the September 11 attacks made an obituary of a dead magazine feel beside the point. But Mr. Ledbetter had a deadline.
After the Standard years, Mr. Ledbetter came back to New York to work for Time Inc., first as a senior editor at Time, then at Fortune. "When I worked at Time, I was very conscious of the fact that I was producing the product I once would have critiqued, and in some ways that was very helpful," Mr. Ledbetter said.
In 2008, he left to run another media start-up. The Big Money was Slate's stab at a stand-alone business site, pitched as a general interest site for people who wanted to read about finance but didn't necessarily work in it.
But the site was ill-timed and closed after two years. It launched on September 15, the same day that Lehman Brothers folded. The 2008 financial collapse may have given writers plenty of material, but it made it hard to monetize the content. "We had a lot of great plans and a lot of great talent, but we were just doomed," Mr. Ledbetter said.
He left Slate for Thomson Reuters in 2010, where he became the wire service's first Op-Ed editor. It was a good time at Reuters, where the wire service attracted top talent to start Reuters Next, an ambitious consumer-facing website. But the project was ultimately cancelled before it even launched, scattering many of its high-profile hires, including Mr. Ledbetter.
"Waving my hanky a misty goodbye to the best editor I've ever written for," Reuters' often-acerbic media columnist Jack Shafer tweeted when Mr. Ledbetter announced his departure for Inc. last January.
When asked about that tweet, Mr. Ledbetter said he was very moved, but, more modestly, offered that the praise may have had something to do with the fact that he had also been Mr. Shafer's most recent editor.
But the sentiment is one shared by many who have worked with Mr. Ledbetter. Multiple former colleagues and writers who spoke to the Observer were quick to praise him, but, as journalists who are usually on the other side of the conversation, struggled to think of anything that didn't sound like pure positive spin.
"I am not objective," warned Guardian finance editor Heidi Moore, who freelanced for The Big Money. "He is one of the best editors I have ever worked with. He would pick up on the things we'd say casually that we didn't even know were journalism, and he'd make it journalism."
"He's an ideas machine, generally enthusiastic about the work, has a great hand, he can see around corners. Sometimes, he seems to know what you are going to write before you do," Mr. Shafer elaborated to the Observer. "He's a fun gossip, but not malicious. He's one of the good boys. And he's a good drinker." 
And it's a good time for Inc. Morningstar CEO Joe Mansueto bought Inc., together with the business culture title Fast Company, in 2005 from German publishing company Gruner + Jahr. Although the magazine has been somewhat under the radar in media circles, it has managed to retain its loyal base and benefit from the wider economic trends.
"A lot of the dynamism and growth in the economy is small businesses and start-ups," Mr. Ledbetter said. "That's why Inc. is doing so well. There's a profound hunger for knowledge, experience and advice."
The print magazine, which got a redesign and a magazine award last year, is up in ad pages. Meanwhile, the Inc. 5000, which started out as just 100 in 1981, has turned into a goldmine, via conferences, application fees and other brand extensions like logo packages, framed awards and posters.
The founder of a start-up who made the list told me that his company had spent almost $10,000 to do so. But, he assured me, it was worth it. "We get to network at parties like this," he said, gesturing to the wall-to-wall crowd at the 35th anniversary event. 
Privately owned companies have to verify three years of revenue growth in order to apply for the Inc. 500 and Inc. 5000 lists, which are printed in the September issue and culminate in an annual three-day conference that costs a minimum of $1,500 a head to attend. Although the company doesn't disclose revenue figures, it did say that applications are "many thousands" over the 5,000 mark and have increased 36 pecent over the past three years.
Owing to the vetting process, Mr. Schurenberg called the list "impossible to reproduce" by competitors. "You would have to get 5,000 growing companies to tell you the stuff that they are loathe to tell their spouses," he said.
The Inc. 500 conference, which will be held at a Marriott resort in Phoenix later this month, may be the highest profile event, but it is far from the only one. At a time when media companies are increasingly pinning their hopes on the conference business, Inc. seems to have that piece figured out as well.
The challenge for Mr. Ledbetter is to beef up the web presence while retaining the targeted identity of the magazine.
"I saw some holes that needed to be filled, but there was no profound need for change," Mr. Ledbetter said. "I see my role as getting the most out of the people that we have, helping people do their best work and bringing in some fresh voices and fresh talent to make it really sing."
Many of his fans already profess to see his influence at Inc. In April, he hired Fortune's David Whitford as editor at large and former BusinessWeek media columnist Jon Fine as an executive editor.
Mr. Ledbetter's reputation may help Inc.'s standing in New York media, and the qualities that make Mr. Ledbetter popular at magazine parties carry over to the more ceremonial duties as well.
During conversations, Mr. Ledbetter peppers his observations with flattering phrases like "good question," just often enough that it seems genuine. "I like him because he really seems to like me," one journalist who has met Mr. Ledbetter a handful of times volunteered.
At a recent cocktail party to kick off Inc. Women's Summit, a roomful of female entrepreneurs, all of which had shelled out nearly $500 for a one-day conference, schmoozed, business cards at the ready, high up in the Bank of America tower.
Walking in toward the end of a brief panel about the importance of networking, Mr. Ledbetter was approached by two attendees who had flown in from Berlin for the summit. They were big fans of "The Inc," as they called it. One of the women, who was visiting New York for the first time, showed us her iPad, where she had a stream of up-to-date stories from the magazine saved to Pocket. She explained that it was her feel-good reading and urged Mr. Ledbetter to bring Inc.'s coverage to Berlin.
As we walked away, he marveled that the two had made the trip for a one-day conference. "You should bring them to a sales conference," he jokingly told publisher John Donnelly.
Up next was Michelle Shemilt, the founder of an undershirt company called Nudy Patooty, with whom Mr. Ledbetter had a seemingly endless, far-ranging host of anecdotes and observations to share. There was the sweet from an East Village bakery that the name Nudy Patooty recalled, some thoughts on Canada's former finance minister, the hazards of accepting funding, the logistical difficulties of outsourcing to China, and so on.
"This is the kind of story we love," he told Ms. Shemilt. It was too soon to include in the magazine or the magazine's power lists, but he handed her a card and told her to stay in touch.
Mr. Ledbetter appeared to be in his element, overlooking Manhattan amid the conversation and cocktails, overseeing a publication that seems to have staying power. But then again, maybe he was just enjoying the moment.
"Come on, Bloomgarden-Smoke," Mr. Ledbetter said, grabbing a shrimp from a passing tray and urging me to do the same. "It doesn't get better than this."