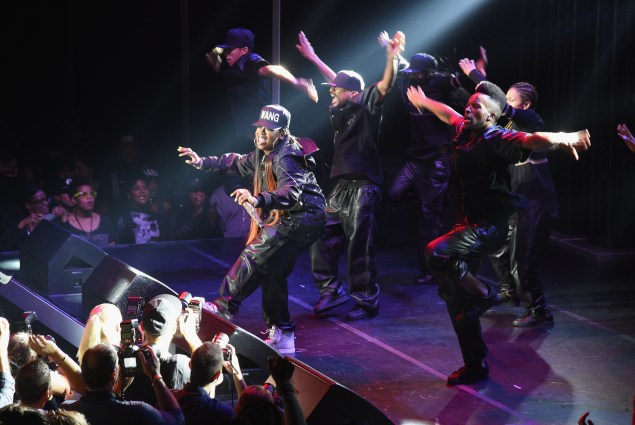 It's safe to say a good chunk of the crowd at the Alexander Wang x H&M presentation in Harlem last night had already perused photos of the entire collection online when they were released in the morning. So why schlep to 196th Street to look at clothes you've already obsessed over for an entire workday?
Well, this is not to exaggerate, but an Alexander Wang show is a life-affirming production. It will make you want to go home, blast trap music and write, paint, sculpt, film, just do whatever you can think of in order to somehow replicate the exuberant burst of manic creativity that comes across as his models walk the runway. You won't end up going home at any respectable hour, though. That same energy will buoy you through several hours' worth of chatting and shopping and dancing and sipping. Luckily, though, the burning creative feeling will stay with you for a few days, like the afterglow of a good trip. Everybody wins.
Also, at last night's event, the clothes were going to be on sale after the show, a full three weeks before they hit stores. And Missy Elliott was rumored to be performing. Those two factors didn't hurt. It's safe to say this was the hottest post-Fashion-Week ticket in town.
With this collection, the designer (and H&M, presumably) wanted to "tackle sports at night," Mr. Wang punned in a press conference yesterday. "I love this idea of when you're out dancing and running around at night, you sweat. You don't just sweat when you're at the gym or playing sports. You need to move, be active."
It's safe to say everyone in attendance worked up a sweat by the time they'd journeyed to the Washington Heights Avenue Armory. Getting there was kind of a schlep. Still, after wondering why Mr. Wang can never just hold his shows in some Meatpacking District warehouse like a normal prolific and widely worshiped streetwear designer, we realized this was an appropriate choice for the theme. After all, anyone who played sports in their youth will recall having to travel far and wide to get to the biggest, most important matches.
Around the corner from the entrance, in a separate part of the Armory, some kind of children's sporting event was going on. Kids were shrieking and laughing, a dad with a friendly white dog on a leash was holding a door open. Playtime at the rec center: the other kind of sports at night.
The venue itself was an actual track and field competition space, which had been Wang-ified for the presentation. Everything was black — and almost everyone was dressed in black — and the raised platforms in the middle bore numbers. There was more than one trampoline, which would be used by buff acrobats (and drunken revelers for a hot second) later on.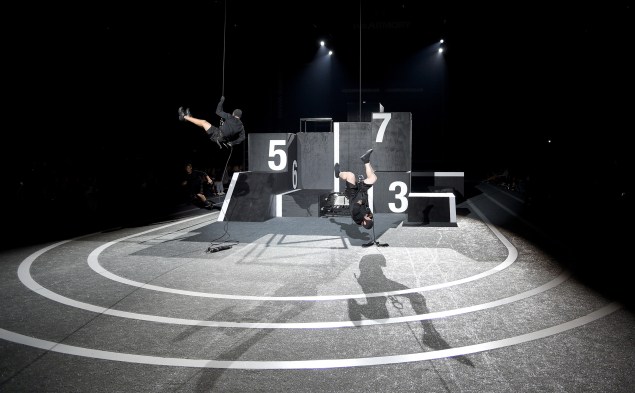 A man was overheard saying matter-of-factly, "London is very permissive if you want to have your own weird body type." Guests milled around drinking prosecco and taking selfies with the giant foam boxing gloves that the waitstaff were handing out on trays.
Models wearing the new line were milling around and posing for photos. Hanne Gaby Odiele, a Belgian model who lives in New York City, was sporting an incredibly puffy and shiny silver parka.
"This jacket is heaven," she said. "Inside, it's like you're surrounded by a cloud. It's really warm."
She enthused that the line was "pretty fucking amazing" and perfect for off-duty activities such as food-shopping and running errands, but could also do well at a party (those night-time sports again). Pointing to another model, she said, "Look at those pants. Pretty fucking sweet."
The actress Kate Mara was wearing one of the line's dresses, a black smock with sheer panels. It was "super comfortable," she said, and "very classic Alexander Wang." She was excited about the collaboration because she's also a huge fan of H&M.
"You wander in there and you go in looking for a T-shirt and you leave with 100 other things," she said. "It's kind of a bad and good thing. Alexander Wang can be a little bit more expensive so I love that it's more accessible at H&M."
As for the activewear trend, Ms. Mara said she's "all for it."
"I used to be a total, like, heels girl all the time," she said. "A few years ago I was like, 'Why do I wanna do that? I just want to be comfortable.'"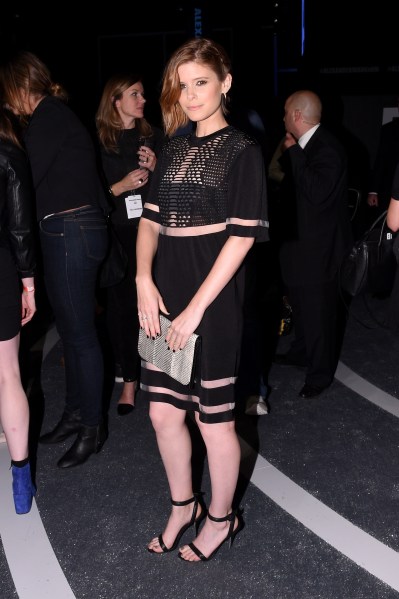 Then, we were asked to take our stadium-style seats so the show could begin. As trap music — a favorite genre for Mr. Wang's presentations — boomed from the speakers and shook the room, two muscular acrobats were lowered to the ground from the ceiling on ropes. Then there were four of them, and they were all bouncing and ricocheting off the set pieces in the middle of the room as audience members oohed and ahhed.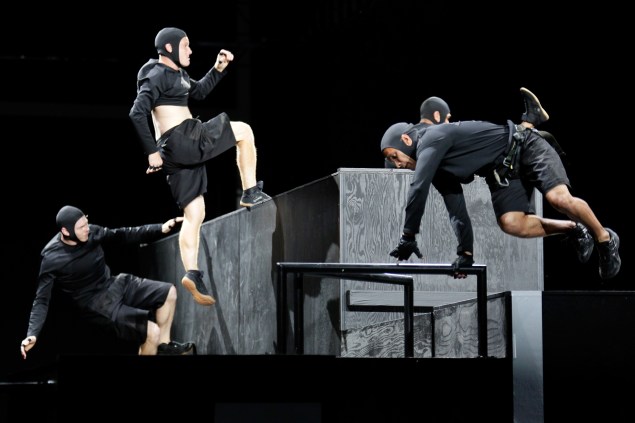 Then the music began, and the stunning Joan Smalls appeared at one end of the semi-oval-shaped catwalk. The models sported leggings, printed minidresses, fashionably bulky crop tops and, on the men, even bulkier muscles.
Mr. Wang did us all a favor by leaving a few of the male models shirtless, save for matte black stripes that looks like fabric had been affixed to their skin.
Models wore sporty accessories, some of which were part of the line, like the boxing gloves. The football face masks and wrestling headgear were not for sale.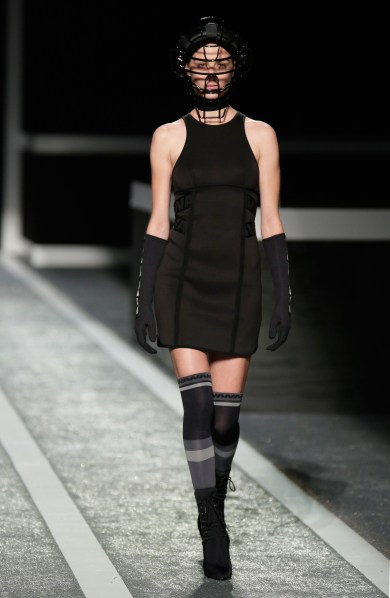 After the show ended and Mr. Wang took his victory lap around the runway, a stadium's-worth of silver confetti spewing from an unknown source, the waitstaff whisked bars into the middle of the runway as the guests got up from their seats and filled the runway area once more.
No one had announced that the door leading to the pop-up store full of every garment from the show was located in the back of the room, but somehow, we knew. And like activewear-starved zombies, we formed a clumpy line, staring dead-eyed into the distance, clutching more champagne while awaiting our turn to shop the thigh-highs, jackets and sweatshirts that awaited us.
On the other side of the door, shoppers were running amok, thrusting their arms into racks of clothes and fishing around until their preferred sizes turned up. Goggles, keychains and beanies that said WANG flew off the shelves. There was a convivial feeling in the room, as strangers helped each other with zippers and handed over the sizes they didn't want. Models like Ms. Smalls and Karlie Kloss emerged from the dressing room to shop alongside the guests.
http://instagram.com/p/uPDZAOIMw2/?modal=true
Then, back in the party room, the musical performances started. The blue-haired rapper Sharaya J opened. She gave a spirited performance with a ton of energy, which can't be easy when you're opening for Missy Elliott's comeback performance.
When the iconic rapper finally took the stage, she demanded that everyone put their phones away so they could focus their energy on dancing. It didn't quite take the first time, so she paused one song midway through to shout, "Did y'all come to be cute or did y'all come to party?" A tough choice for this crowd of fashionistas, to be sure.
As her performance continued, she moved through her most loved singles of the 2000s — "Gossip Folk," "Pass That Dutch," "Work It." Mr. Wang even hopped onstage to dance with wild abandon and a huge smile on his face, making him seem like the most charming and down-to-earth fashion designer ever to grace the planet.
At times, her backup dancers threatened to steal the show. They donned Scream masks at one point, and did an Irish jig at another. Ms. Elliott didn't seem to mind, though; after she felt the crowd hadn't been attentive enough to their jig during "Pass That Dutch," she stopped the show, rewound the track and told everyone to watch while they did it again.
Ms. Elliott's near-constant demands of the crowd didn't come off as bossy in a bad way, though. Instead, they served as a reminder that Missy Elliott is a boss and that's why we love her.
After her performance, guests tried to prolong the evening by gathering in groups, hitting the bar again, and for a few daring and activewear-shod souls, jumping on the trampoline. But then we gave up and trudged toward our chosen modes of transport; this reporter took one of the provided shuttle buses that was heading downtown. As the bus rocketed down the West Side Highway, with endless skyscrapers, bridges, cars and other manmade miracles floating by, we had to hand it to Mr. Wang: sending your guests home with a panoramic view of New York City, rather than the usual 10-minute downtown Uber ride, is a pretty boss move.