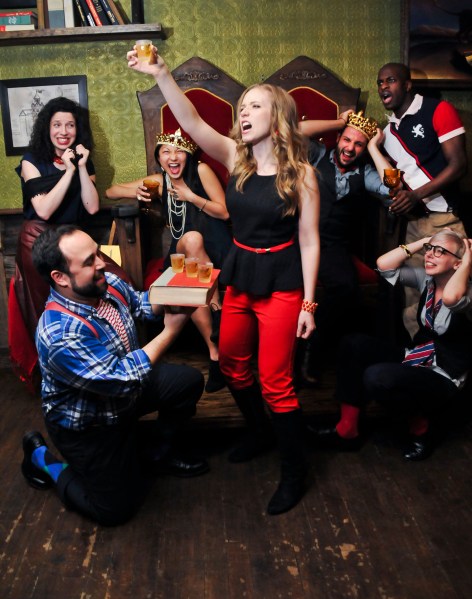 A 17th-century play may seem like an odd choice for a bachelorette party's entertainment. But when Macduff goes by MacDaddy, the Bard's a badass. Throw in Matthew McConaughey's accent to "let not light see my black and deep desires," and Macbeth is the new (old) Magic Mike.
In Drunk Shakespeare, an unconventional Elizabethan experience taking place seven times a week in Hells Kitchen, people recite some of the world's finest dialogue while under the influence. If an actor forgets his line, he can blame it on the alcohol. After all, he's had a drink before the show, four shots onstage, and two more plus a mystery gulp as the plot progresses. "Bring forth men-children only" may be easy enough to say, but after some gin, whisky, or tequila, "thy undaunted mettle should compose nothing but males" may not slide off the tongue so easily. Thankfully, whoever's drinking on a given night has his four sober co-cast members to keep him in check—if he doesn't get them drunk by proxy.
"It's like producing 8 plays a month because depending on who's drinking, it's completely different," Scott Griffin, Drunk Shakespeare's producer, said.
The strapping young Aussie was looking for a show when he attended Sh*t-Faced Shakespeare at Fringe Fest last year. He fell in love with the idea of couplets and cognac, but unlike the Edinburgh show, he wanted to modernize and scandalize.
Fate brought Mr. Griffin to the doorstep of Three Day Hangover, a New York City theater company that tends to thespian-ize in bars. Together, they posted a casting call and received 500 responses within the hour. After a week, 1300 Shakespeare enthusiasts had applied for ten spots.
Some actors showed up for auditions with libations in hand. They chugged a beer before jumping into "to be or not to be" or tried to bribe the production staff with whiskey samples. In the end, though, the lucky few were chosen for their talent, not their alcohol tolerance.
"It's really critical that if we don't do the drinking and we don't do the improvising, people would still be like, 'that is very high quality,'" Mr. Griffin said.
One of Drunk Shakespeare's original gang of 10 was a recent grad of the Ivy gates, but even his college app process couldn't prep him for this level of selectivity.
"We used to joke that it was harder for him to get into Drunk Shakespeare than it was to get into Harvard," Mr. Griffin laughed.
Once the cast was finalized, the hilarity ensued. When Drunk Shakespeare opened last March, there were no expectations, just booze. Now, after 175 performances, there are still no expectations, but, as one might expect, there are a helluva lot of stories.
"It's all of the stereotypes that you see when people are drinking. Some people are more extroverted, some people are more serious. They really want to do it, you know, they really want to do their monologue," Mr. Griffin said with feigned belligerence.
As the drunk actor takes on the role of director, anything can happen. The evening's host may get a D shaved into his chest hair by a spectator. One cast member might have to down a pint of milk. The next night, as retribution, the now-drunk actor could make his friend drink another pint of milk mixed with Red Bull.
If the viewers are particularly rambunctious, they can get in on the action, too. For $500, Joe Schmoes transform into the royal couple for 90 minutes. They're served caviar and chocolates while on a throne, crowns atop their crowns. During one performance, a middle-aged husband and wife took their sovereignty by storm. After having a three-way makeout sesh with Macbeth onstage, they made their regal exit to the bathroom for a quickie.
Though Drunk Shakespeare's rowdy troubadours have sought shelter in Quinn's Bar for the past few months, they're moving to their own venue in time for Halloween. In their new quirky library/bar, attendees surrounded by novels will be able to grab a drink from behind a bookcase before plopping on the sofa for the big event.
Drunk Shakespeare's really about having a ball, but if the actors are just sloppy enough, they may get noticed. The cast is comprised of young, non-equity actors looking for their break, and some have found it. Lucas Callhoun, for example, is joining The Elephant Man as Bradley Cooper's understudy, and other Drunk Shakespeare alums are now touring regionally.
The success of Drunk Shakespeare's network attests to its ingenuity. It's a crowd pleaser that attracts everyone, from screaming bridesmaids to 80-year-old retired professors. English teachers agonize that their underage class can't take a fieldtrip to 43rd and 8th.
And of course, the Shakespeare cult always makes an appearance.
"There's this whole fan girl equivalent of what you see with Star Trek with the world of Shakespeare and now, I get it more," Mr. Griffin said.