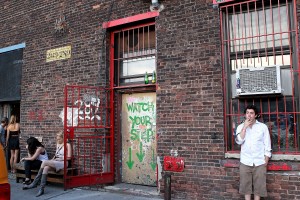 "You're probably getting used to hearing news like this in Williamsburg," begins a blog post by Brooklyn music venue Glasslands, announcing its sudden closure.
The much loved venue is set to close its doors New Year's Eve, making it the latest casualty of the Williamsburg music scene. Nearby venues have already taken a hit: 285 Kent closed back in January and Death by Audio announced its closing in early September, leading Brooklyn Vegan to speculate that new-neighbor Vice is the reason for the uproar.
As the Observer previously reported, Vice has been "gradually eating the neighborhood" since its move into Williamsburg back in 2001. Then located on North 10th Street, they bought out thrift store Beacon's Closet and a bus depot to accumulate 30,000 feet of space. They moved to their new location on South 2nd Street in July of this year, doubling their square footage to 60,000. At the time of the move, there were rumors that the media conglomerate might price out local venues, Glasslands and Death by Audio in particular.
Glasslands (described previously by Vice as "not expressly a shithole") refers to itself as a "psychedelic venue partyhaus," whose stage has held bands like MGMT, Bon Iver, Disclosure, and Alt-J to name a few. It operated its space at 289 Kent Ave since 2006, before welcoming Vice to the area.
When 285 Kent, a well-known DIY venue, closed back in January–several months prior to Vice's arrival on the block–it was eulogized in Pitchfork and the New York Times, among other publications. Vice reacted by penning an article entitled "Why the Closing of 285 Kent Doesn't Matter." Reasons included: the small group of clientele who frequent the venue, the fact that Williamsburg was becoming too expensive anyway, and that DIY venues have "the average life expectancy of an adult no-kill shelter dog."
As of yet, Glasslands has made no comment as to why they're closing. As Brooklyn Vegan writes, "Whether this is a direct result of Vice moving in to the building is still unclear, but it's hard to say it isn't at least related."