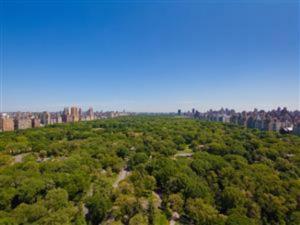 It costs a pretty penny to live on Easy Street.
Six New York City ZIP codes, along with one each in Long Island and New Jersey, are in the top 10 on Forbes magazine's list of the country's priciest real estate.
Though Atherton, CA, part of sumptuous Silicon Valley, topped the list, New York makes its first appearance in the second spot. Sagaponack, LI (11962) boasts homes costing in excess of $6.4 million.
Manhattan ZIP codes held the next few places in this moneyed inventory.
Soho was number 3 on the list, with homes costing around $6 million. Two Upper East Side neighborhoods, with properties averaging $5.9 and $5.3 million price tags, were fourth and fifth.
Jersey isn't quite as dirty as it's made out to be either–Alpine, NJ (number 6 on the list) has an average home price of $5 million.
Aspen, CO, home of well-heeled skiers is seventh, while 8-10 is all Manhattan–Chelsea, the West Village and Houston Street, to be exact.
One thing many of these moneyed neighborhoods (particularly the Upper East Side) have in common is their proximity to Central Park- people living in opulent surroundings want nature views.
"When you have that much money, what you want is direct views of the park," Oren Alexander, vice president of Douglas Elliman, told the New York Post
"I have two clients right now who will spend $40 million, and all they want is 5,000 to 6,000 square feet facing the park, on Central Park West or Fifth Avenue. And there's nothing."
So people living in the lap of luxury want to stay where they are. Is that a huge surprise?