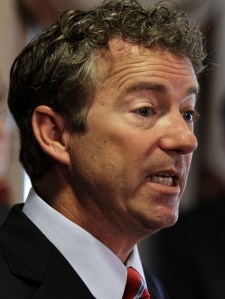 Earlier this week, two potential Republican candidates for President in 2016, Jeb Bush and Rand Paul, attacked Hillary Clinton because of a comment she made while campaigning for Democrats in Massachusetts. While trying to help Democratic candidate for Governor Martha Coakley in her close race, Ms. Clinton said, "Don't let anybody tell you that it's corporations and businesses that create jobs. You know that old theory, trickle-down economics. That has been tried, that has failed. It has failed rather spectacularly. One of the things my husband says when people say, 'What did you bring to Washington?' He says, 'I brought arithmetic.'"
As would be expected, this comment provoked enthusiastic rebuttals from several Republicans. Mr. Bush a former Governor of Florida who is mentioned with increasing frequency as a strong Republican candidate for 2016, responded to Ms. Clinton by saying, "This last week I saw something that was breathtaking. A candidate – a former secretary of state who was campaigning in Massachusetts, where she said don't let them tell you that businesses create jobs. The problem with America today is not enough jobs are being created, but they are created by businesses."
Mr. Paul's remarks at a recent campaign event for embattled Kansas Republicans Sen. Pat Roberts and Gov. Sam Brownback were equally stinging. "Hillary Clinton comes up and she says, 'Businesses don't create jobs.' Anybody here think businesses don't create jobs? I'm here today to endorse Pat Roberts and Sam Brownback, because you know what? They know that businesses do create jobs, and I hope you know that too," said Sen. Paul.
These direct verbal attacks on Ms. Clinton occur as the midterm elections are winding down and the presidential campaign is beginning to move into clearer focus. Expect the broadsides to grow more intense in the coming months. Ms. Clinton's approach of not officially declaring her candidacy for President and tacking to neoconservative positions on foreign policy have helped her avoid strong criticisms in recent months. That is now changing.
The issue on which Mr. Paul and Mr. Bush have chosen to confront Ms. Clinton is also significant because to a large extent it captures one of the major differences between the two parties. Regardless of whether or not Ms. Clinton believes the things she said about how jobs are created, she must take that position, although the inevitable defense of her husband's presidency–that ended nearly 13 years ago–was likely less essential; given her conservative views on foreign policy, Ms. Clinton has little choice but to articulate a progressive economic policy or risk further alienating the activist base of the Democratic Party that is already wavering in its support for her.
For Republicans, this is an easy issue on which to go after Ms. Clinton because her statements are anathema to the party's base. The repartee between Ms. Clinton, Mr. Bush and Mr. Paul, in other words, is standard partisan fare that could have occurred, perhaps not in the identical language, between Mitt Romney and Barack Obama, Ronald Reagan and Walter Mondale or even Barry Goldwater and Lyndon Johnson. Republicans are, wisely, not waiting around to see whether or not Ms. Clinton decides to run and are going after her already. Moreover, they are attacking her in a smart way, on substance and on issues where her party's base leaves her wiggle room.
Lincoln Mitchell is the national political correspondent for the Observer. Follow him on Twitter @LincolnMitchell.