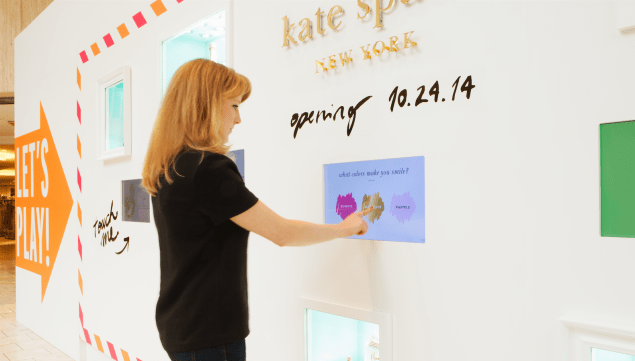 With much of New York City seemingly under construction until further notice, one becomes accustomed to temporary, plywood walls, makeshift "pedestrian walkways" and the slapped-on posters and graffiti that adorn them.
Some may say the roughly hewn partitions add character to an ever-sanitizing city. Others might just think they're ugly.
If you fall into the latter camp, have no fear: Kate Spade New York is working on a plan to beautify these temporary walls. The company recently debuted shoppable construction barriers at its Short Hills, NJ, store.
The high-tech walls were launched at the Mall at Short Hills (every suburban New Jerseyan's Reach mall) and will be rolling out to other locations nationwide.
A collaboration with New York-based retail innovation firm The Science Project, the walls consist of a multimedia display that encourages shoppers to "immerse themselves in the brand," a release says:
Customers can take short quizzes centered on personality traits and style preferences. Once complete, the customer receives a personalized statement that celebrates her as an individual, such as "she adores pretty things and witty words," directly on her mobile device, allowing her to share it across her own social media platforms. In addition, kate spade new york curates a customized collection, unique to the shopper's tastes, and delivers it to her mobile device along with complimentary, one-day shipping.
While Kate Spade doesn't have plans to bring the walls to New York City yet, it's only a matter of time now that the technology exists. The only thing this city loves more than constant renovation and reinvention, after all, is turning a profit.