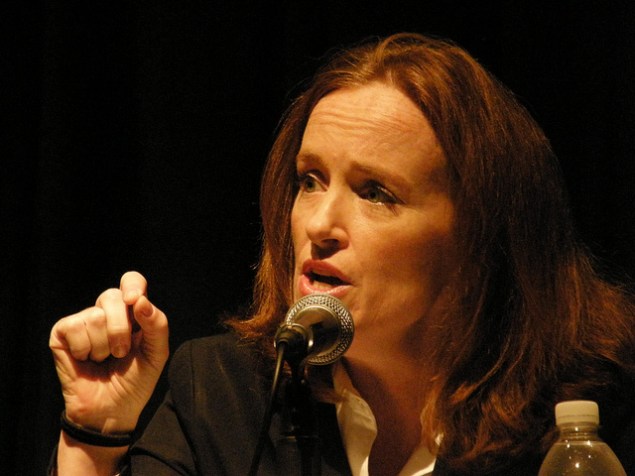 This piece has been updated to reflect Ms. Rice's withdrawal from the event and statement.
On November 23, 2014, the Islamic Center of Long Island is hosting its annual fundraiser at the Garden City Hotel in Garden City, New York. Under the topic: "Islam in America: Roots & Beyond," there are a few high-profile speakers who will be helping to raise money.
Among the speakers is Kathleen Rice, who is currently the Nassau County District attorney, and is a Long Island Congressional candidate. As one of the three co-chairs of the Moreland Commission, Ms. Rice is coming under heavy fire from opponent Bruce Blakeman for failing to reveal her role in that committee's mysteriously disbanding. And she's had a rough week, as a ruling came down that her office has been temporarily banned from obtaining recorded jailhouse conversations between inmates and their lawyers.
Now it can be revealed that Ms. Rice is speaking alongside Imam Siraj Wahhaj of the Muslim Alliance of North America. Mr. Wahhaj was named in court papers as an unindicted co-conspirator of the 1993 World Trade Center bombing. A number of members of Wahhaj's mosque were indicted for the bombing – and he testified in support of each of them. Similarly, he referred to an imprisoned terrorist, Sheikh Omar Abdel-Rahman – the notorious anti-American blind sheikh as "a respected scholar." One would imagine those credentials will not be mentioned as he sits with Rice on the podium or for photo-ops.
Mr. Wahhaj, who according to Slate was "the first Muslim cleric to ever offer the invocation at the U.S. House of Representatives," has a long history anti-American rhetoric. He has been quoted as saying, "America is the most wicked government on the face of the planet Earth," and online reports indicate that he suggested America or Israel were behind the 1993 WTC bombing. As can be seen in this YouTube video, the Imam says that the U.S. government, big business and the media are the real terrorists.
Mr. Wahhaj continued to say, "If only Muslims were clever politically, they could take over the United States and replace its constitutional government with a caliphate." The quotes go on and on. "America is one of the greatest terrorist nations on this earth but you know, they hide it with magic. They pretend to be so nice." There's a lot more – none of it friendly toward our great Republic.
Mr. Wahhaj's support for polygamy should also raise eyebrows among voters considering Ms. Rice's candidacy or, quite frankly, her judgment. According to Paul Barrett's 2007 book American Islam, Mr. Wahhaj has enthusiastically performed polygamous unions at his Al-Taqwa mosque in Brooklyn, saying "If a man can have a hundred girlfriends, and it's legal, I don't say you can't have more than one wife."
Kathleen Rice should not share the podium with this anti-American leader. While Mr. Wahhaj has the right to speak, Long Island's most senior law enforcement official should not shower the legitimacy of her office upon a panel that includes such a devoted critic of our country.
UPDATE:
A statement from Ms. Rice's Director of Communications, Shams M. Tarek:
"When the DA accepted the invitation, this individual was not yet an invited participant. He was later added to the guest list and as soon as we became aware of his involvement we immediately pulled out of the event. We condemn this individual's actions and his words in the strongest possible terms and we are deeply disappointed in the Islamic Center's decision to add him to the event."