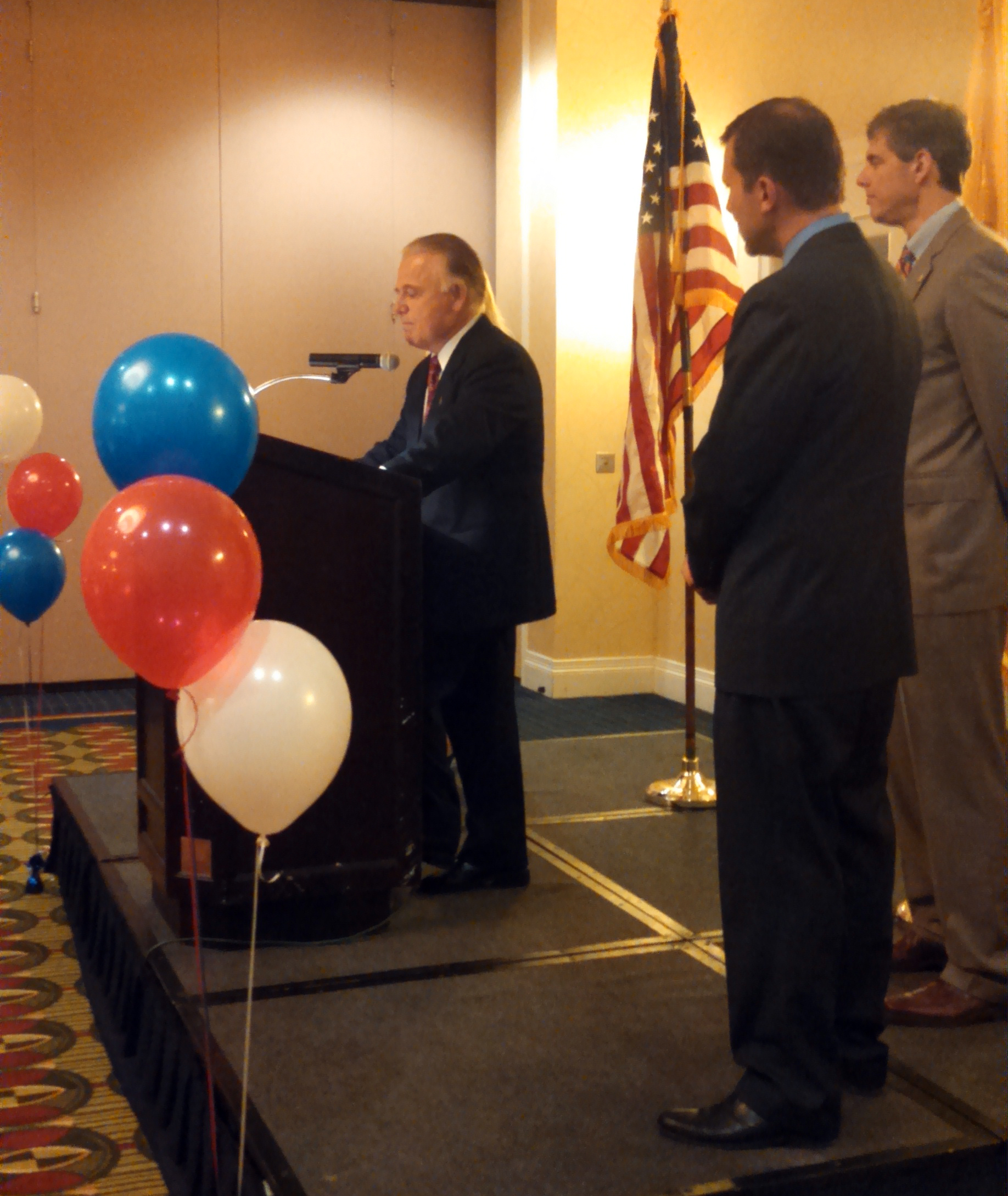 WHIPPANY – Joe Pennacchio planned on talking about New Jersey politics, the usual "Trenton stuff", at his annual Republican fundraiser tonight — but then he asked his wife for advice.
"I asked her, what should I talk about?" the 59-year-old Pennacchio told PolitickerNJ afterward, explaining his inspiration. "She said, talk about what you love about America, Joe. Talk about what good you see in America."
What followed, then, as the two-term state senator took the stage in a navy blue suite here at the Marriot Hotel on Route 10 while a ballroom full of guests noshed on finger food and cocktails, was something wholly different: part presidential speech, part patriotic diatribe, part "Jersey" Joe Pennacchio.
"I thank God everyday that I was born into this great country — the greatest country that God ever created," Pennacchio began, following introductions by guest speakers Senate Minority Leader Tom Kean, Jr. (R-21), and Assemblyman Jay Webber (R-26). "A country where a backwards farm boy-turned- lawyer becomes 16th president of the United States, the greatest president that this country has ever had. There's Harry Truman. Salesman. Yet he became president and was instrumental in ending World War II. These men, of modest means, side by side with the likes of the Kennedy's, the Roosevelt's, men from extraordinary wealth and means, yet all their contributions are no less important in service of their country."
He went on: "Thomas Edison, Henry Ford, Bill Gates, Steve Jobs, past, present, future, men and women — Americans all of modest means yet they changed the course of human history. Fredrick Douglas — was a slave — and yet he became one of America's greatest civil rights leaders. We tip our hats to Derek Jeter, who is also of modest means, but of course the greatest player to ever don a uniform was Babe Ruth, and he grew up in an orphanage. Helen Keller — if she had not been born in American during that period, she may have been consigned to an insane asylum, and humanity would've been the less for it. Reaching the potential of our American spirit — that is the definition of the American Dream."
It was a speech that had, by the end of it, earned standing ovations from four — no, make that five, by this reporter's count — enthralled guests. But it was also one that prompted the question, especially given the weighty presences of Kean and Webber, both of whose names routinely circulate as possible gubernatorial candidates — was this the internal thought mechanizations of a man looking toward greener — or wider — pastures?
A Brooklyn native and dentist by trade, Pennacchio did run in the U.S. Senate primary race in 2008 against former Congressman Dick Zimmer, however unsuccessfully, and as a top-ranking Republican in Trenton, there's nothing to say he couldn't make a statewide run again. He at least wouldn't rule it out tonight, prodded on the subject over a plate of penne-vodka pasta on the ballroom floor.
"My name is always on the radar – they know Jersey Joe. The jingle is still running around in their heads," he said.
Throwing in Pennacchio with Kean and Webber and you had three legislators, all from the same general vicinity — Pennacchio and Webber from LD 26 and Kean from neighboring LD21 — in the hypothetical Republican-for-governor heap, turning the otherwise casual North Jersey fundraising affair into one with real political intrigue.
Kean and Webber both deflected questions on the subject, calling it too early to make any judgments on a race that far into the future.
"The focus is creating opportunities for the people of the state of New Jersey," Kean said, pointing to a package of legislation he hopes will spur economic growth in the state.
Webber said he wants Kean for another post anyway.
"Our future Senate President someday," Webber said during his introduction of Kean. "We're going to keep banging away at that, Tom."
Other pols in attendance included Assemblymen Michael Patrick Carroll (R-25) and Scott Rumana (R-40), Morris County Republican's Club Chair Patti Page, Morris County Sheriff Ed Rochford, Morris County Clerk Jan Grossi, Republican Morris County State Committeeman Larry Casha, Morris Plains Mayor Frank Druetzler, Parsippany Mayor James Barberio, West Caldwell Mayor Joseph Tempesta, and a host of Morris County freeholders.