Mark Green delighted in bloodying his knuckles against Rudolph Giuliani. Betsy Gotbaum shunned the spotlight as Michael Bloomberg threatened the existence of the very job she was elected to perform. Bill de Blasio yanked the spotlight back and used the post to springboard across Centre Street to City Hall.
Letitia James, the newest public advocate, is still carving out an identity nine months into her tenure as the first public advocate to serve with a mayor belonging to the same political party. A liberal Democrat like Mr. de Blasio, the public advocate-turned-mayor, Ms. James has not warred with City Hall like her predecessors, who were Democrats charged with serving as ombudsmen in the shadows of two imposing Republican mayors.
The idea of a public advocate not acting as a mayoral bête noire is a bit jarring to longtime observers of the office.
"I hope she'll evolve and do more oversight of and investigations into city services and corporate misconduct rather than coming across like merely a vice president or deputy mayor," said Mark Green, the city's first public advocate and an endorser of one of Ms. James' rivals last year.
As Comptroller Scott Stringer, yet another Democrat and self-identified progressive, appears to revel in tweaking City Hall at every turn, Ms. James' reticence is raising eyebrows. A voluble, Bloomberg-bashing pol when she served in the City Council, Ms. James was strikingly mum as Mr. de Blasio drew criticism for placing a phone call to police after a top ally was arrested early this year. Months later, as Mr. Stringer hammered the mayor over his alleged tardiness in submitting prekindergarten contracts to him for review–the universal pre-K program is an unequivocal centerpiece of Mr. de Blasio's agenda–Ms. James aggressively defended the mayor.
"I know they are dedicated to excellence: nothing less, nothing more than pure excellence," she said in late August.
Ms. James, an attorney by trade, has chosen instead to hone in on a wide variety of fairly substantive pet issues that Mr. de Blasio ignored during his one term as public advocate. Though those close to Ms. James say she harbors many of the same mayoral ambitions as the once unknown Mr. de Blasio did, she will likely not be able to mount a viable run until 2021, when Mr. de Blasio is term-limited.
Barring unforeseen circumstances or a surprise re-election defeat, Ms. James is set to hold the post for eight years, which means she will have more time to burnish her reputation and move away from simply wielding the office as a blatant campaign tool–something Mr. de Blasio was accused of doing.
"Tish James has been an effective watchdog for working families across New York City. By strengthening the office's policy, legal, and constituent services functions, she has helped improve the lives of New Yorkers — from school lunch for students to body cameras for NYPD officers to protections for subway riders — the work of the Public Advocate's office has resulted in real change across our city," said Aja Worthy-Davis, a spokeswoman for Ms. James.
****
The office of the public advocate was created in 1993 and is little understood by most New Yorkers two decades later. After the City Charter was revised in 1989 and the old Board of Estimate was eliminated, the City Council decided to rename one of the last vestiges of the Board, the City Council president, the public advocate.
By this time, the City Council had the newly-created speaker post, making the president's role redundant. Some in the council argued the office should have been abolished altogether, a contention that Mr. Bloomberg revived again as Ms. Gotbaum, a Democrat, irked him.
The public advocate, the first in line of succession to the mayor, is bestowed with certain powers: she can introduce legislation, investigate agencies, sit on the city's pension board and handle constituent complaints like a glorified council member. Callers to the office, aides say, are often the most desperate; usually they are people who have not been helped enough by their local lawmaker.
Compared to the mayor and comptroller's offices, the public advocate's budget is meager. Mr. de Blasio boosted Ms. James' budget from $1.6 million budget up to to $2.3 million for this fiscal year, after Mr. Bloomberg had slashed it. The office still employs less than 40 people.
"The role of public advocate is pretty difficult to define and measure because the budget is so incredibly small. A lot of New Yorkers have expectations of what they want the public advocate to do but if you look at the number of staff, it's amazing the office can actually run," said Christina Greer, a political science professor at Fordham University.
Ms. James, unlike Mr. de Blasio in his public advocate days, now presides over City Council meetings as a non-voting member. It's not clear Mr. de Blasio ever wanted to–or was welcome to–preside in Christine Quinn's City Council. The old speaker, an ally of Mr. Bloomberg's, feuded with Mr. de Blasio and eventually lost to him in the 2013 mayoral race.
Observers of the office say Mr. de Blasio wielded it as an effective bully pulpit but accomplished little in substantive change. He rarely introduced bills–Ms. James just passed one–and harped on national issues like the Citizens United Supreme Court decision, while also creating a popular list of the worst landlords in the city.
Those who worked for him at the time said Mr. de Blasio was a savvy opportunist, employing a robust press shop–future Cuomo spokesman Matt Wing was one top press secretary–that obsessed with trying to insert the public advocate into the headlines. Mr. de Blasio sent scores of critical letters to city agencies, proactively hunting for news coverage in a way that Ms. James has yet to do.
"During his term as public advocate, he was attracted to issues that drew the most publicity," a former de Blasio aide recalled. "He understood reporters weren't going to write about a public advocate being a cheerleader for an unpopular mayor."
Mr. de Blasio always wanted Ms. James to prevail over her top rival last year, State Senator Daniel Squadron, sources say. Early on in the race Mr. de Blasio, then a candidate for mayor, even tried to persuade Reshma Saujani, a James opponent and staffer in Mr. de Blasio's public advocate office, to drop out of the contest to clear a path for Ms. James. Ms. Saujani refused and eventually finished in third, reconciling with Ms. James and co-chairing her transition committee.
Along with then-Comptroller John Liu, Mr. de Blasio was a clear left-wing counterweight to Mr. Bloomberg during his last term. The ombudsman function of the office, some say, is not being embraced enough by Ms. James–even sympathetic Democrats privately question whether Ms. James, a colleague of Mr. de Blasio's when they served in the City Council together, will ever be able to seriously act as a watchdog for Mr. de Blasio. (Aides point out Ms. James has challenged the mayor when needed, like when she reprimanded him for the cost of a security booth outside his now uninhabited Park Slope row house.)
Of course, it made perfect political sense for a liberal Democrat to play the foil to an increasingly unpopular billionaire centrist. Ms. James does not have it so easy.
"If you're the public advocate and you have a lovebird relationship with mayor, what's the point of the office?" groused one Democrat who backed Ms. James a year ago.
Those close to Ms. James argue that's a simplistic way of looking at the position. They point to her championing, in the wake of a Staten Island man's death in NYPD custody, the use of body cameras on police so all interactions with civilians can be recorded.
250 postal workers, partly in thanks to Ms. James' advocacy, now have jobs again.
Aides also tout her efforts to successfully force the Metropolitan Transportation Authority to better educate riders and MTA personnel about sexual harassment on the subways and the mayor providing funding for free lunch for all middle school students, a program that was made possible by Ms. James' relentless politicking.
"Tish didn't just hold rallies. She made the policy case for expanding lunch access, worked through the nuances of federal funding formulas, pushed through the Department of Education bureaucracy, and won wide-support for the measure," argued a source close to the public advocate.
****
Ms. James and Mr. de Blasio were colleagues in the City Council from 2004 through 2009, a crucial period when the two Democrats occupied a marginalized left flank in the council. The fellow Brooklynites, in addition to sharing similar political beliefs, rose to power with the aid of the Working Families Party, the labor and liberal activist-backed organization that swung the city's political zeitgeist leftward.
Mr. de Blasio was a WFP founding father. Ms. James is still the only city elected official to win an election on the WFP line alone (the WFP cross-endorses Democratic candidates and then lends its vaunted get-out-the-vote operation to boost their chosen Democrat.)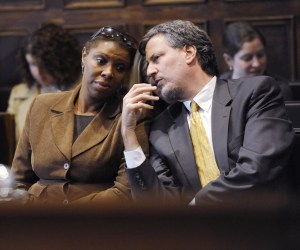 The circumstances behind Ms. James' journey to elected office can seem almost mythical. Her predecessor, James Davis, was assassinated in the council chambers 11 years ago. The culprit was a political rival, Othniel Askew, who, according to Ms. James, visited her the night before he pulled out a .40 caliber pistol and killed Davis.
"The person who assassinated him visited me the night before," Ms. James told the Observer last year. "Sat on my stoop and came into my home for two hours. He wanted to know whether or not I was going to run again, and if I was not, he wanted my support."
Ms. James won a special election to replace Davis, representing a district neighboring Mr. de Blasio's. While Ms. James has been a reliable ally of the mayor's, a select number of progressives see her as the more pure member of their ranks. When developer Bruce Ratner sought to bring the Barclays Center to downtown Brooklyn and use the glittering arena as an anchor for a long-promised–and yet to be constructed–affordable housing development, Ms. James was an unflagging critic of the project, known as Atlantic Yards. Mr. de Blasio was a booster.
Mr. de Blasio, the campaign manager for Hillary Clinton's first and successful U.S. Senate bid, is able to weave rather seamlessly between the world of the hard left that helped him climb the ranks of municipal politics and the centrist Democratic realm of the Clintons and Cuomos.
Ms. James, at least publicly, is not one to extend an olive branch to Democratic Party's corporate-friendly wing. As elected officials like Mr. de Blasio and Council Speaker Melissa Mark-Viverito rushed to loudly back Mr. Cuomo's re-election bid against insurgent left-wing challenger Zephyr Teachout, Ms. James was silent.
When Ms. Teachout, a law professor, racked up far more votes than most pundits thought possible, Ms. James appeared pleased.
"I think he got the memo," she said told the Observer last month. "Something tells me he got the memo, and something tells me he read it!"
****
Others in the city's upstart liberal ranks want Ms. James to speak more forcefully, especially if Mr. de Blasio hedges too close to the center. When Eric Garner, a black Staten Island man, died in July after police placed him in a chokehold, Ms. James–now the highest-ranked African-American elected official in the city–did not lead the charge of critics decrying the alleged police brutality. Instead, she stuck to her even-keeled advocacy of body cameras.
"In terms of her role as the most prominent African-American woman in elected office citywide, folks want her to step up more on issues impacting low-income communities of color, post-Eric Garner," explained a Democratic consultant. "People want to see her occupy the left flank and be there as a substantive voice of dissent when de Blasio drifts toward the center."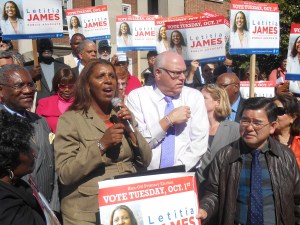 At times, it can seem like Ms. James is grasping for the signature issue or cause that will raise her profile. Aides point to her body camera advocacy, but it's not apparent the public is associating her with the issue–Mr. de Blasio and his police commissioner, Bill Bratton, have long endorsed the idea, regardless of the pubic advocate's prodding.
Her image, at least among some Democrats who have closely watched her ascent, is not always pristine. Even as she trounced four Democrats to win the public advocate's race a year ago, insiders grumbled that she was not a disciplined enough campaigner.
Allies pleaded with Ms. James to spend more time on the phone raising money. She had a habit showing up late to campaign events. Ultimately, some familiar with her campaign argued she relied too much on powerful unions like 32BJ and 1199 SEIU to drag her across the finish line.
During and after the campaign, Ms. James had the peculiar habit of occasionally massaging the truth. After inquiries from the Observer and other news outlets, the New York Times revealed in January that Ms. James was not the source of their much-heralded series on a homeless Brooklyn girl named Dasani Coates. Ms. James had claimed as much, even parading around the girl and her family at her inauguration on New Year's Day.
For reasons that are still unclear, Ms. James also lied about her true age. The Wall Street Journal reported in 2013 that she misled reporters for years, shaving off four years from her age: she was 54 in 2013, not 50.
And when the Observer confronted her this year about her endorsement of Councilman Fernando Cabrera's campaign for State Senate, in light of his stark anti-gay views and the furious opposition to his candidacy, Ms. James offered a head-scratching explanation: she said she only endorsed Mr. Cabrera "on paper."
The missteps, or oddities, may appear to be piling up. But at least one former public advocate believes Ms. James is using the office exactly how it was intended.
"I never wanted to be the municipal nag. I wanted to get things done," Ms. Gotbaum, the former public advocate, said. Ms. Gotbaum endorsed Mr. Squadron a year ago and now heads a firm that fund-raises for Ms. James.
"I'm very optimistic about Tish. She's okay."