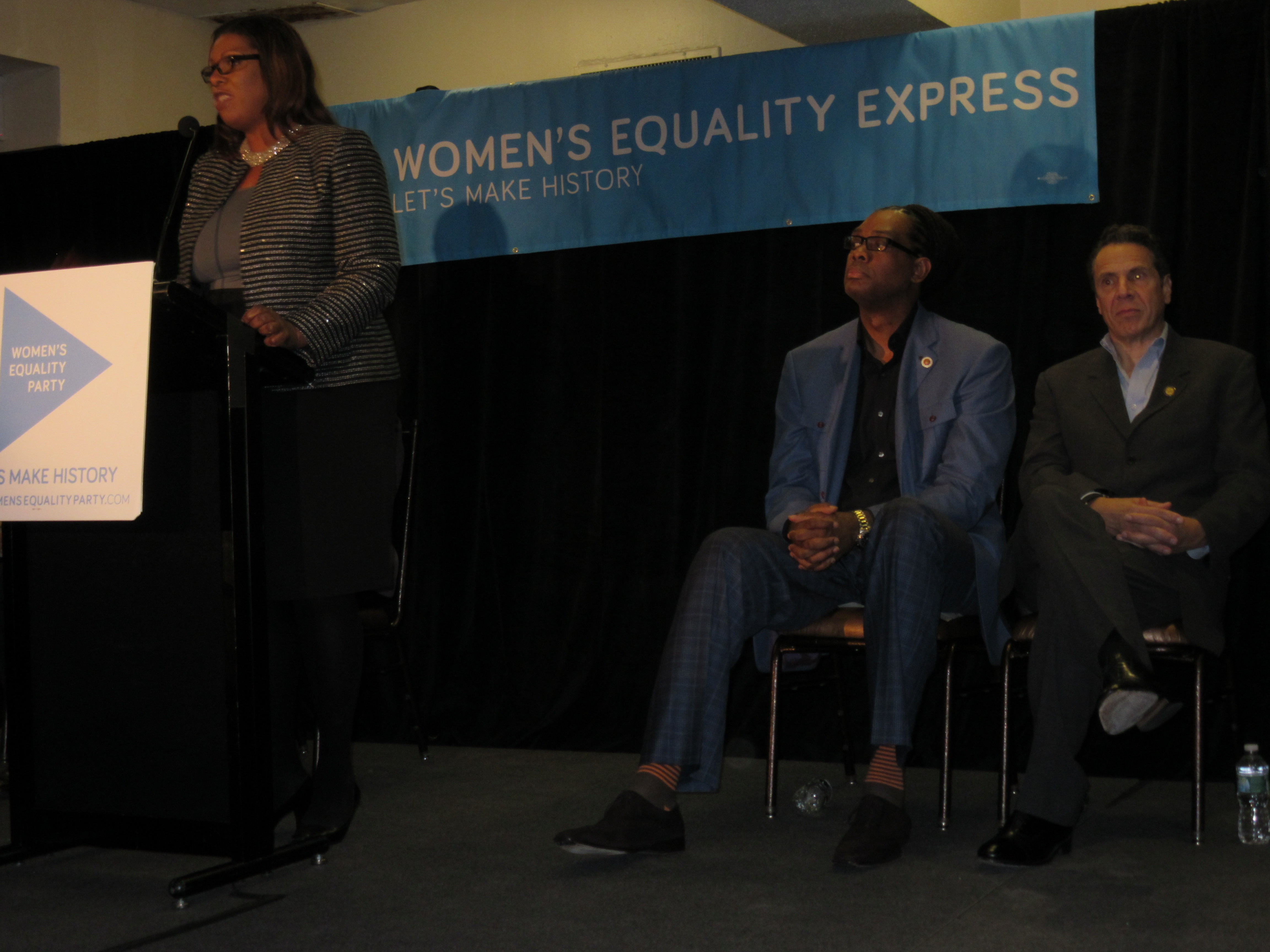 Public Advocate Letitia James today compared Republican gubernatorial candidate Rob Astorino to Bull Connor, the segregationist public safety commissioner from Birmingham who loosed attack dogs and turned firehoses on black civil rights demonstrators in the early 1960s.
Speaking at a Women's Equality Party rally with Gov. Andrew Cuomo and host of African-American elected officials from central Brooklyn, Ms. James–who appeared in an advertisement for the rival Working Families Party earlier this week–cast the Westchester County executive, whom she repeatedly incorrectly referred to as "Rick Astorino," as an ultra-conservative bigot.
"We have a far-right Republican, someone who reminds me of Bull Connor in the 1960s. He's anti-choice, anti-LGBT, anti-women's equality, anti-progress," said Ms. James, urging the largely black crowd to boo. "His name is Rick Astorino, and he is more aligned with the Tea Party than our values, the values that we share."
Mr. Astorino has come under criticism from Mr. Cuomo for clashing with the federal Department of Housing and Urban Development over the agency's efforts to alter zoning laws to allow for the construction of low-income housing in the county they both call home. Mr. Astorino has noted that the fight began under his Democratic predecessor, when top Cuomo aide Larry Schwartz was deputy county executive, and that Mr. Schwartz called the federal government's legal action against Westchester County "a garbage lawsuit."
Asked afterward if he concurred with Ms. James' comparison, Mr. Cuomo stuttered for several seconds before answering.
"You'll have to ask Ms. James what she meant by that," he said finally.
Mr. Astorino's camp blasted Ms. James and demanded the governor denounce the remark, noting that Mr. Astorino has repeatedly received support from black and Hispanic leaders in his bids for local office.
"That is a disgusting comment that totally crosses the line. Mr. Cuomo's campaign has become completely unhinged and he owes Rob Astorino, who has been endorsed by NAACP and black and Hispanic clergy leaders, an immediate apology," said spokeswoman Jessica Proud.
Connor, like Ms. James and Mr. Cuomo, was a lifelong Democrat. He led the Alabama delegation in walking out of the 1948 Democratic National Convention when the party adopted a pro-civil rights plank in its official platform, and helped form the breakaway States Rights Democratic Party.
He came to national attention when Birmingham police clashed with the Freedom Riders in 1962, and his brutal tactics are believed to have won national sympathy for the Civil Rights Act of 1964.
Mr. Astorino's running mate, Chemung County Sheriff Chris Moss, is African-American.