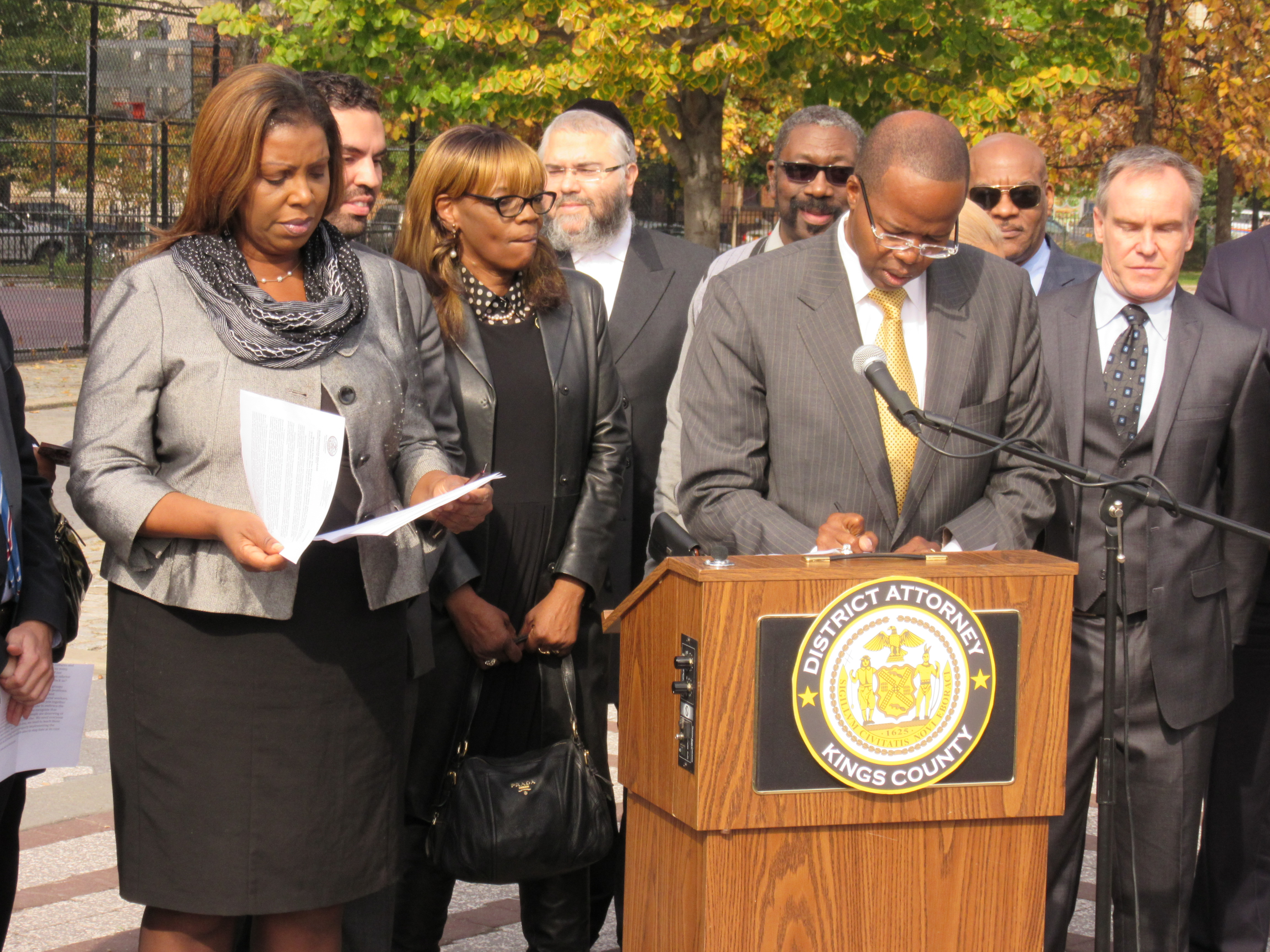 Public Advocate Letitia James today defended her recent comparison of Republican gubernatorial candidate Rob Astorino to Birmingham, Alabama's former public safety commissioner, Bull Connor–who became a world-famous symbol of racism and prejudice in the 1960s for turning firehoses and police dogs on non-violent black civil rights demonstrators.
Speaking to the Observer shortly after a press conference with Brooklyn District Attorney Kenneth Thompson–where the borough lawman announced hate crimes charges against several individuals for assaulting gays and transsexuals–Ms. James argued the analogy between the GOP Westchester County executive and Dixiecrat segregationist was apt. The public advocate noted Mr. Astorino's socially conservative stances and his legal battle against the Department of Housing and Urban Development, which has sued the Republican's county for racial discrimination for its zoning policies, which have blocked the construction of low-income housing.
"I think the comment stands. I know Mr. Astorino is anti-LGBT, he's anti-choice, and so he does have that federal investigation in regards to housing discrimination in his district, in his county," Ms. James said. "I think my comments speak for itself."
Ms. James first made the remark at a rally with Gov. Andrew Cuomo on Saturday.
"We have a far-right Republican, someone who reminds me of Bull Connor in the 1960s. He's anti-choice, anti-LGBT, anti-women's equality, anti-progress," said Ms. James, urging the largely black crowd to boo, and misstating Mr. Astorino's first name. "His name is Rick Astorino, and he is more aligned with the Tea Party than our values, the values that we share."
Mr. Cuomo refused to condone or condemn the public advocate's comment, instead recommending–after several stuttering false starts–that reporters "ask Ms. James what she meant."
The Astorino campaign blasted the statement on Saturday, noting that the candidate has a history of endorsements from African-American and Latino leaders.
"That is a disgusting comment that totally crosses the line. Mr. Cuomo's campaign has become completely unhinged and he owes Rob Astorino, who has been endorsed by NAACP and black and Hispanic clergy leaders, an immediate apology," said Astorino spokeswoman Jessica Proud.
Mr. Cuomo has repeatedly used the federal discrimination suit to batter Mr. Astorino, even as the GOP challenger has pointed out the court battle began under his Democratic predecessor, when top Cuomo aide Larry Schwartz was deputy county executive–and that Mr. Schwartz called the federal government's legal action against Westchester County "a garbage lawsuit."