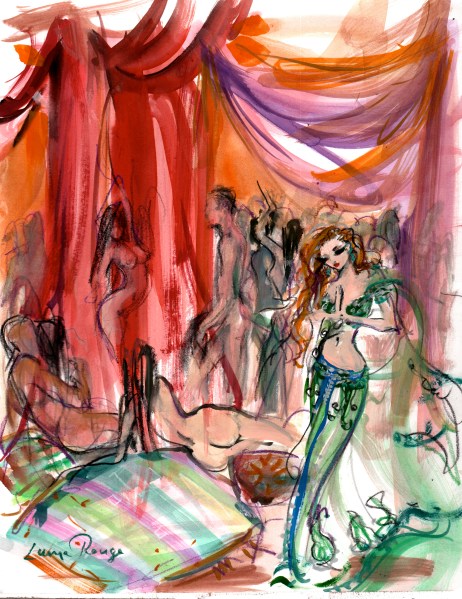 "This isn't your parents' swing party; it's not a free-for-all," according to Rocco and Jasmine, the founders of School of Sex and hosts of Behind Closed Doors.
"We're not fascists, but the whole point is to be surrounded by other members who are sexy and turn you on," they continued. "For those who are morbidly obese, hideously ugly or likely to turn up in a track suit, there are plenty of other parties out there for you!"
To cross uncharted ground and make sex hot again, millennials have started application-only clubs for their own un-sleazy carnal adventures. In the eyes of some of the city's swingers, sexual exploration is only O.K. among an exclusive community.
Unlike in the '60s, free love now costs membership dues and sometimes a boob job to pass the beauty test. Other times, IQ or an appreciation for Pollock may be the golden ticket to an adult Wonka factory. Some of the groups are looking for models, others philosophers and others arteests.
Funnily enough, none of them are screening for anything related to actual sex.
To attend Behind Closed Doors, for example, applicants must provide their height and weight, and according to School of Sex's website, "to retain the elite credentials of our party membership base we are not ashamed to discriminate on age, looks or charisma."
Meanwhile, hipster alternative Chemistry asks questions like "what is your favorite non-sexual hobby, past or present?" so that reviewers can assess Brooklynites looking for a new hang. To make it about more than appearance, the producers prioritize the interview over hot bods to create an environment filled with "interesting" pseudo-intellectuals.
"If someone writes us and wants to come to our party, and we ask 'what role does sexuality play in your life,' and all they care to reply is 'I love sex,' then we don't believe they are going to have much to offer our event," KennyBlunt, one of Chemistry's hosts, said.
Chemistry has a less conventional idea of what passes for sensual and tries to foster a nuanced, inclusive sexual energy. Everyone has to bring something to the table, even if it isn't A+ abs. The producers reject the "swinger" title because of its negative, male-centric connotations, and people from all walks and phases of life are welcome.
"We had a member couple write once that hadn't yet been to a party, and the woman wanted to know if they could attend given the fact that she was seven months pregnant," KennyBlunt recalled. "A month or two earlier they had been to a 'swinger' party in Manhattan where the host had asked them to leave. I told her to come, and that if anyone had a problem, we'd take that up with them, not with her."
Though they cater to different customers, both School of Sex and Chemistry agree on one thing.
"Women are in charge—that is the key," Rocco and Jasmine said. "For the ladies, a sexually charged environment is about the touch, the ambiance, the setting."
To provide these super sexy environs for "the ladies," they don't let in single men, who allegedly pose a threat to their fragile balance of sensuality and safety.
Sure, swing parties are notorious for their creeps, but these sorts of regulations make it to where only taken guys can get in on the action. So note to all straight bachelors: better nab a girlfriend if you want to sleep with a stranger.
On the opposite side of the gender-exclusivity spectrum is Lip Service, which is hosted by Miss Scorpio. At this giant make-out sesh, single men and couples must be open to everything, including same-sex play. Lodged above Madame X, Lip Service exudes images straight from Moulin Rouge.
"Low, red light, curved plush furniture, fringed lace lamps, racy art on the walls," Larisa Fuchs—a.k.a. Miss Scorpio—said. "Dressing up is required, so everyone is looking their best, frequently in corsets or slinky lingerie."
But her outings are for amateurs, the types that want to giggle about "how crazy last night was." Lip Service attracts youngsters who crave a story scrubbed of the grime and grit of real sex.
In the "underground" world of sex parties, only Mythical Events puts an emphasis on an uninhibited mindset.
"My demographic is the queer, for all values of the term," Mythical Events founder Yandy wrote in an e-mail. "The strange, the illegible, the glittery, the gruesome and the kicked-out."
When asked to share his most memorable moments from past celebrations, Yandy cited his success from Myth 4, where a member of his crew asked him to fulfill an odd fantasy that involved hands, feet and a strap-on.
"I recruited excited participants and a couple of lube assistants and ended up with that person having an explosive orgasm while penetrating five different people at once on a stage that has previously hosted Cyndi Lauper and Placebo," Yandy said.
Myth also provides areas for games, wrestling mats, performances of drag, burlesque, "unicorn hunting," spoken word performances, "human piñatas" and "a kiddie pool full of glitter."
Finally: a sex party that's about sex! It may not cater to most people's unique kinks, but it is, at very least, the real deal. It's not about headshots rules about who kisses whom, or personal ideologies on what happens under the sheets.
But let's zoom out a bit. Though some of these sex parties have, to put it kindly, internally conflicting values, attendees say that this off-the-grid universe has allowed them to tap into a new conception of themselves.
"If you are a painter, your painting will probably get better if you visit museums, take classes, look at books, hang out with other painters, etc. Ditto for your sexuality," an anonymous couple said.
But are these peers worth studying? Are they the Picassos of reverse cowgirl, or are they closer to paint-by-number faux enthusiasts?
Rufus Firefly (that is his sex party name), who attended his first Chemistry affair last weekend with his SO, seemed to think there was something to it.
"For a rookie, it's such a visual overload to see all these people naked enjoying themselves, the sounds, moans, bodies everywhere," he said.
But for others who are over the thrill of their first few parties, the tableau eventually grows tiresome, to say nothing of the volatile emotions that inevitably rush in, like jealousy.
"It can be pretty awful when you're with someone who's not on the same page as you, or you're not clear about your agreements and your partner does something that feels like a betrayal," Stephanie Sellars, a regular and performer at Chemistry, told the Observer.
"Love and sex are polar opposites," Mr. Firefly added. "Love is an emotion which is grown over time organically, where sex is a raw, purely physical act of pleasure stemming from attraction. If a couple cannot see the difference, there will be issues right off the bat at these events."
Love and sex as "polar opposites." That's some seriously twisted post-'70s bullshit.
"Today's generation of young adults aren't buying the traditional story about how relationships and our thoughts on sex are supposed to be," KennyBlunt said. "A lot of people are realizing that story just isn't true for them."
Alright, maybe he has a bit of a point. For many, the new standard is hookups and hangovers, not pecks in Paris and picnics in the park. While some turn to dating apps and online sites in search of a worthwhile relationship, others have given up on finding the one altogether. Sex parties can be a surefire—if superficial—way to at least feel a physical connection with someone for as long as it takes to come.
"Sex is not always about intimacy," Rocco and Jasmine said. "Swinging is not about finding love or companionship. It's something more primal."