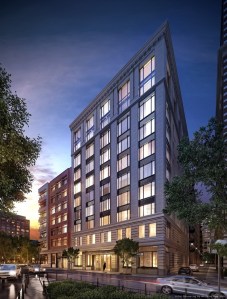 In a recently published essay about the costs and benefits of living in Manhattan, Zadie Smith contemplates a billboard across the street from her building that directs passersby to "Find your beach," which is to say your "happy place," which is to say, as the advertisement has it, some quiet retreat in which to consume Corona. But HFZ Capital Group, the developers behind 11 Beach Street, an intensely-luxurious boutique conversion of 27 "loft-like" condos slated for occupancy in early 2016, would like to encourage multimillionaires with a thing for Tribeca to find their respective beaches elsewhere—on Beach Street, for example. (Corona, anyway, would be a tad downmarket for that crowd.)
"I always advise my customers to buy special," John Gomes, of Douglas Elliman—who is handling sales with colleagues Fredrik Eklund, Dina Lewis and Melanie Lazenby—told the Observer. And in his analysis, one buyer has elected to do just that, agreeing to pay full fare, $10 million, for one of 11 Beach's three townhouse-style triplexes.
The moment of truth came, Mr. Gomes said, when the buyer—the building's first, whom the broker declined to identify even by hemisphere—saw renderings for the four-bedroom, 4,827 square-foot unit's "spa-level" (read: basement) swimming pool, which features a glass wall, so that water aerobics might be observed from without. "We thought, 'What can we do in a space that's underground to make it really spectacular and unique?' And that's when we dreamed the dream."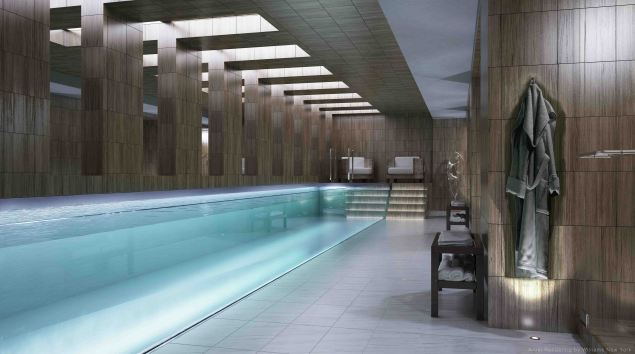 Special indeed. And needless to say, when the "spa-level" floor is sloshed with water come over the aforementioned wall, surely, it will not be the owners that attend to mopping things up. "A lot of people love the concept of townhome living," Mr. Gomes mused. "But the reality is that you have to take care of everything yourself. You have to hire a handyman. You have to take out the trash. But when you live in a building that functions like a townhome, and you have a doorman and a super and access to all these services, it makes your life that much easier."
In point of fact, despite the brokers' characterization, the property is not a townhome at all, but—an admittedly opulent—triplex condominium within the main body of the L-shaped building. It does, however, have a number of house-like features that promise to sequester occupants from other residents in the building. In addition to the private pool and sauna on its lowest level—the other two townhouses, one larger and one smaller, will enjoy their own subterranean spa facilities—it will have a private entrance from the street, as well as its own elevator.
In this, the 11 Beach Street "townhomes" evince an ethos increasingly prevalent in Manhattan life that Ms. Smith found evident in her billboard vista, and in the streets, stores and cafes around her Soho apartment: "Here the focus is narrow, almost obsessive…The dream is not only of happiness, but of happiness conceived in perfect isolation. Find your beach in the middle of the city. Find your beach no matter what else is happening. Do not be distracted from finding your beach. Find your beach even if… it is not actually there."