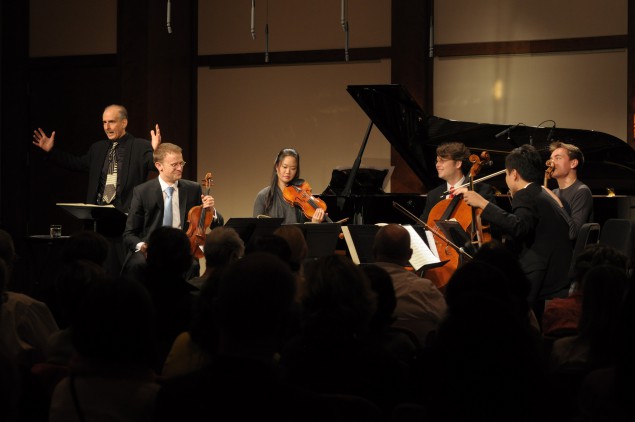 If you are worried about the looming death of classical music, you'd have been happy to see the sold-out crowd for Mozart's "String Quintet No. 4 in G Minor" (1787) at Lincoln Center last week. Lecturer Bruce Adolphe was delighted and said so, from the podium. He's the host for a series called Inside Chamber Music that investigates masterpieces from the repertory while live musicians illustrate Mr. Adolphe's lively analysis.
"Lively" doesn't really convey the antic, free-associative onrush of Mr. Adolphe's delivery. The other night, he began his opening monologue with a tongue-in-cheek acknowledgement of the "full house." The Rose Studio only accommodates 110 in its austere space. But like the Met, without the Met's current cash and audience crisis, Inside Chamber Music is fully committed to electronic outreach. Six video cameras, controlled by Trent Casey at the LG keyboard in a studio next to the studio, were inputting the event for a livestream.com webcast.
Inside Chamber Music is embarking on serious marketing to attract an electronic audience for listeners. The Chamber Music Society of Lincoln Center says it is the only chamber music organization involved in such livestreaming. But it has so far quietly been a leader in a burgeoning trend. (Tickets for the Rose Studio event cost $25; a barebones livestream subscription is free.)
So it was simultaneously on livestream and in person that Mr. Adolphe began to riff on crowding at 18th-century concerts. Did we know, he asked, that at the premiere of Messiah, men had to check their swords to make room for each other inside? (Women abandoned their hoop skirts).
Then, pivoting nimbly, he asked: "Did Mozart have a sword?" He did, and that, Mr. Adolphe beamed, is what I think you can hear in this minuet section of the first movement.
On cue, the Amphion Quartet, augmented for the occasion by the violist Matthew Lipman, launched into a few bars that included several slashing, lunging passages exploding out of the basic thematic material. Mr. Adolphe soon stopped them and had them repeat the same section but with the sword thrusts cut out, by him. It sounded pleasant enough but, as Mr. Adolphe said, we wouldn't be listening to it tonight if that was what Mozart had written.
The same method took apart the Mozart score for the rest of the 90-minute program. The musicians would play part of the Mozart, which is universally celebrated as a pinnacle of his chamber music production, with a youthful brio they haven't lost since they first performed together at the Yale School of Music in 2009. Then they'd do it again without the dramatic and unexpected repeats, the inversions, the counterpoint or the tricky modulations.
Dull, dull, dull. "I made it ordinary," Mr. Adolphe said, unashamed, even a bit smug about his blithe, deliberately philistine editing. "The unexpected is what it's all about."
You didn't have to be a music major to keep up with the Robin Williams pace, but it helped if you'd had some basic exposure to music theory, enough to know the bare essentials about such things as diminished sevenths, sonata form, counterpoint and enharmonic equivalents. I couldn't decide whether it would have undercut the excitement or irritated his audience if Mr. Adolphe had stopped to define terms more often. (Perhaps those watching online, either live or during the next 24 hours when the webcast is still viewable, could hit "pause" and look them up. ) The line between teaching moments and condescension is a fine one.
Is this digital outreach a good thing? It's certainly catching on. The Met is presenting  operas in theaters far from Manhattan. And many orchestras are experimenting with electronic replication of their concerts. This fall, Carnegie Hall is inaugurating both audio and video streaming, live and on-demand.
For arts organizations with reliable audiences, there's not much risk. But the Met's current troubles with attendance make it reasonable to wonder if those out-of-town theatrical presentations of the current opera season might not be undercutting its home box office.
Lincoln Center has had booming success with creative programming at tiny and off-campus venues..This week, Lincoln Center's White Light Festival is presenting semi-staged performances of Bach's St. Matthew Passion at the Park Avenue Armory, performances that sold out well in advance. Reportedly tickets for them are now being scalped for $3,000.
But there's no clear way of predicting the fate of traditional large halls designed for symphony orchestras and grand operas. Whether electronic replication will undermine such gargantuan enterprises or help build new audiences—or may simply be irrelevant given the overall decline in interest in classical music—is unknowable.
On the other hand, purists might well question the value of a future for classical music available only or primarily on electronic devices with mediocre sound. Sound, after all, is the point of music. I am willing to revel in the vast library of classical music recordings available almost instantly on Classicalarchives.com for a minimal subscription price.
The Mozart quintet so ably dissected in the Rose Studio is available in 26 recordings on the site. They have the merit of offering this jewel of Mozart's maturity (he died in 1791) complete.
Last week, the Amphions, after an exhilarating series of excerpts, did get down to performing the quintet's complete first movement. Next March, big-name artists from the Chamber Music Society of Lincoln Center will perform the full quintet in a conventional concert at Alice Tully Hall, just a short walk from the Rose Studio. Alice Tully Hall has 1,085 seats.