CINNAMINSON  – While recent polling shows his lead over the competition increasing — by a margin of as much as 10 points, according to the latest poll — Republican candidate in New Jersey's third congressional district Tom MacArthur said today that the numbers, while encouraging, "don't change anything" in his race with Democrat Aimee Belgard.
"I saw it, I'm certainly happy and encourage by it. I think it demonstrates that what I'm saying is resonating with voters," MacArthur told reporters this afternoon at a press event at Sea Box, Inc., in Burlington County. "But it changes nothing about the way I'm going to about the next three weeks. Until 8 oclock on election night I am running with every ounce of energy I have. That's the only poll that really matters, is November 4th."
The CD3 race between Belgard, a Burlington County Freeholder, and MacArthur, a former Randolph mayor and insurance executive, began earlier this year with MacArthur being touted by many observers as the likely front runner, due in part to his self-funding advantage against the comparatively underfunded Democrat. But the contest tightened after earlier funding successes by the Belgard camp and the opportunity to land an open House seat in an off election year caught the attention national organizations like the Democratic Congressional Campaign Committee, which stepped in and poured some $1.3 million in negative ads attacking the Republican over the summer.
Polls as recent as last month showed the two neck-and-neck in the race — though MacArthur looks to be pulling ahead with just 21 days left to go until election day. And the DCCC, after being forced to take down two out of three of their controversial ads when MacArthur's campaign threatened them with defamation lawsuits, could be scaling back its support for the candidate, according to the PAC's executive director. The Monmouth University poll this week showed MacArthur holding a solid 51 percent to 41 percent lead over Belgard, with support in the district's Ocean County section even greater.
In Sea Box's huge, echoing factory room today, MacArthur said that lead is unlikely to change the way he approaches the remainder of the race, arguing that he and his opponent differ significantly on issues from healthcare to jobs and economic growth in the South Jersey district. He pointed out the difference between the "comprehensive" 11-page job plan his campaign has drafted and that of Belgard's own — a "band-aid approach" to getting the economy running again, he said, holding up a sheet of paper he said included the whole of the Democrat's plan.
In his view, the economy is "the number one far and away issue that needs attention" in the race.
"Right now, there are 10 million Americans out of work, 8 million who've dropped out in despair, and there's 7 million stuck in part time jobs," MacArthur said. "That's a 25 million person problem, and that's the main reason our economy is struggling. We need serious people with serious solutions to address that."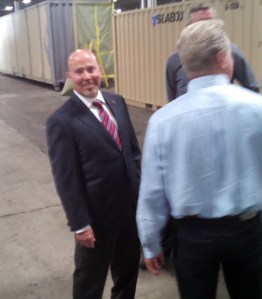 He slammed Belgard, who describes her positions on jobs and the economy in comparatively shorter terms on her website, for lacking substance and specificity on the issues and criticized her vote as an Edgewater Park Township Committeewoman to tax local jobs in the form a fee on small business owners for every additional employee they hired in the town.
"As a local elected official she didn't live with her own decisions, she was an elected official for four months and announced she was running for county office," MacArthur said. "She was in county office for less than a year when she announced she was running for Congress. This is about jumping from job to job, not about living with the results of your decisions."
"I went on a district-wide listening tour for months, visiting with employers and employees, and responded with a comprehensive, 11-page jobs plan. In comparison, Freeholder Belgard's 'plan' is a roughly two index cards of poll-tested buzz phrases and empty rhetoric that virtually ignores an in-depth discussion of critical topics such as Joint Base McGuire-Dix-Lakehurst, Shore Tourism, Manufacturing, Fishing and Farming," he added in a subsequent statement.
But Belgard's camp shot back in their own statement regarding the latest polling numbers, noting that other recent polling still points to a competitive race — while at the same time savaging the Republican once again on his conservative positions on healthcare and women's issues.
(According to the Monmouth poll, voters are split between the candidates in terms of gender, with MacArthur holding a significant 58 percent to 35 percent advantage over Belgard among men, and women voters split evenly at 45 percent for Belgard and 44 percent for MacArthur).
"Three recent polls show this race tied is a dead heat. We're in a very strong position going into Election Day. Voters trust Aimee, a longtime advocate with the American cancer society and community leader, to fight for them in Congress," Belgard For Congress campaign manage Hannah Ledford said. "Voters also know MacArthur is an out of touch North Jersey CEO who is on the wrong side of nearly every issue that pertains to women and middle-class families. He's anti equal pay, doesn't support increasing the minimum wage, and he's staunchly pro-life, backed by a group that would outlaw abortion even in the cases of rape and incest. Voters are rejecting his extreme agenda and that's why we're in such a good position going into the final stretch of this campaign."
Belgard and MacArthur are vying to replace outgoing U.S. Rep. John Runyan (R-3) in CD3. Their next scheduled debate — the second official debate of the race — is set to take place tomorrow night in Leisuretowne.