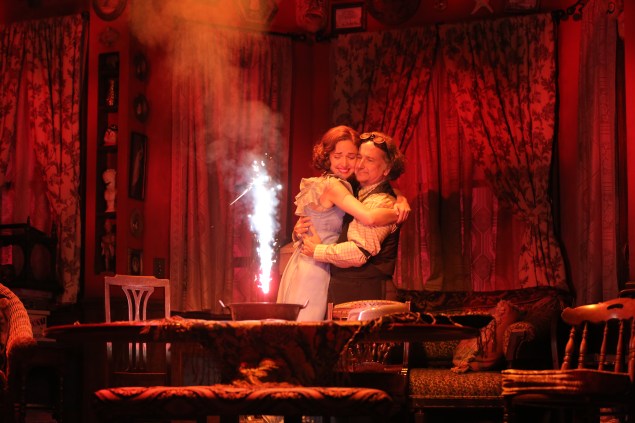 Like the perk of validated parking, sometimes seeing a play justifies all the trouble it takes to get there. You'll have a fine, fizzy time at the Broadway revival of Moss Hart and George S. Kaufman's 1936 farce You Can't Take It With You at the Longacre Theatre. Directed without any empty spaces by Scott Ellis, it's as cluttered with laughs as the wacky set by David Rockwell is cluttered with colorful junk from a bygone age. It's back to the original three acts with two intermissions the way audiences saw it 78 years ago—with just as many laughs.
Three generations of the Sycamore family occupy the home of a gang of mad eccentrics. When the curtain rises, Mrs. Sycamore (Kristine Nielsen), who writes plays nobody reads, is currently toiling away at a new one about a strip joint and a monastery while munching on candy from a human skull and stroking two orange cats. Mr. Sycamore (Mark Linn-Baker) is an inventor who blows up the basement on a regular basis with his revolutionary fireworks. Daughter Essie (a hilarious Annaleigh Ashford, most recently of Kinky Boots) is an aspiring ballet star who floats through the house in a continual tour jeté, striking outrageous poses while her husband plays the xylophone. Daughter Alice (Rose Byrne) is the only normal one in the family. She works in an office where she has invited her romantic boss (Fran Kranz) to dinner.
No explanation of how James Earl Jones came to be a grandfatherly patriarch of the Sycamore family named Martin Vanderhof, but I wouldn't dare ask. The house is a riot of ugly paintings, circus posters, cow skulls, birdcages, board games, cranberry crates and other objects that can only be labeled "unidentifiable." Dinner is watermelon, cornflakes and coconut candy. In the middle of it all, an IRS representative arrives unannounced, demanding that Grandpa pay the government 23 years of back taxes. He doesn't believe in paying money to work. In fact, he eschews the unsavory notion of working altogether. He hasn't held a job for 35 years. But he's a cockeyed optimist. Things will work out and leave him plenty of time to feed his collection of snakes that terrorize the neighborhood.
Into this menagerie of misfits comes the lovely daughter's besotted suitor, who is sane and nice and somewhat of a square, and his superior, uppity parents with their own peculiarities (his father grows orchids and his mother is a firm believer in spiritualism). Before the play ends, Mrs. Kirby, who faints at the sight of snakes, and Mr. Kirby, who has an ulcer, are treated to a dinner from hell, and the premises are invaded by G-men who take everyone to jail, as well as the Grand Duchess Olga Katrina, an aristocratic cousin of the Russian czar, reduced to serving hash at the Childs in Times Square. With cheekbones that meet her eyebrows, kohl mascara that makes her look like a haughty, tyrannical raccoon, Elizabeth Ashley chews enough scenery to induce lead poisoning, but she has never been funnier than when she dons an apron and cooks a pile of Russian crepes. Did I fail to mention there is also a guest appearance by Julie Halston, the funniest woman in New York, as a drunken actress who passes out on the sofa, rising occasionally to split an infinitive, slug another vodka and pass out all over again?
In this warren of frenzied delirium, Mr. Jones officiates over a huge cast of 19 with a saucer-eyed benevolence that never over-reaches.  His philosophy is "Life isn't worth it unless you're doing what makes you happy—making money isn't everything. You can't take it with you!"  It's a mantra that suited Moss Hart and George Kaufman to a semi-colon and works all over again. It's an old warhorse, but new laughs are guaranteed.
***
In a more serious vein, don't miss Stalking the Bogeyman, a dynamic play of sobering substance at New World. The subject is the harrowing, life-altering effects of shame and self-doubt on a man who was brutally raped at the age of 7 and his 25-year obsession with searching for and confronting his abuser. Roderick Hill, an excellent actor with unexpected power hiding behind an appealing air of sensitivity, captures attention with his first line: "This time last year I started plotting to kill a man … I had a gun, and a silencer, and a plan." Based on the true experiences of writer David Holthouse, shaped into a play and directed by Markus Potter, it has the nutritional value of mother's milk and the bitter aftertaste of absinthe.
In 1978, as a kid in Anchorage, Alaska, David admired the neighbor's son, a husky 17-year-old quarterback, surrogate big brother and occasional babysitter, who taught him to drink scotch, do pushups and try other manly stuff. One night while their parents were playing cribbage upstairs, the older boy lured the naïve kid down to the basement where he cruelly sodomized him, leaving the second grader baffled, bleeding and traumatized. He no longer believed in Santa Claus, the Tooth Fairy or the Easter Bunny, but David was convinced his attacker was the real, honest-to-goodness Bogeyman.
Out of guilt that maybe it was his fault and fear that he might grow up to be a pedophile himself, he kept his secret for 25 years and grew eventually into a career in journalism. Promoted to a job in Denver in 2001, he covered the dark side of life, from addicts to street gangs, and became a gonzo journalist with Hunter S. Thompson as his hero. At 31, afraid to marry and still hiding his psychological scars inside, he was still suffering from chronic nightmares—paranoid, enraged, and driven by a secret desire to kill his childhood aggressor. He was damaged forever.
The plot unfolds in 10-year segments, through phone calls to his parents and sessions with his shrink. He buys a 9-millimeter Beretta with a homemade silencer from a tattooed Arizona Chicano he met while researching an article on the barrio. The excitement pounds in his temples when his parents encourage him to look up his old friend from adolescence, now living in Denver with a wife and two children of his own. He writes him a letter, bravely threatening him. The eventual meeting—tensed-up, emotional and filled with a need for redemption—is well written and sensitively acted.  It's the climactic moment in the play in which David finally realizes the Bogeyman is just another imperfect man, like himself, who has changed in the ensuing 25 years, and he exorcises him at last. The man who has haunted him as the Bogeyman asks for forgiveness. David never really does, but he's strong and mature enough at last to become less judgmental about himself and others and learn how to grow from the journey, no matter what happens. The play ends with a quote from the Bible as David walks away, leaving the man he feared his entire life to fade away in the traffic.
Mr. Hill has moments of stinging pathos as the psychologically scarred David. His wounds show at all times, and he makes the audience feel his suffering as though it is happening to us, too. The actors are all impressive in multiple roles, including John Herrera as a Latino gun dealer and a high-school coach who seduces his athletes with pornography; Murphy Guyer and Kate Levy as David's parents; the always reliable Roxanne Hart, who co-starred with Al Pacino in Salome, as a parent and a psychiatrist; and especially the burly, aggressive teenage pedophile, well played by Erik Heger.
Stalking the Bogeyman is potent stuff that never soft soaps the issues and leaves you stunned. Highly recommended.