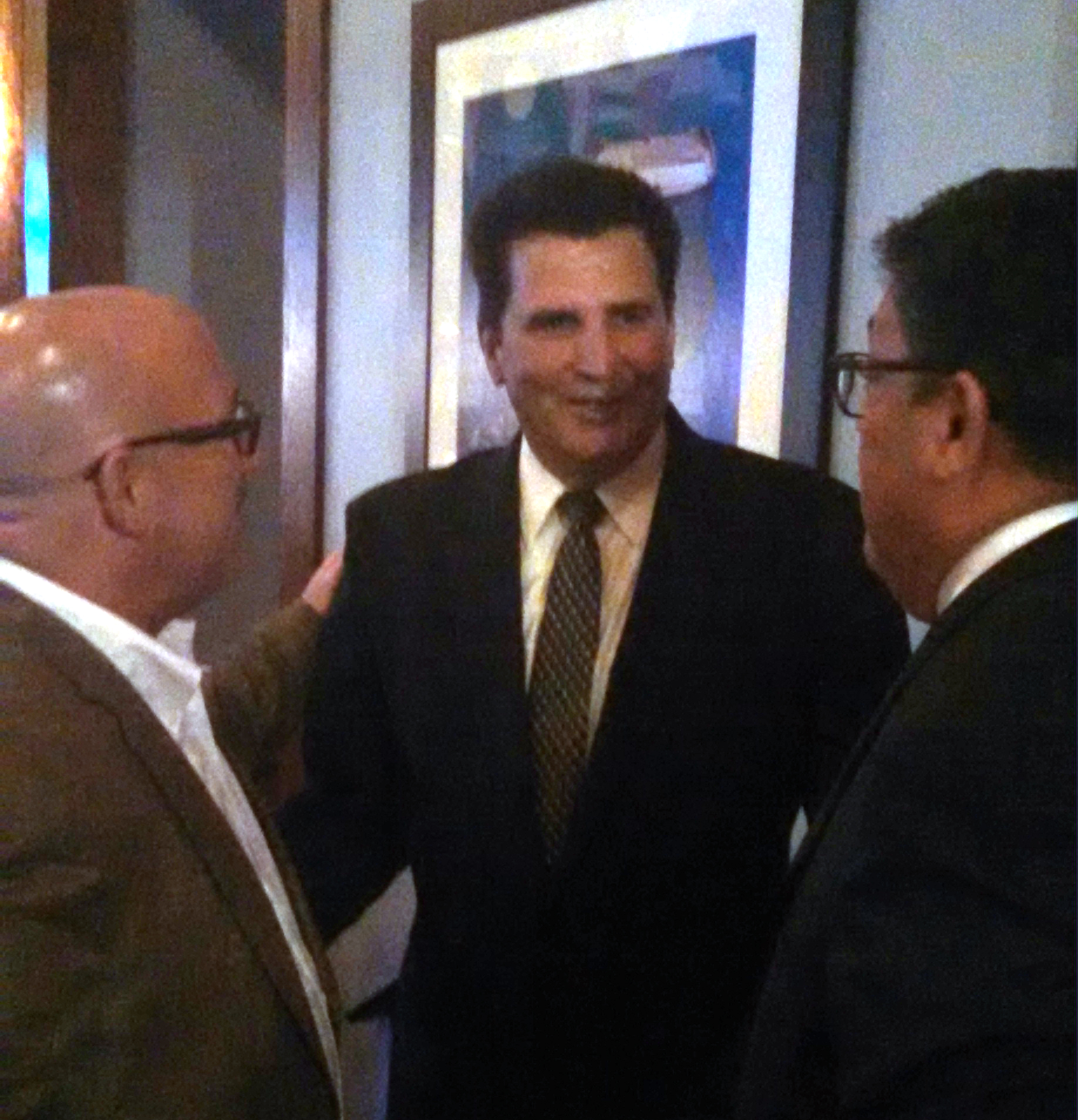 WEST ORANGE – Essex County Executive Joe DiVincenzo had a lot to be proud of as he stood outside McLoone's Boathouse on Cherry Lane last night carrying a cranberry-vodka in one hand and throwing friendly waves at guests entering and exiting with the other.
He's got the seemingly unwavering support of his party — less a few burned bridges, maybe — but support nonetheless, evidenced by the fact that, as a Democrat, he could go and endorse a Republican for governor and still have players from the lowest to the highest echelons of his party heap praise on him like he's some kind of Messiah, as they did last night.
He's faces the challenge of winning re-election this November, yes; but he's up against a little-known councilman from Cedar Grove — "I think his name is Pete, but make sure you get the spelling right," he says at one point — and with a record of winning over communities that had never leaned Democrat, stands a good chance of sweeping the competition and entering his fourth term in office without a hitch.
The Cedar Grove councilman's name is actually Peter Tanella, though that's unlikely to make any difference to "Joe D."
"We campaign across the county and win 20 to 21 out of 22 townships every time," DiVincenzo boasted, though he added that he runs "like I'm losing and never take anything for granted."
"We make our work speak for itself," he added when asked how he turns voters like that, his chief of staff Phil Alagia at his side during a conversation with PolitickerNJ at the honorary gala that drew some 700 guests and raised upwards of $400,000.
A former county freeholder and executive whose political power has grown to rival even the most powerful legislators in Trenton, DiVincenzo's work does speak for itself, or at least the man is convincing enough that you come away believing it does. Over a 12 year period in office, the North Jersey power broker claims responsibility for $2 billion worth of Essex infrastructure improvements, much of which is embodied in the newly-minted zoo and recreational complex just down the road from McLoone's. He brought the county bond rating up from "junk bond status," he's happy to note, to just a step away from AAA, and kept furloughs and layoffs of county workers to a minimum during the county's economic crisis, which saw him inheriting some $167 million worth of debt.
All of those accomplishments were on display as pols from across the state gathered to congratulate him on a job well done, from U.S. Sen. Bob Menendez to Essex County Democratic Party Chairman Leroy Jones to Essex County Assemblywomen Grace Spencer and Eliana Pintor Marin, both of LD29.
One question PolitickerNJ had for DiVincenzo was whether he would support the assemblywomen's re-election campaigns in 2015 — specifically given his relationship to Newark mayoral hopeful Shavar Jeffries, who could make another run for elected office, possibly through the Assembly.
While Spencer stayed neutral in the race between Jeffries and Mayor Ras Baraka, DiVincenzo backed the losing candidate.

But pressed on his allegiances to Spencer and Pintor Marin — as well as to Assemblywoman Cleopatra Tucker and Assemblyman Ralph Caputo, both of LD28 — DiVincenzo seemed surprised that anyone would assumed he'd have placed them anywhere else.
"What do you mean?" DiVincenzo asked, flabbergasted. "They're our candidates, and they've been doing a great job. They have my support."
What about the 2017 gubernatorial race in a post-Chris Christie landscape?
"I told everyone I'd think about it," DiVincenzo said. "But it's still early."
And who would he support if he takes eventually takes himself out of the running?
Still too early.
"No one has declared yet," DiVincenzo said, though earlier in the night PolitickerNJ caught Senate President Steve Sweeney stalking out the door.
How about for president in 2017? Could we see another Christie endorsement?
"I'm a Democrat," he laughed. "But again, too early."
Before returning back to his party, where a band blared and hundreds fraternized over food and drink, PolitickerNJ had to ask: What's the secret?
"For me, good government makes good politics," he said, betraying the political philosophy that's apparently made him so successful. "The same people who are here tonight have been with us the whole time. It's a humbling thing, as an elected official."