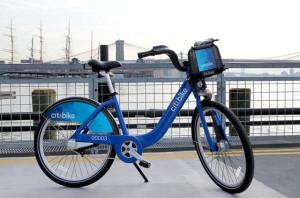 And we all thought stealing and painting Citi Bikes ended in July.
DNAinfo reports a man who took a Citi Bike and savvily tried to cover up the crime by painting it purple has been arrested.
Christian Damgaard, 41, was apprehended by the NYPD on Saturday night on West 25th Street, as he was unlocking the purloined purple cycle.
Police knew that the vehicle was a Citi Bike because the serial number was still visible.
Mr. Damgaard took the bike from the station at East 40th Street and Fifth Avenue on Sept. 2, and had simply never returned it.
Mr. Damgaard was charged with possession of stolen property. He will be in court on Dec. 2 to plead his case.