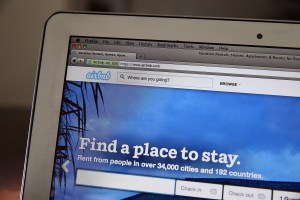 Bill de Blasio is not amused by Airbnb, the bane of modern hotels, and, as of Friday, he's going big stick on some of the properties that use the site for listings.
Mayor de Blasio has filed a motion against the buildings at 59 Fifth Avenue and 5 West 31st Street, which have allegedly been renting out vacant apartments as illicit hotel rooms. Hosting a few guests overnight doesn't exactly seem like a crime, but according to government officials, it's one more obstacle that city dwellers must overcome to actually dwell in the city.
"Illegal hotels and apartment rentals destroy a neighborhood's quality of life, and I applaud the City's actions to crack down on this irresponsible and inconsiderate behavior," NYC Council Member Rory Lancman said in a press release.
Whether Airbnb users "destroy a neighborhood's quality of life" is questionable, but it's true that Manhattanites cringe at real estate prices these days. And the residences at 59 Fifth Avenue and 5 West 31st Street are pretty clutch. So is Airbnb really to blame for you having to commute from Jersey instead of living in the Village?
"Airbnb's cheery ads with people having lovely brunch with their 'guests' hide an ugly reality. Illegal hotel renting violates fire and safety codes, makes life a nightmare for law-abiding neighbors who have strangers coming and going in their buildings at all hours, robs the City of urgently needed housing, and is often a horrible experience for tourists.  Strong enforcement of the illegal hotel law by Mayor de Blasio is a big step ahead," NYS Assembly Member Richard N. Gottfried said.
Mr. Gottfried's distaste for lovely brunches aside, his perspective seems a bit scandalized. Lodging in the nicer niches of New York has been infamously expensive for decades, and if 34,000 other cities around the world work with Airbnb, maybe it's not the spawn of the devil.
But goddam, that apartment on 31st is mighty fine…