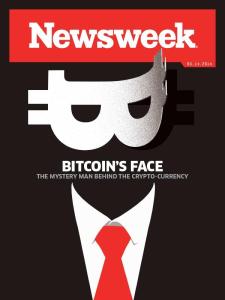 Tina Brown may have gotten a lot of flack for her Newsweek covers, but at least nobody launched a legal defense fund in response to one.
Remember when IBT-owned Newsweek relaunched its print edition last spring with a splashy cover story that claimed that Dorian Nakamoto, a 65-year-old former engineer who lives in California, was the elusive founder of Bitcoin, but then Mr. Nakamoto and his family did a pretty convincing job of denying the story and it was embarrassing for everyone involved? Well, the whole thing is back in the spotlight with a crowdfunding scheme to raise money to sue Newsweek for printing the story. Naturally, the site accepts Bitcoin. (NewsweekLied.com)
If print magazines just disappear one day, will people just shrug and move on? Probably. (Gigaom)
Dao Nguyen, who has been described as BuzzFeed's secret weapon, has been promoted from head of data and growth to take the title of first ever publisher at the company.
But the role of "publisher" at BuzzFeed isn't like a publisher at a magazine or a newspaper. "Dao is a new type of Publisher. She isn't the heir to a newspaper baron and she won't be responsible for the business, selling ads or physical newsstand distribution," CEO Jonah Peretti wrote in an announcement. "Instead, she'll lead publishing for the social web, in the most modern sense, where data science, the CMS, technology, and a deep understanding of social networks, mobile devices, and digital video matter most."
Ashley McCollum, who has been the VP of business development and communications at BuzzFeed has also been promoted to chief of staff, replacing Jamie Urso, who will become "chief of stuff," a new position that entails focusing "on making life at BuzzFeed increasingly awesome." (Re/code)
Rurik Bradbury, the man behind @ProfJeffJarvis, the Jeff Jarvis parody Twitter account, is nothing like his bombastic Twitter persona. He is actually "a mild-mannered Englishman who bears a startling physical resemblance to Edward Snowden." (Digiday)
Upworthy wants to bring the Upworthy experience to advertise brands, and you won't believe what happens next. That's kind of how it works, right? (AdWeek)