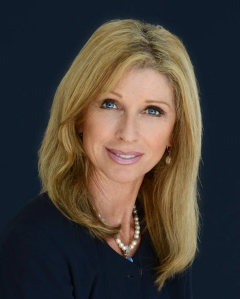 A few weeks ago, Australian real estate professional Manuela Pless-Bennett sent me an email: she was going to be in New York for a few days, and did I want to meet up and talk Real Housewives of Melbourne? I learned Ms. Pless-Bennett is a close friend of housewife Janet Roach, and will appear on the show's second season as an ensemble cast member, meaning she's not a main housewife, but she's featured in a number of shoots.
Unable to pass up on a Real Housewives of Melbourne gossip sesh, I met up with Ms. Pless-Bennett at the Gramercy Park Hotel to chat about everything from Jackie's psychic abilities to Gina's insane make-up.
So you and Janet have been friends for a long time?
We're genuine friends. We're really old friends. We got married at the same time and we got divorced at the same time… But her divorce was, well, her marriage ended very abruptly. She called him out cheating online.
So how did Janet end up on the Real Housewives?
She was like a fly in a bottle — she didn't know which way was up. You know, she's suddenly single, and her whole life was just upside down. And she was approached to do the show.
So, she said to me, "What do you think about this?" because I was familiar with the franchise, because I spend a lot of time in the States. And I said, "You know, honey, honestly you're middle-aged, newly single. Not a lot of your married friends can include you in much, because most of them are pretty insecure. Do it. It's an opportunity, you don't know what could happen from it. It could be nothing, but it could be something. So grab it. Go for it." … She was like a duck to water. The camera just loves her.
On the show, we saw Janet go on a date with a much younger guy. Are they still seeing each other?
She's in a long-term relationship with him. I thought it was cute. He's mad about her. I mean you know, listen, as far as I'm concerned, anyone and anything that keeps her from going back to her husband is a great thing.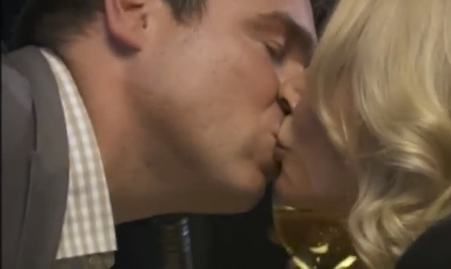 You've been on a bunch of the shoots — what are your impressions of the other housewives? Does Jackie actually have psychic powers?
I'm telling you, [Jackie]'s a kook, but she's a real kook. She's the real thing.
My mother had given me most of her jewelry before she died. And her two best pieces were this massive emerald surround by diamonds and a diamond tennis bracelet and I had lost them. They were so gone. I had looked everywhere.
Between takes on one of the shoots, I said, "Jackie, where's Mum's jewelry?" She looked at me and she told me, "You've got an L-shaped bedroom." I said, "Yeah, I've got a little dressing room off the bedroom." She said, "Yeah, it's somewhere in that L. But you won't find it until you've moved everything out. It's definitely there. I promise you, it's there."
When she told me that, I was like, there's no way I'm going to move everything out of the house. But then, all my household effects arrived from Aspen, which we'd had in storage for a couple of years. And I thought, okay, this is actually my opportunity to get everything out and pretend I'm moving out. And I did that … [but] I hadn't found them. And then I opened a drawer in a chest of drawers … and I saw this little silver pouch in the back of it. I had looked at that drawer a thousand times. There was this little silver pouch, and there they were. And it was right on that little L. So I said, "Oh my god, she got it. She nailed it."
And what about Andrea? She didn't get the most positive reception from viewers.
When I met her we compared notes, because we both come from journalism. I thought, oh my god, she's going to do great. I mean, she did TV reporting. It's like the hardest thing you can do. And she came off the worst.
You know what it is? It took me a while to figure it out. She's a total fake. And you can't fake it. So it's quite simple. She's not on [season 2].
Had she wanted to come back?
They all wanted to come back. We don't know what happened, because they don't tell us anything. Which is smart. Nobody was [her fan]. She got a lot of flak. I don't really know her, but I put it down to her being a fake. You can't get away with it. It's not acting.
Let's talk about Gina. Does she actually look like that all the time?
I've seen her in the supermarket like that. She really dresses like that all the time. I've never seen so much make-up. It's theatrical makeup. I don't think anyone's seen her without it.
The cast seemed to have a hard time with Gina's constant lateness.
I don't know if you've ever been involved in filming things in a TV series, but it's a long process. If you're hanging out and you're on time, and someone is continually late, you do get cranky. I mean, who knows — [the producers] might have manipulated it. They might have given her a [later starting] time. You don't know, and no one will ever know.
Gina has the ability to look very calm and in control all the time, so she has a poker face, which is what you need when you're a legal representative. And she talks very slowly, and very low, and it makes her seem like she's in total control, and like she's very intelligent. People that can do that, often they do it because they can't think that fast, so it gives them time to think.
It seemed like some of the housewives were being unfairly mean to Gina, attacking her at Mission Beach and everything.
Listen, Gina milked it, [saying] "I'm being bullied." She came over here [to the U.S.] and she looked up Lisa Vanderpump, and they had a little powwow about being bullied. She milked it. She totally milked it.
Okay — what is up with Lydia and her husband flying their private jet to an island to buy cheese?
I don't know about that. I don't know her. [Her husband]'s an architect. I don't think they're very high-flying. I mean, they could have their own plane. I doubt it really. I feel like they probably charter planes. I think a lot of people charter planes. I doubt they live that kind of life — such a high life that they own their own plane. I really don't know. I could be wrong. But I find it a bit far-fetched.
And last but not least, Chyka. She and Bruce are the best couple ever.
They're really lovely. They just hosted a beautiful [dinner party] last week. Their business is massive, it's one of the biggest catering agencies in Melbourne. Very classy, very genuine. I've known her a long time, [but] I haven't known her well. I've only known Bruce since last year. They're very established. A very special family.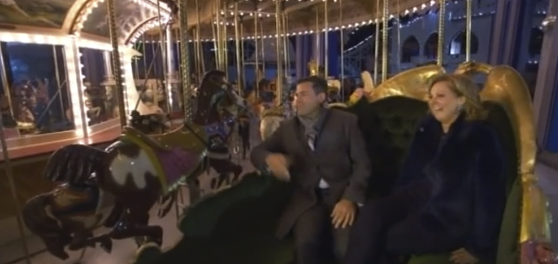 So you're currently in the process of filming Season 2. I heard there are two new housewives?  
There are two new main cast members. One is a property developer — a little pocket rocket. This tiny little thing. She's from Sri Lanka. The other one looks like a Barbie and gives everyone Barbie name. She hasn't dared give me one yet. I think she's a little scared of me.
Would you ever want to be a main housewife?
I have too much going on in my life. I see what they go through, and like what Janet went through last year. But it was good for her because of the timing, whereas the timing in my life, it's just not the right timing for me. But never say never. Because you don't know.