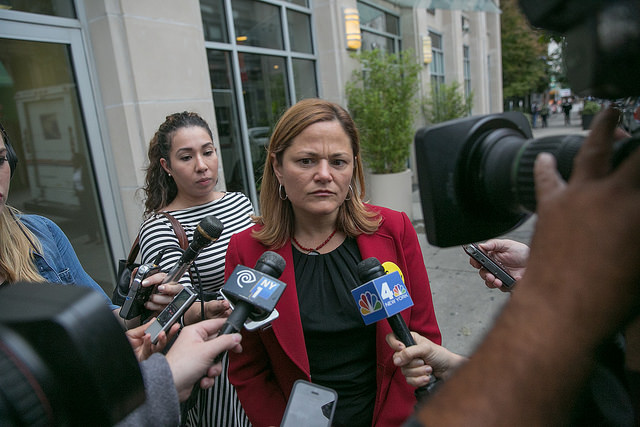 Term-limited Council Speaker Melissa Mark-Viverito quietly held a fund-raiser in Manhattan this morning, a source close to the speaker confirmed to the Observer.
The purpose of the fund-raiser was not immediately clear, but sources said the cash was headed for the 2017 campaign committee she established to run for speaker. It was held at the headquarters of the Council of School Supervisors and Administrators, a union representing educational administrators.
Ms. Mark-Viverito spent heavily on consultants during her race for speaker last year–she was elected by her colleagues in the bitter backroom contest–and is now $5,262 in debt, according to Campaign Finance Board records. She has raised $107,040 for the race, spending a whopping $112,302.
In addition to funneling money to consultants like Hiltzik Strategies and Pitta Bishop Del Giorno & Giblin, she also donated $8,500 to the Working Families Party, a key backer during the speaker's race. Her campaign spending raised eyebrows in political circles–traditionally, candidates for speaker did not spend so much on a race that is not determined by voters.
In addition to settling her debts, Ms. Mark-Viverito could be looking toward the future, sources say. Though she has emphatically ruled out a mayoral bid–every other speaker has run for mayor–other runs for office are not out of the question.
Ms. Mark-Viverito will have to vacate her office at the end of 2017.
A spokesman for Ms. Mark-Viverito declined to comment.