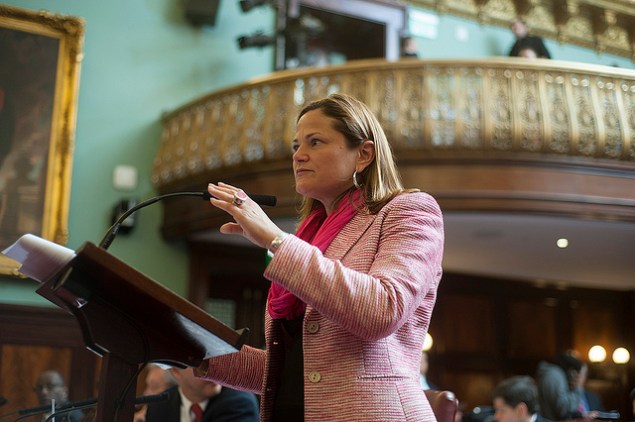 Council Speaker Melissa Mark-Viverito will travel to Puerto Rico tomorrow to speak at the Puerto Rican Public Relations Association Conference, where she'll discuss new media and her own prominent presence on Twitter.
"I'm going to try to encourage the use of social media to get a message across," Ms. Mark-Viverito told the Observer in a brief interview in her City Hall office.
Unlike some elected officials, Ms. Mark-Viverito — a native of Puerto Rico who lived there until she was 18 — runs her Twitter account herself. She uses it to share thoughts on the news of the day, interact with and re-tweet reporters and other elected officials, and to occasionally break news, including that of her recent HPV scare.
"You become comfortable with the platform. In a way, it's almost like a diary of sorts. It's a way of tracking what you feel about something, or your reaction to something. Like I said, it becomes like a friend," Ms. Mark-Viverito said.
Twitter also allows the speaker and other elected officials a direct line to constituents, one that goes around the filters of reporters or public relations officials.
"It kind of breaks down, I guess, whatever image people may have of me. It maybe humanizes me a little bit more," Ms. Mark-Viverito said.  "I think that's important as well for constituencies that somehow see electeds as like removed and somehow disconnected. I don't think that's the way I ever governed, but I definitely don't want to be viewed that way."
Ms. Mark-Viverito said her remarks would also focus on how activists can use Twitter — and said she'd point to times when she used the platform to find out about news, such as first learning of an explosion in her East Harlem district from the social network, and of times when he used to effect change, like when she urged news organizations to stop using the phrase "illegal immigrants."
"It can be seen as a platform that can also enact change," Ms. Mark-Viverito said. 'It's really, it's fascinating to me."
While the new- and social media-focused conference isn't entirely Twitter-centric, that's the one social media platform that the speaker personally prefers.
"I know some of my colleagues use Facebook a lot. That's one that doesn't speak to me," she said.
Ms. Mark-Viverito will depart for San Juan on Thursday, and is scheduled to speak at the conference on Friday. She'll return to New York on Saturday. She's traveling with Erica Gonzalez, a former El Diaro editor who now handles digital engagement for the speaker's office. The trip will not cost the city any money, Ms. Mark-Viverito's office said — expenses are handled by the convention, and she will not travel with a city-funded security detail.
During her short trip, she will also meet with San Juan Mayor Caremn Yulin Cruz, and visit the Martin Pena Canal, where activists have been trying to improve the quality of life for those living near the polluted body of water.