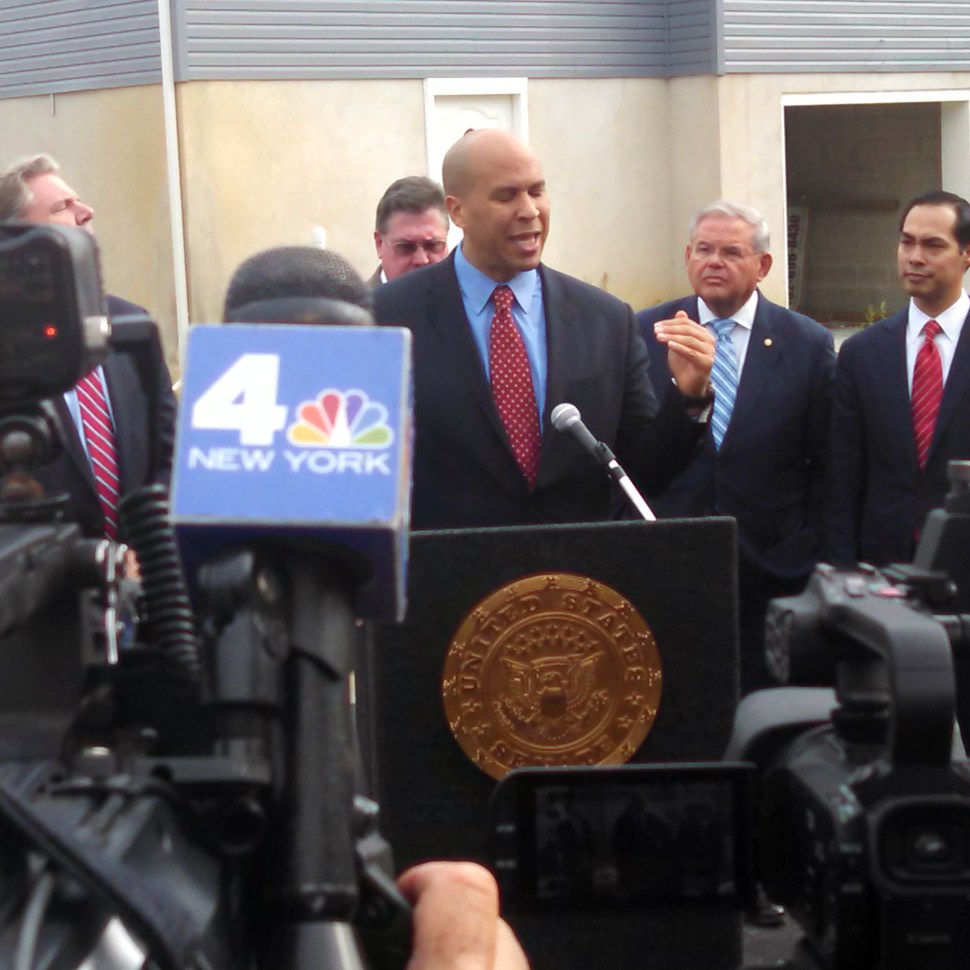 UNION BEACH – U.S. Senator Bob Menendez (D-NJ) let his "Cuban get up on" him while talking about Hurricane Sandy recovery at a press conference today, raising his voice and pounding his fist on a podium as he decried the state's handling of aid distribution in the wake of a storm that displaced thousands of residents and continues to affect many more.
"Two years later we find nothing more that what is a myriad of horror stories of conflicting information, of a lack of transparency, of an inability to get an answer, and most importantly the inability to get back into their homes," Menendez, standing in front of the foundation-bare home of Maria McQuarrie, a resident of Union County who is living in a trailer with her husband and daughter on their front lawn two years after Hurricane Sandy ravaged the area, told a crowd of reporters. "That is not what I envisioned when I was on the floor of the United States Senate pushing at the end of a congressional session for $60 billion. We must do much better."
Joined by fellow U.S. Senator Cory Booker (D-NJ), U.S. Rep. Frank Pallone (D-6), and U.S. Housing and Urban Development Secretary Julian Castro, Menendez stressed the need for greater "accountability and transparency" when it comes to the state's approach to assisting Sandy victims, many of whom still find themselves unable to move back into their homes. A Monmouth University Poll found yesterday that a large majority of New Jersey Sandy victims — about 54 percent — remain dissatisfied with the storm recovery and feel like they've been forgotten.
But Menendez also took issue with the state's largest housing-recovery program, RREM, which provides grants of up to $150,000 to help primary homeowners repair, rebuild, or elevate their homes. Out of the $1.1 billion New Jersey has received from the federal government in funding for recovery since 2012, only some $220 million of has actually reached residents — drawing criticism not just from state officials but from New Jersey advocacy groups, such as Fair Share Housing, who testified on the issue in front of the Senate Banking Subcommittee on Housing, Transportation and Community Development earlier this year.
"Something's wrong when two-thirds of everybody who's qualified for the RREM program hasn't received a penny, and when 80 percent of the people still out of their homes haven't been able to start construction. That's not acceptable," Menendez said.
Castro, who stepped into his position at HUD this summer and promised to tour areas in New Jersey still struggling to bounce back  from Sandy, said "tremendous progress" has been made over the last two years among the three grantees the department has assisted in recovery efforts — New Jersey, New York State, and New York City — and said he is "absolutely determined" to make the process go more smoothly.
"There has been tremendous progress that has been made in these last two years, but there's also a lot of work that still needs to be done,' Castro said. "And that was very clear from our visit with Maria, and the families and the other advocates we spoke to today… We believe it's important that folks not point fingers, but use those hands to work toward solving the problem."
"We heard today very raw testimony, the truth from a lot of residents in this community who clearly have put forth, that two years later, there are still families struggling," Booker said earlier. "Not struggling with weather, but struggling with bureaucracy, struggling with hoops, sent from one group to another, not getting the answers that they deserve … So many people believe that the storm has come and gone, and that we've gone on about our business and that folks have been made whole. But the reality is that there is still so many families who are not back in homes, who are still struggling to find funding sources that they were led to believe that they would get."
But frustration over a sluggish recovery — and, in her case, over insurance companies who refused to cover the full cost of damages for many victims of the storm — was palpable in one resident,  Andrea Kassimatis, who said she was shortchanged by her own carrier and now lives in a trailer next to her partially-built home. She spoke out during today's press conference, demanding that officials address the issue.
"We're wasting so much time money and energy in places they don't need to be spent," she lamented. "We know the problem, let's fix it. Get it addressed, get it fixed."
Menendez agreed that the "lowballing" of policyholders by insurance companies was a problem, but also directed fire at the state, in a clear contrast to Gov. Chris Christie's own assessment of the situation. Christie and other state officials have pointed to the federal government as the source of delays in distributing funding, but Menendez seemed to place the blame squarely in New Jersey's lap.
"While we have worked together, Republicans and Democrats alike, we worked with the governor to get the money here, and I was an advocate, because I was convinced that flexibility to the state of New Jersey meant quicker, responsible money to the people in their homes. So I was all for that," he said. "But flexiblity also requires responsiblity at the end of the day. Now here's the problem. The Federal Government did not, nor did HUD, choose the contractor that the state of New Jersey chose to administrate the biggest program in the state of New Jersey from federal dollars, the REM progam. They chose a contractor who got three-quarters of his money and botched a billion dollar program. That was not the federal government. The state of New Jersey made that decision. The state of New Jersey is the one who receives the money from the federal government and then executes it."
"My point here is that when I listen to Maria and all the other home owners, who call a state agency, not HUD, and cannot get an answer, who are disrespected in the process of trying to find a simple answer to a question — when I hear that I don't know is the answer to a citizen's issue as to do I qualify, when am I going to get my money, where am I on the list — when I understand and had testimony from the Fair Share Housing people before our committee that people couldn't get information, and then there disagreement between the state of New Jersey and those entities to do certain things which have yet to be done — that's not the federal government," he added.
"Sorry, I let my Cuban get up on me," he said later.