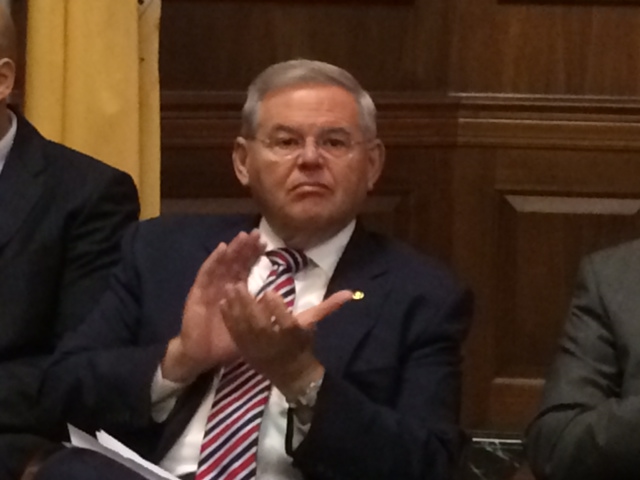 JERSEY CITY – U.S. Sen. Bob Menendez (D-NJ) underscored the importance of the growing Latino vote in both a key 2014 U.S. Senate contest and in the 2016 presidential race on Tuesday.
"If Latinos come out in Colorado, Mark Udall will win," said Menendez, noting his campaigning efforts for the incumbent Democratic U.S. Senator in the Rocky Mountain state, which saw its Latino population rise to 21 percent of the state's population currently from 17 percent in 2000, an example of an overall national demographic trend. "They are somewhat disaffected by [President Barack Obama's] inaction on immigration as is relates to the executive order [for undocumented immigrants]. Mark voted for immigration reform and called upon the President to use executive action. We should reward those who stand by our side."
For Menendez, the Colorado U.S. Senate race is "an example to the country."
"The road to the White House comes through El Barrio, through the Hispanic community," Menendez said shortly after giving remarks at the official opening of an immigrant advocacy center in Jersey City that is co-sponsored by Hudson County and by the non-profit agency wing of the New Jersey State AFL-CIO, the first center of its kind to be labor-led. "That's why the Republicans will have such a hard road to the White House, but Democrats cannot take the community for granted. While [Latinos] are unlikely to vote Republican, they are very capable of staying home. And when [Latinos] stay home, we're the ones who get hurt."
Menendez, 60, the son of Cuban immigrants, was raised in Union City and began his political rise in Hudson County, a part of the state where Latinos were actively courted by the Republican Party in the 1980s.
Menendez bore witness to what it took for Democrats to keep Hudson County Latinos from turning to the GOP, a move made by many Latinos in South Florida at the same time.
"The bottom line is that we appealed to the community based upon their own interests," Menendez said. "We explained that for a long time, the Democratic Party had welcomed them, not opposed them, had helped them, not created more obstacles for them. We reminded them that when [political] opportunities came, it first came, and was strongest amongst, the Democratic Party.
"We really beat back a national wave," Menendez added. "And now, every Latino officeholder in this county, of which there are many, ultimately are Democrats."