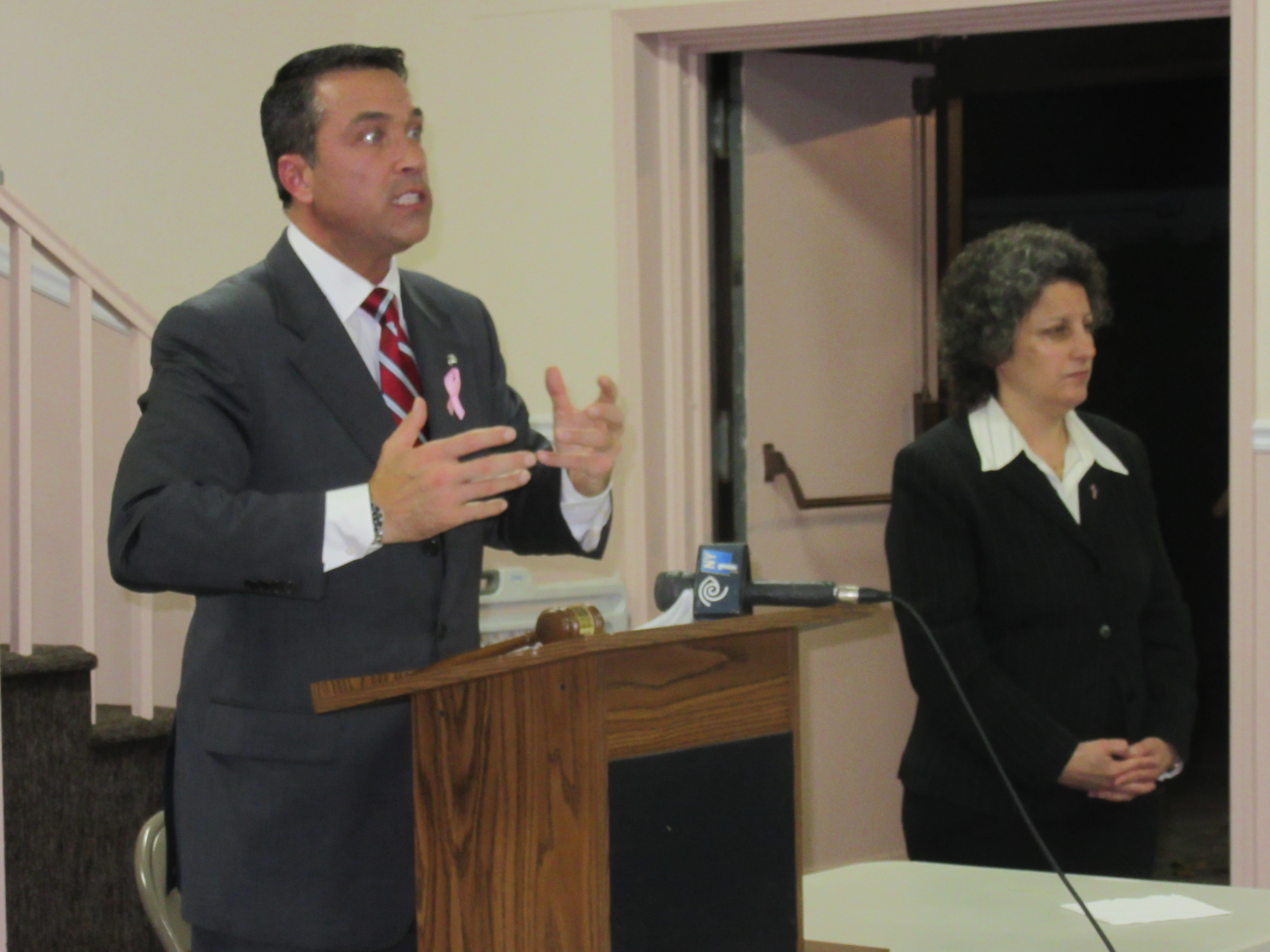 Congressman Michael Grimm said after a candidate forum in Brooklyn last night that if re-elected he fully expects to return to the Committee on Financial Services–the position Mr. Grimm, a Republican, resigned from in the wake of his 20-count federal indictment for allegedly hiring undocumented immigrants at a restaurant he owned prior to his 2010 election.
Asked what committee appointment he expected to receive, Mr. Grimm said that he believed his colleagues would again recognize his professed expertise in the matters of trade, housing and banking that the committee handles, and the special relevance money matters have to his Staten Island and southern Brooklyn turf. The speaker of the House appoints committee chairs, and the delegation internally determines who sits on them based on preferences and seniority.
"Financial services. I think it fits the district, I know the subject matter very well, so financial services," Mr. Grimm told the Observer.
Mr. Grimm went so far as to say that the committee's current leader, Texas Congressman Jeb Hensarling, had personally told him he was keeping a seat on the committee warm for him.
"In fact, the chairman has already said he's holding my spot," Mr. Grimm said.
Mr. Hensarling did not immediately respond to requests for comment. A spokesman for House Speaker John Boehner of Ohio noted that the House steering committee will decide which 30 Congress members will sit on the committee, and conference will vote on it at large.
"That process will apply here as it does with all members," said spokesman Kevin Smith.
The national Republican Party backed away from Mr. Grimm following his indictment, causing most of the congressman's fund-raising streams to dry up–though there have been indications that the party may be willing to come back out in support of him.
Mr. Grimm, however, said the involvement of the national GOP and Mr. Recchia's superior donation drives are both irrelevant.
"It doesn't matter at this point. We have the momentum going for us, our numbers have never been so solid. Listen, I got elected without their help and I'll get re-elected without their help," he said. "I think my opponent can have all the money in the world and it's not going to make a difference, a hill of beans in this race. The bottom line is you still have to have a qualified candidate, money alone won't do it."
The forum–held by the Dyker Heights Civic Association, a local neighborhood organization–was intended to be a two-man showdown between Mr. Grimm and his Democratic rival Domenic Recchia Jr.. But the challenger decided not to attend the event, pointing out that the debate moderator and president of the civic group, Fran Vella-Marrone, works in Mr. Grimm's Brooklyn office.
Documents obtained by the Observer indicate that Mr. Recchia was scheduled to spend the evening at a fund-raiser in Staten Island.
Mr. Grimm, however, noted that he had attended another Brooklyn debate with Mr. Recchia where the moderator was an active local Democrat who had been involved in protests outside his office. The incumbent claimed his opponent was in intensive preparation for a later televised debate in order to avoid the sort of gaffes that have marred his campaign.
"He's a coward, bottom line. He always says 'pick on someone your own size'–I'm standing right here," Mr. Grimm said.
For her part, Ms. Vella-Marrone pointed out that the Dyker Civic debates pre-date her birth, and that her involvement in the organization pre-dates her work for Mr. Grimm. She pointed out that local Democratic Councilman Vincent Gentile has participated in the debates for more than a decade.
"Councilman Gentile, he's the one that's debated here more times than anybody else. I think he and anyone else would say that I'm absolutely 100 percent fair, and that when I'm up here I'm president of the Dyker Heights Civic Association and that's all," Ms. Vella-Marrone told the crowd.
Mr. Gentile said he had always found Ms. Vella-Marrone fair, but added that he understood Mr. Recchia's concerns.
"I have had many sessions here, debates here, and during the debates she has given me equal time. I don't know what happened with the discussions this time around, I haven't had a chance to ask, but the fact is her boss is running should be a concern to those who have not experienced this before, have not experienced this process before," Mr. Gentile said, noting that a large number of active local Republicans were in the crowd. "This is a rally for Michael Grimm."
James Kemmerer, the Democratic challenger to local Republican Senator Martin Golden, participated in last night's debate, as did Democratic Assemblyman Alec Brook-Krasny.
Mr. Recchia's camp attacked Mr. Grimm's remarks as tired macho-man posing–the same that the incumbent exhibited when he threatened to throw NY1 reporter Michael Scotto over a balcony in the House of Representatives.
"Well it's not surprising that Michael Grimm can't seem to give up his bullying tough-guy routine– although it's refreshing that he's not directing his threats at the press this time. But, no amount of schoolyard taunting makes it appropriate to have a paid member of your staff moderate a debate," said spokeswoman Sarah Weinstein. "Domenic has already debated Michael Grimm once and will gladly compare their records again in the upcoming four scheduled debates. Michael Grimm should stop wasting his time and save the tough guy act for when he'll need it behind bars."
Updated to clarify how Congress members obtain committee posts, to include comment from Mr. Boehner's office, and from the Recchia campaign.