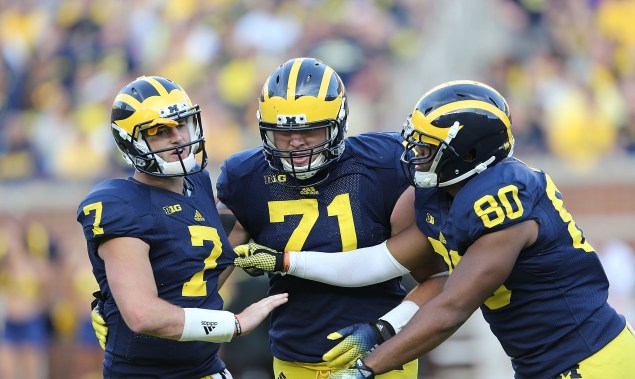 The fiasco of the Michigan football program goes much deeper than last Saturday's irresponsible decision to allow a dangerously damaged and visibly stunned quarterback to continue playing and risk devastating injury.
Ever since the appointment of David Brandon as director of athletics director in 2010, one of America's signature college sports teams has deteriorated to a level that is at best comical and at worst disturbing.
The whole mess comes east this week when Michigan (2-3) visits Rutgers (4-1) on Saturday night in a Big Ten game.
The resurgent Scarlet Knights are a three-point favorite over the staggering Wolverines. Imagine that. The Wolverine's old coach, Bo Schembechler, isn't just turning over in his grave. He is shaking his fist, blowing his whistle and shouting.
In last week's 30-14 loss to Minnesota, quarterback Shane Morris played on a severe ankle sprain that made him increasingly immobile and vulnerable. Nevertheless, Coach Brady Hoke and his assistants kept calling plays for Morris to drop back and pass.
This exposed him to vicious hit from Theiren Cockran, a defensive end for the Golden Gophers, who flattened Morris – helmet to chin – after a pass. Morris wobbled to his feet and then staggered. A lineman held him up and signaled to the sideline for help.
None was forthcoming. Hoke's staff called another pass play before replacing Morris with Devin Gardner. But Gardner lost his helmet on his third play and had to sit out the next one according to the rules.
Instead of replacing Gardner with third-string quarterback Russell Bellomy, who was wearing a helmet and standing at the sideline, Hoke sent back the obviously injured Morris for one more play. Through Monday afternoon, Hoke insisted that he did not know Morris had a concussion.
Half a day later – at 12:52 a.m. Tuesday morning – Brandon issued a statement saying, in part: "Shane was diagnosed with a probable mild concussion, and a high ankle sprain . . . There was a serious lack of communication that led to confusion on the sidelines."
Brandon's statement in the dark of night allowed no questions from news media. He hired Hoke in for the 2011 season to restore the glory of the Maize and Blue after the disastrous three-year reign of Rich Rodriguez. One of Hoke's curious habits is to wear no headset on the sidelines, unlike most coaches.
Had he worn them, an assistant coach might have said "Our quarterback is in danger. Get him out." Even if the headphones were tuned to ESPN, Hoke could have heard the announcers saying: "He can barely stand up . . . This is atrocious .. . . Appalling . . ."
It's not that Hoke doesn't communicate. During a loss to Utah, he argued on the sideline with his assistant, Greg Mattison. This did not project the image of a cohesive coaching staff.
In one of those comic twists of fate, that game was delayed about two hours in the fourth quarter because of a lightning storm. It was Mother Nature's ironic mocking of Brandon's athletic department, which had proposed fireworks displays at two games, a ploy turned down by the Board of Regents.
Another stunt was vetoed by the Federal Aviation Administration. It refused to allow Michigan to deliver the pre-game football by drone aircraft. Imagine calling in a drone strike on your own football stadium. Even a benign one sends a mixed signal.
And then there was Michigan's pathetic attempt to keep its home attendance above 100,000, a tradition since 1975. To do so, stores around Michigan offered two free tickets to Saturday's Big Ten game with Minnesota to customers who bought two bottles of soda pop.
Which brings us to Brandon's marketing of food. Until 2010, he was chairman of the board and chief executive off Domino's Pizza. Immediately after Brandon left for Michigan, Domino's launched an ad campaign apologizing for the deterioration of its product.
"Worst excuse for pizza I ever had," said a company executive, quoting a customer. "The sauce tastes like ketchup," said an employee. They were referring to the food produced under Brandon's leadership.
At the time, Brandon was a member of the university's Board of Regents which, in limited public debate expanded the "Big House" stadium to include luxury boxes for fat cats and big boosters while raising prices for regular fans who sit on backless benches below.
In addition, Brandon raised the price for student tickets and re-arranged seating priorities in a way that so alienated the young scholars that student-ticket sales dropped this season from 21,000 two years ago to about 14,000 this year.
And many of those sold seats have been unoccupied for games even in pleasant weather so far this season. Wait until it snows.
In the past, back when Brandon was a backup quarterback and lineman for Schembechler's Wolverines, the program rode high and mighty with what its rivals perceived as the high-handed arrogance of sore winners.
Michigan, they sang in one of football's great fight songs, represented "the leaders and best." Now, they are neither. As potential star recruits express second thoughts about Ann Arbor, students march and demonstrate on campus for the removal of Hoke and Brandon.
But elsewhere, other college football fans more quietly smile and muse with schadenfreude about a pompous football factory finally getting its long due comeuppance.