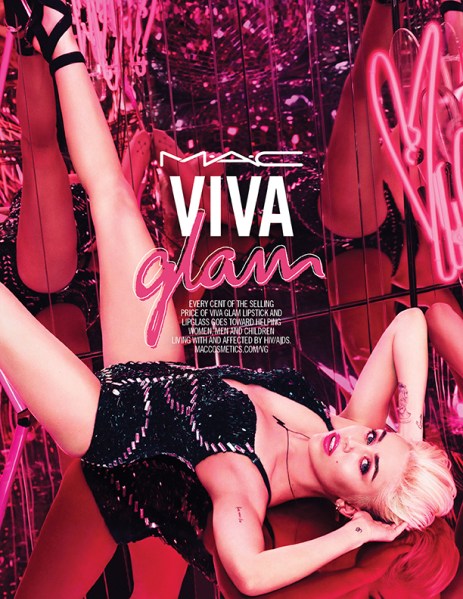 Love her or hate her (and if you hate her, let's face it, you're probably just a party pooper), Miley Cyrus is going to be gracing even more magazine pages, billboards and sides of buses than usual next year.
The pop star has signed on to serve — and we do mean serve — as the 2015 face of MAC's Viva Glam line.
Previous Viva Glam models have included Nicki Minaj, Ricky Martin, Lady Gaga, Cyndi Lauper, Fergie, Eve, Pamela Anderson, Lil' Kim, Mary J. Blige, Pink, Elton John and Christina Aguilera, so clearly Miley is in good and incredibly sassy company.
Every cent of the purchase of Viva Glam lipstick and lipglass goes toward MAC's HIV and AIDS fund. This translates into, among other things, meals for AIDS patients, condoms, hygiene and grooming essentials, shoes and school stationery for children orphaned by AIDS, public transport for patients to travel to and from doctors' appointments, and even childcare for patients while they are at their appointments.
The lipstick and lipglass colors have been revealed, and they look like this:
Perfect for blondies like Miley, but seemingly versatile enough for women of all skin tones. They will be available, at $16 for the lipstick and $15 for the lipglass, on Jan. 22, 2015 at all American MAC locations.