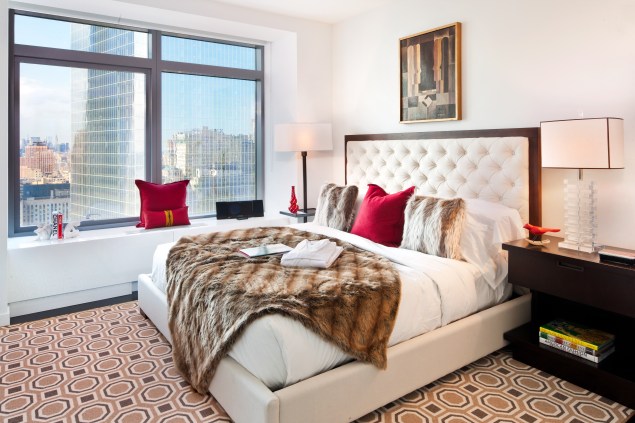 So much for crowded dorm rooms and dining hall mystery meat—for some rather fortunate New York City college students, the W Hotel is home.
In the growing number of hotel-condo buildings across the city, a disproportionate share of residents are the children of foreign buyers, brokers told the Observer.
"Believe it or not, a large number of those pied-à-terre sales were to parents buying for their college-aged children while they attend New York University or Columbia," said Jacqueline Urgo, president of the Marketing Directors' New York office, which is exclusively listing the W Downtown Hotel & Residences, located at 123 Washington Street in the Financial District.
Prices in the W Downtown, where units start on the 23rd floor, range from about $1.2 to $6.2 million.
In New York City, there are a dozen or so hotel-condo hybrids including Extell's One57 and Park Hyatt; Starwood's Baccarat Hotel and Residences; the Moinian Group's W Downtown Hotel & Residences and Silverstein Properties' the Residences at the Four Seasons at 30 Park Place.
Last week, plans were filed for the Hudson Rise Hotel at 462-470 11th Avenue in Hudson Yards. The 242-key hotel will also feature 47 condos, and 108 condo-hotel rooms (glorified timeshares that are purchased as condos but can only be occupied for part of the year), making it the latest development to tap into this transitory, affluent and service-driven buyer pool.
Brokers in all of these mixed-use hotel and condominium buildings said that they were familiar with the trend of foreign parents buying apartments for their kids, which attracted media attention last year when a Chinese mother spent $6.5 million on a unit in One57 for her then toddler.
Hotel properties offer international buyers the "comfort" of a luxury brand with a global presence, said Jonathan Miller, CEO and president of the real estate appraisal firm Miller Samuel.
Parents can sleep easier halfway across the world knowing that their kids can order five-star room service in the middle of the night instead of scrounging for falafel on St. Marks Place.
Twenty-four-hour service is a selling point at the Baccarat, at 20 West 53rd Street, where 59 super-luxury residences begin on the 18th floor and rise to the 50th. The penthouse is asking $60 million.
"If one of our owners comes home at 2 a.m. and wants to have a gourmet meal in their apartment the hotel will open the restaurant, prepare a meal and have it brought up," said Mark Gordon, managing partner of Tribeca Associates, which co-developed the Baccarat Hotel and Residences. "If the residential owner wants to have their apartment cleaned at 1 a.m. house keeping will come up."
Mr. Gordon added that while some other luxury buildings in New York do offer great services, dining rooms and pools, for these buyers the social element of living inside a hotel is essential.
"It's the best of both worlds," he said.
In addition to a good night's sleep, parents also get a place to stash unused capital, Mr. Miller pointed out. "If someone is already interested in investing in real estate, than it is logical that they would go ahead and buy if they had family attending school here," he said, adding that traditionally international buyers are making a long-term equity play when they purchase multi-million dollar pied-à-terres in these buildings. "They are not looking for return on their investment. They're looking to preserve the capital they already have, and they are diversifying around the globe."
At the W Downtown, more than half of condo sales thus far have been to internationals—largely from Singapore. And, of those, 20 percent were pied-à-terre buys—equal to the number of pure investment purchases, Ms. Urgo said. Only a small percent of those sales were to people who actually intended to relocate and live in the building.
Part of the development's international appeal lies in that most residents are already familiar with the services the W brand offers in its hotels, so they know exactly what they are getting in a city that can be overwhelming for young outsiders.
Residents can expect house keeping, valet parking, grocery shopping and delivery, in-residence spa services, in addition to the hotel's signature "whatever, whenever" concierge service.
Buyers also receive a three-year gold membership with Starwood, which manages the building, entitling them to discounts and free hotel stays at Starwood properties around the world, a handy spring break perk if ever there were one.
From a developer's perspective, grouping together hotels and residences lets them capitalize on both the tourism and super-luxury condo booms in one pass, while reaping revenue in both the short and long term. 
"Say a developer buys a piece of land for $50 million. Using that land for a hotel doesn't necessarily pencil out," Andrew Gerringer, managing director at the Marketing Directors, explained. "One way to reduce your costs is to sell off condominiums on top. Sell $25 million in condos, and now your land cost is effectively $25 million for the hotel, making it viable.
"To some degree you can think of these buildings as hotel developments with condos stuck on top," he added.
What's more, once the condos are sold off, the developer continues to own the hotel portion of the building, for an ongoing revenue center.
All this amounts to great news for future generations of Singaporean co-eds. "I think we are going to see more hybrid development in Manhattan and throughout the boroughs in the years to come," said Mr. Miller.