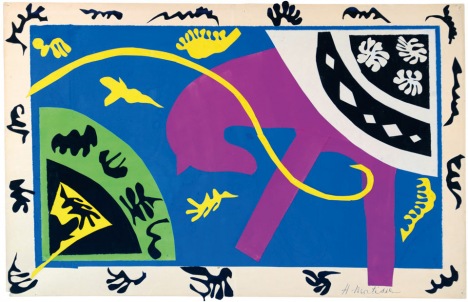 When "Henri Matisse: The Cut-Outs" opened at the Tate Modern in April, Tate director Sir Nicholas Serota called it a "once-in-a-lifetime" show. He said it may be "the most evocative and compelling show that London has ever seen." He said there would be crowds and crowds of people.
And, oh, were there ever. "The Cut-Outs" drew more than half a million people, more than any show in the Tate's history.
So, now that the blockbuster exhibition has moved to New York, the Museum of Modern Art is not taking any chances. In order to make sure attendees swarm the museum, MoMA will require Matisse fans to buy tickets allowing them to enter the show only at a certain time. The show doesn't open until Sunday, but slots are already selling out.
A MoMA spokesperson says the policy has only been enacted for two shows in recent years: the retrospective of filmmaker Tim Burton in 2009, and "Van Gogh and the Colors of the Night" in 2008. The show of Mr. Burton's film sets and illustrations drew over 800,000 visitors, so clearly some regulation was needed.
"The Cut-Outs" features works Matisse created in his later years, when he transitioned into using scissor-cut paper as his primary medium. This reporter is quite excited.
You can snap up tickets right here. They cost $25 for adults, and hopefully they'll prevent what would have been a mosh pit of Matisse fans on 53rd Street.  You can also look into becoming a member, to get into one of those member openings. Act fast.