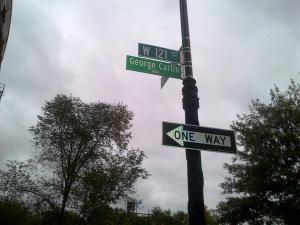 Whether you prefer baseball or football, this is welcome news.
On Wednesday, the corner of Morningside Drive and West 121st Street was christened "George Carlin Way." The legendary comedian, who died in 2008, grew up in the area.
Comedian Kevin Bartini first proposed the idea in 2011, but Corpus Christi Church, located on 121st Street, blocked initial efforts. Though Mr. Carlin attended the church school as a child, he was an atheist for much of his life, and his vulgar remarks about the Catholic Church turned off school officials.
"The sign will stand about 75 feet to the right of where we wanted it, so the children are safe," Mr. Bartini told the New York Times.
Mr. Carlin's views on faith were a focal point of the ceremony- he was "a priest to all the damaged Catholic people," comedian Colin Quinn told DNAinfo.
Among the other comedy heavyweights who attended the ceremony were Gilbert Gottfried, Judah Friedlander and Robert Klein.
But it was the lesser-known speakers who led to some of the best moments, according to the Times.
Councilman Mark D. Levine, who represents the Morningside Heights District, exclaimed "motherfucker" at one point during his speech- fitting, since it's one of Mr. Carlin's seven dirty words.
And after the ceremony, Mr. Carlin's 83-year-old brother Patrick smoked a joint in Morningside Park.
There probably would have been less celebration if an airport had been named after Mr. Carlin.