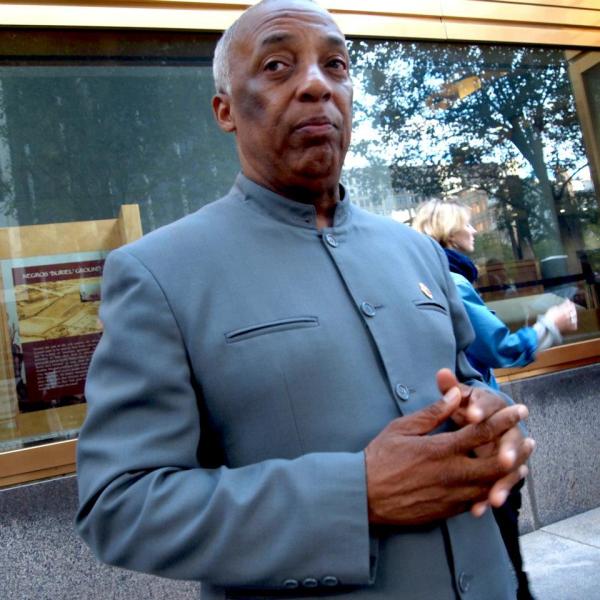 One day during the last of his three terms in the City Council, Brooklyn Rep. Charles Barron—a self-described black radical and socialist representing impoverished East New York—entered the Council chamber and sat down next to Councilman Mark Weprin.
"Hey, how are you doing? How's your family?" Mr. Weprin, who hails from a relatively affluent section of northeast Queens, recalled Mr. Barron asking.
Just a short while later, when his turn to speak came, Mr. Barron rose and launched into a familiar diatribe against the white overlords he believed were ruining the city.
"They all look like this guy!" Mr. Barron said, pointing at Mr. Weprin.
Sitting down moments later, Mr. Barron tapped Mr. Weprin on the knee.
"How did I do?" Mr. Barron asked him.
It was an emblematic moment for Mr. Barron, who for the past 12 years has been among the most flamboyant and inflammatory figures on the New York City political scene—and who, after winning the Democratic primary in September to replace his wife Inez Barron in the Assembly, is about to make his debut on a far stuffier stage.
A former member of the Black Panthers and the National Black United Front, Mr. Barron has gained notoriety for calling Thomas Jefferson a "slave-holding pedophile," for hosting Zimbabwean dictator Robert Mugabe at City Hall, for praising Cuba's Fidel Castro and Libya's Muammar el-Quaddafi and—in overwhelmingly pro-Israel New York—for being not just pro-Palestinian but pro-Hamas. And, at 64, he gives no sign that he intends to tone down his bombast (in fact, in a YouTube video released last fall, he vowed to "bag" Gov. Andrew Cuomo and Assembly Speaker Sheldon Silver on arriving in the state legislature). Meaning if he hopes to be effective in Albany, he will probably have to rely on one of his less remarked-on qualities: his unlikely likeability.
This latter trait, and its contrast with his incendiary antics, is apparent upon meeting him: he greets a white reporter warmly, with a gracious handshake and a smile and a "my pleasure." Moments later, inside his campaign headquarters on New Lots Avenue—home to a tax service in the political off-season—he lambastes the "white media" and its allegedly racist depiction of him.
Sitting across a table in the sparse orange-painted space, dressed in his trademark Nehru suit—his personal protest against the Western institution of the shirt and tie—Mr. Barron laid out his plan of action in the state legislature for the Observer. It sounded much like the one that made him at best a gadfly and at worst a pariah in Christine Quinn's City Council: he intends to vote against the powerful Mr. Silver for Speaker, to pontificate on the floor against the lack of black power in New York and to unite the African-American members of the conference along racial lines.
"It's not going to be 'go along to get along.' My people are dying. They're dying from poverty, they're dying from unemployment, they're dying from killing amongst ourselves, they're dying from police killing us," Mr. Barron said. "I'm getting up there to not accept the way things are. I'm going up there to be radical, to have a straight spine, to speak truth to power."
This strategy seems poised to be even more ineffective in the capital than it was in City Hall, where Mr. Barron's challenges to Ms. Quinn led to him being stripped of his chairmanship of the Higher Education Committee, and landed him near the bottom of the list of recipients of discretionary funds.
Unlike in the City Council, black, Latino and Asian representatives are overwhelmingly outnumbered by whites in Albany. The policies the Assembly handles are far more complex, the media spotlight is dim to nonexistent and members use their time on the floor to make inquiries about the specifics of legislation, not to grandstand. Representatives are not eligible for committee chairmanships until they have served for six years, while freshman members operate with miniscule budgets for their offices and are expected to know their place.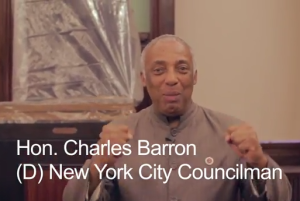 And though the body does not dole out the discretionary funding Ms. Quinn brandished to reward allies and punish opponents, the Assembly functions entirely under the thumb of Mr. Silver.
The 20-year speaker has the power to decide unilaterally what initiatives make it into the Assembly's budget, what pieces of legislation come up for a floor vote, what resources each member receives for his office and even how much money representatives get from the Democratic Assembly Campaign Committee for their re-election bids. And Mr. Barron intends to begin his career in the capital by voting against him.
"Sheldon Silver is not my leader. My leader is Inez Barron," Mr. Barron said.
The latter comment, however, perhaps provides a clue to how Mr. Barron might serve his struggling district even if he alienates himself from the Assembly leadership. Ms. Barron is generally recognized as being just as politically radical as her husband—and also voted against Mr. Silver—but is much more reserved in her manner and well-liked among her colleagues.
"I think they're both very effective at what they do, but she's more class and he's more crass," said Mr. Weprin, who served alongside Ms. Barron in the Assembly, Mr. Barron in the Council and now works with Ms. Barron again in the Council.
As Mr. Weprin pointed out, in Albany, alliances are formed not just along demographic and ideological lines, but over post-session dinners and cups of coffee. The weeks spent away from home in the state capital cultivate a certain esprit de corps—among those members able to make friends, at least.
"There's definitely more camaraderie in Albany between members," Mr. Weprin said. "I don't know who he'll hang out with, but Charles is probably a very entertaining dinner companion."
Even though his approach to politics often infuriated Ms. Quinn and her lieutenants, Mr. Barron has already shown a certain talent for using his personal skills to his advantage. For all his verbal assaults upon former Mayor Michael Bloomberg, his budgets and his appointments, he nonetheless was able to form a relationship with Mr. Bloomberg's Housing Preservation and Development Commissioner, Shaun Donovan, which helped him build the most city-subsidized affordable housing units of anyone on the Council.
"What I didn't get from the City Council, I got from the agencies, because I'm a great leader," Mr. Barron said, noting he also obtained $80 million for schools in his district from the Bloomberg administration and oversaw the refurbishment of three public parks. "And I didn't have to compromise my beliefs, my principles, my politics or my people."
Even politicians on the opposite end of the spectrum from the far-left former head of the Harlem chapter of the Black Panthers have expressed affection for the man.
"You know who one of my best friends in the City Council is? Charles Barron!" Councilman Vincent Ignizio, a Republican representing the rock-ribbed South Shore of Staten Island, declared at the body's final stated meeting of 2013—which served mainly as a retirement party for term-limited members like Mr. Barron.
Even Mr. Weprin said he was not offended when Mr. Barron singled him out as the archetype of the Caucasian oppressor, in part because of the friendly gesture made immediately after the remark.
"He was telling me it was nothing personal," said Mr. Weprin.
"He can be very in your face, but he has a very charming way about him that disarms people," he added. "I think there's a hybrid he could use where he could still speak his mind, still be that entertaining, passionate legislator and still get along with people."
For her part, Ms. Barron predicted that her husband's modus operandi will remain largely the same when he takes her place in Albany in January—but said she does not believe he will have any trouble serving his constituents.
"He's going to continue to be who he is," Ms. Barron said. "I don't foresee any challenges. It's going to just be getting up in the morning and getting on the train and 'O.K., see you at the end of the week.' "