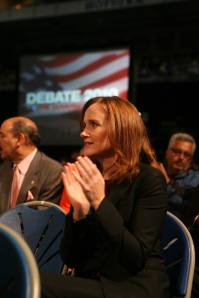 On Friday, October 24, the Observer published an opinion piece by Ronn Torossian about Nassau County District Attorney and Congressional candidate Kathleen Rice's scheduled appearance at the annual fundraiser for the Islamic Center of Long Island. The flyer listed on the center's website advertises her as a speaker along with controversial Imam Siraj Wahhaj. As an unindicted conspirator in the 1993 WTC Attack and an avowed supporter of polygamy, Imam Wahhaj was an uncomfortable adjacency for a candidate who has made women's issues a centerpiece of her campaign and whose district is home to many whose lives were affected by both World Trade Center attacks.
Shams Tarek, director of communications for DA Rice, contacted the Observer on Friday evening seeking an update to the story, explaining that Ms. Rice had only learned of Imam Wahhaj's appearance from the Observer story. His email read, "When the DA accepted the invitation, this individual was not yet an invited participant. He was later added to the guest list and as soon as we became aware of his involvement we immediately pulled out of the event."
Meanwhile, several other news sources picked up the story, including the largest Long Island Jewish newspaper, 5 Towns Jewish Times, according to its editor Larry Gordon. The paper posted a few paragraphs from the Observer story and a link without adding any commentary of its own.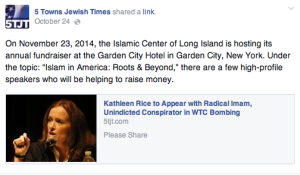 By Saturday morning, Mr. Gordon had received an email from the DA's communications staff claiming the piece was "totally false and needed to come down."
"Call me now so I don't need to get our lawyers involved," the email read, according to Mr. Gordon.
Mr. Gordon communicated that his staff was unavailable and unable to change the article at that moment, believing that it was "no big deal." Especially as Mr. Torossian's original article, which 5 Towns merely referenced, had already been updated to reflect that Ms. Rice had since withdrawn from the event.
A further note was sent soon after, threatening that Mr. Gordon and his publication were "inching toward a lawsuit."
Shortly thereafter, Mr. Gordon updated the story to reflect DA Rice's cancellation, as did many other publications. Nevertheless, Mr. Gordon was still not quite clear of the scrutiny of the DA and her staff. Though Mr. Gordon declined to share the full messages, which included several texts, he told the Observer that he had been contacted every hour for two days regarding the removal of the story.
Mr. Gordon and Ms. Rice both attended a legislative breakfast on Sunday, October 26. There Ms. Rice was emphatic, personally telling Mr. Gordon that his story was completely false–even "libelous." He was told that her staff was pursuing every other site that ran the story, threatening lawsuits.
However, while the Observer was asked simply to update the story (which was correct when published and which has not had its veracity challenged), the 5 Towns Jewish Times–located in the district in which DA Rice is currently seeking election to Congress–was asked to remove the story in its entirety.
When Mr. Gordon spoke to the Observer, he maintained that the Observer Op-Ed, of which he simply published an excerpt, was completely factual when posted. After all, in his email to the Observer, Mr. Tarek admitted, "We first learned about this person's attendance when we saw Mr. Torossian's published column." So obviously, the Observer's story was true; when the facts changed, the Observer acted responsibly and updated the story. Mr. Tarek even emailed the Observer after the update to say, "Thanks very much for your responsiveness."
It is unknown why the DA and her office were so deferential toward the Observer and so much tougher toward other papers that had simply included links to the Observer's story. For his part, Mr. Gordon said, "I do not think that she is a sympathizer of those who support terror by any stretch, I thought that it was just poor judgement to attend the event."
Ultimately, Mr. Gordon capitulated to pressure from the DA's office and removed the article link on 5 Town's website, telling the Observer, "I don't want to be the news. I want to report the news."
Mr. Gordon made his decision. In a week, the voters of the 4th Congressional District will decide if they want someone who threatens newspaper editors to represent them in Washington, DC.