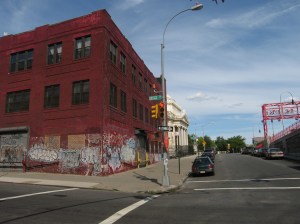 At this point, the fact that Brooklyn is an international brand has been thoroughly and exhaustively demonstrated, the many permutations of Brooklyn chic carefully cataloged in countless blog posts and corporate boardrooms. Numerous Brooklyn neighborhoods now roll off hipster tongues the world over, but none more so than Williamsburg, which is both the borough's shining star and its cautionary tale, the nexus of all that is cool and moneyed and desirable, the place to be at some point in time, everyone agrees, though when exactly is a matter of some debate.
Another point of general cultural agreement: that the neighborhood has been very much overexposed, that this has played a sizable role in the ongoing "Connectification of the neighborhood, and that given the multiplying chain stores, the roving packs of rich European tourists, the seemingly insatiable demand for pricey condos, the many beard oil salesmen and deposed heads of state, this may not be Williamsburg's best moment. Even Vogue, which had only just recently deigned to enter Brooklyn at all, thinks Williamsburg is played out, having passed it over in favor of Bushwick in this year's world's coolest neighborhoods list.
But New York City & Co., the city's official tourism office, thinks that Williamsburg could use a little more attention: the office has selected Williamsburg as October's "neighborhood highlight" for its Neighborhood x Neighborhood campaign.
"Conveniently located near the L and G trains, Williamsburg has evolved into one of New York City's most dynamic neighborhoods, known for its world-class restaurants, one-of-a-kind clothing and jewelry stores, vibrant music venues, several ethnic groups, trendsetting residents and more," writes NYC & Co.
The selection is a bit perplexing, not only have the neighborhood's charms been extensively cataloged by countless media outlets—from Vogue and People to PBS, but Williamsburg was one of the neighborhoods first featured by the initiative a little over a year ago. The campaign even acknowledges that "when people around the world think of 'cool,' many of them picture Williamsburg, Brooklyn," adding that "You've seen it on TV and read about it in magazines."
To be fair, when you highlight a neighborhood every month, you may need to tread some well-worn ground. After all, while St. George or Jackson Heights might still be mysterious destinations for out-of-towners, most of Manhattan's neighborhoods are already famous and many of Brooklyn's are increasingly so. (That, and many outer borough locales are, perhaps, a touch too "real" to suit tourists' desire for pleasant afternoons spent strolling and sightseeing.)
Still, given that the Neighborhood x Neighborhood campaign, which was launched by Bloomberg in March 2013 "to support local businesses and encourage tourism in neighborhoods outside traditional tourist locations across the five boroughs," what's the point of the program if it only draws tourists to neighborhoods they would have visited anyway?
Unless, of course, the city is trying to lure tourists back to Williamsburg. Which seems not completely impossible, as the neighborhood's tarnished reputation is touched on a number of times in the two-and-a-half-minute "inside Williamsburg" video. For example, amidst vague affirmations that "most people who come to Williamsburg are very pleasantly surprised," and "you're buying stuff in a place where it's being made," one local business owner says that "people expect a certain amount of elitism, but I don't really find that to be true."
Then, after an extended montage of Williamsburg institutions like Brooklyn Flea and Maast Brothers chocolate, the video ends with an assertion that neighborhood is still cool. "The old Williamsburg is still here, even though we have all the high rises and the baby strollers and everything," says a musician. "There's still a lot of art, a lot of music, great food and just great people. It still has a neighborhood vibe."
Maybe the fact that the campaign both introduces out-of-towners to Williamsburg and makes the case that it's still cool is just careless marketing. But if it is part of a campaign to transform once-cool neighborhoods into destinations once again, the city should know that image reform is best left to the locals.