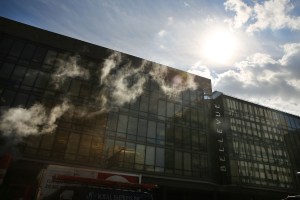 New York City Health Commissioner Mary T. Bassett revealed in a press release that EMS units transported a male healthcare worker with Ebola symptoms to Bellevue Hospital earlier today.
The 33-year-old doctor, identified by The New York Post as Craig Spencer, lives on 147th Street in Manhattan and is reportedly suffering from a fever and gastrointestinal symptoms. He was working in Guinea, one of the three African countries affected by the Ebola outbreak, and returned to the U.S. within the past three weeks.
Because of his work and travel history, hospital workers are treating him as an Ebola patient–he is in the isolation ward at Bellevue.
Crucially, however, he is also being evaluated for salmonella, malaria and stomach flu, since these viruses present the same symptoms. Preliminary test results will be released in the next 12 hours.
The Health Department's "disease detectives" are also monitoring the man's personal contacts–anyone found to be at risk will be quarantined.
Councilman Mark Levine, whose district includes the patient's West Harlem residence, reassured his constituents.
"City, State and Federal public health authorities are responding with the highest possible level of urgency and marshaling every resource at their disposal to respond to this possible case," Mr. Levine said. "I want to reiterate that this has not yet been confirmed as an Ebola case but every precaution is being taken as if it were."
Bellevue is one of the New York City hospitals equipped for treating Ebola patients. Clinical workers at hospitals with Bellevue's designation follow special safety guidelines when caring for those who might have the virus.
The Health Department's press release ends with an important warning.
"The chances of the average New Yorker contracting Ebola are extremely slim," the Health Department said. "Ebola is spread by directly touching the bodily fluids of an infected person. You cannot be infected simply by being near someone who has Ebola."