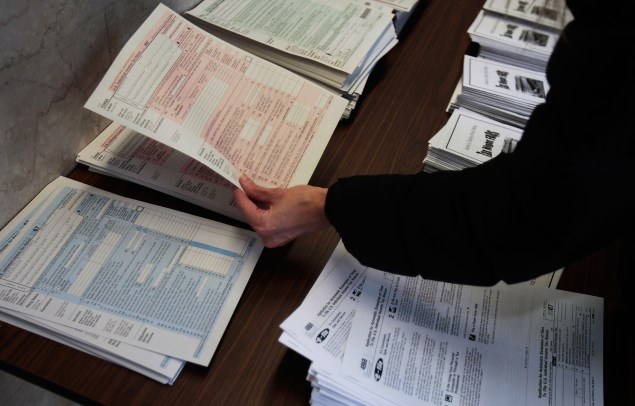 As Johnny Depp said to Al Pacino in Donnie Brasco: "'it's a fugazi … a fake", so too this week New York State is sending so-called tax rebate checks in the amount of $350 to NY families with adjusted gross incomes between $40,000 and $300,000 who had at least one child under age 17 during the 2012 tax year. New York City residents in that tax bracket see more than 40% of their hard-earned money taken by the government. To return $350 and call it a rebate is simply fugazi.
Every check is imprinted with the message: "Dear Taxpayer: Last year's State Budget included this Family Tax Relief Credit. This tax relief is part of New York State's new efforts to reduce taxes." These "efforts to reduce taxes" are conveniently arriving just a few weeks before voters go to the election box to elect the Governor and state legislature. The psychological effects of opening one's mailbox and seeing a check is probably the justification for the State of New York decision to spend 40.6 cents to mail each check rather than direct deposit (as regular refunds are given.).
While the sum total of the rebates will exceed $400 million paid out by the state this year to individuals, the reality is that these New York State checks are a deception. New Yorkers pay absurdly high taxes. For three years in a row during Andrew Cuomo's reign as governor, New York has ranked dead last among the 50 states in the Tax Foundation's annual report; it also has the single worst business tax climate.
Just this week, a new Tax Foundation study found that in New York City, some customers on family-share mobile phone plans pay more than 25% of their monthly bill in various taxes. New York ranked as one of the states which taxed users highest on their mobile bills. That, along with the fact that New York has a high individual income tax, high property taxes and the 2014 State Business Tax Climate Index placed New York 50th (out of 50 States) as a result of the combined high income, corporate, sales, and property taxes.
President Ronald Reagan said it best: "The nine most terrifying words in the English language are: 'I'm from the government and I'm here to help.'" The $350 tax refund checks being mailed out are a ruse designed to prevent people from realizing that New York is an increasingly difficult place in which to live and prosper.
A real adjustment of taxes and the commitment to maintain lower taxes would be more useful and helpful. To most people, these checks will be viewed as they should be: an insult to New Yorkers' intelligence.