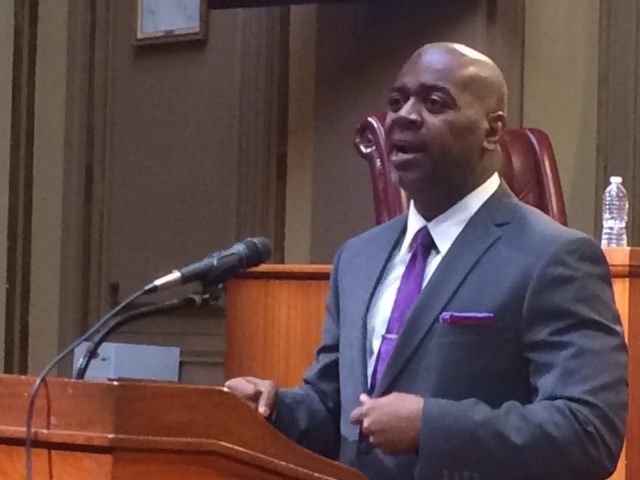 NEWARK – Newark Mayor Ras Baraka set the tone for a press conference on Wednesday highlighting his administration's first 100 days with a simple sentence and a wildlife reference.
"I don't see this as a celebration. I see this as a benchmark," said Baraka to a group of about 40 council members and citizens in the City Council chambers moments before watching a city-sponsored video about the Baraka administration's first 100 days, which was accompanied by a written report. "You eat an elephant one bite at a time."
The elephant in the room in Newark politics was the more than $93 million budget deficit that Baraka inherited in July. Yet Baraka tamed the deficit through a series of measures, including spreading out last year's $30 million operational deficit over a ten-year period. The deficit was also trimmed despite receiving only $10 million out of the $31 million in state transitional aid that the city requested. The city council passed Baraka's amended $800 million budget earlier this month, which will lead to the state Local Finance Board significantly overseeing Newark's finances.
Baraka also noted that the city had put more police officers on Newark's streets, with plans to add more new officers soon, and that the city is actively pursuing more private sector investment to spur economic development.
When asked by PolitickerNJ what he thought is the most important thing the city needs to do in the next 100 days, Baraka was blunt.
"Find some money," Baraka said. "Newark is a very lean government. We have nowhere to cut. What we can do is become more efficient. We can save money on things like contracts and procurement. We also have to religiously go after our payroll taxes and parking taxes. We have to renegotiate our relationship with the Port Authority to bring more revenue into the city. We have to put more cranes in the air and get more people to invest and build in the city, which means more property taxes coming in. If we don't, we're going to have to deal with this problem every year."
Baraka detailed some problems he has dealt with since taking office in order to make a broader point.
"We knew that we were coming into a very difficult situation. We came in with a $93 million deficit. We came in with the Department of Justice saying they were going to take over the police department. We came in with this whole One Newark [school reorganization plan] fiasco," Baraka said. "We haven't had an opportunity to really govern. All the things that you've seen that we're doing is really trying to get our footing. I'm excited because of what we've been able to do in an extremely short period of time because people were committed and they felt a sense of urgency to get things done. I love a good fight, you know that."