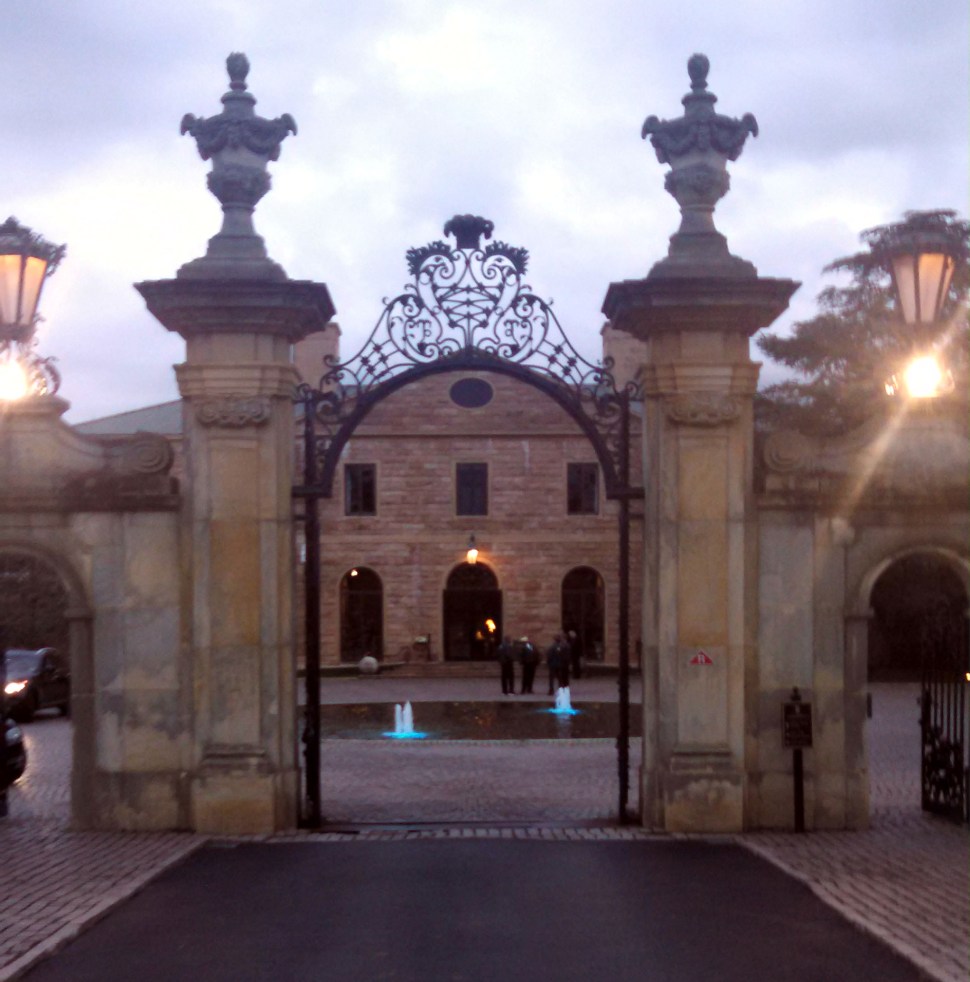 The last straggling golfers of the afternoon made their way in off the rolling green, clubs in hand, just as the black Escalades and Cadillacs arrived to dump parties of formally-dressed pols onto the cobblestone driveway and into the front door of the clubhouse.
Inside, they mozied about in a reception room over drinks and horderves as a duet of violinists played vigorously in the corner. By seven o'clock most had migrated into the main banquet hall, where white-clothed dinner tables crowded the floor.
At the front over the room, a blue banner hung delicately over the stage, emblazoned with the words "New Jersey Democratic State Committee."
Dozens of the state's top Democrats, and others, too, turned out for the NJDSC Chairman's Fall Gala at the TPC Jasna Polana tonight in Princeton, an event held in honor of past committee chairs.
It was also an event, however, that carried a palpable air of concern for the future of the party.
Discernible among the roomful of faces were county chairs and executives from across the state, including Mercer County Executive Brian Hughes and Middlesex County Chairman Kevin McCabe, and assembly people like Linda Greenstein (D-14) and Gary Shaer (D-36). Trenton Mayor Eric Jackson was also in attendance.
State Senator Raymond Lesniak (D-20), one of the former chairs honored during the event, gave a short but impassioned speech titled "Why am I a Democrat?" in front of the room.
"I'm a Democrat because I believe animals are creations of God and should not be treated cruelly. I'm a Democrat because I believe social justice requires that we no longer incarcerate more residents per capital than any other country in the world," were just two reasons he offered in answering the question.
Campaign signs for U.S. Senator Cory Booker (D-NJ) and state Sen. Bonnie Watson Coleman (D-15) studded the lawn outside the clubhouse. Both were in attendance as they prepare to face election in November.
Newly-minted Union County Sheriff Joe Cryan arrived early.
Then there were the four "gubernatorial candidates," as one guest noted. Jersey City Mayor Steve Fulop was there, as was Assemblyman John Wisniewski (D-19), whose name seems to be in the mix more and more these days when it comes to talk about the future of the state's top executive post.
Conspicuously absent from that group was Senate President Steve Sweeney (D-3) and Goldman Sachs alum Phil Murphy, both of whom had prior engagements.
But all four underwrote tables for the event, according to a source.
Tickets went for $1,000 a piece, and the event raised some $300,000 for the party.
A full list of the NJDSC chairs honored at tonight's gala is as follows:
James P. Dugan – 1973-1977
Richard J. Coffee – 1977-1981
Raymond M. Durkin – 1985-1990
Raymond Lesniak – 1992-1994
Tom Byrne – 1994-1997
Thomas P. Giblin – 1997-2001
Joseph J. Roberts – 2001-2002
Bonnie Watson Coleman – 2002-2006
Joseph Cryan – 2006-2010
John S. Wisniewski – 2010-2013