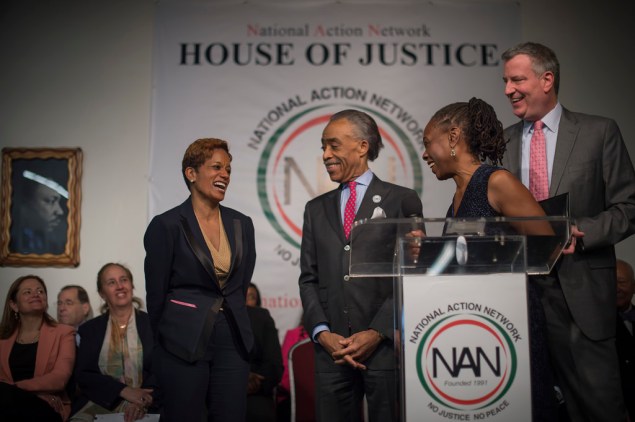 Rachel Noerdlinger did not report living with Hassaun McFarlan on her Department of Investigation background check, a City Hall spokesman confirmed today — but will not be punished beyond a note in her personnel file.
"DOI has delivered to the Mayor's Office the final results of its review, which is now complete.  The inquiry found that Ms. Noerdlinger failed to reveal on her DOI Background Questionnaire that Mr. Hassan resided with her. DOI found no evidence of intent to deceive the Mayor or City Hall," Phil Walzak, a spokesman for Mayor Bill de Blasio, said. "Given these findings, and that City Hall takes seriously the importance of the DOI Background process and questionnaire, City Hall has noted this omission in Ms. Noerdlinger's personnel file and believes no further punitive action is necessary."
Ms. Noerdlinger, who earns $170,000 a year as chief of staff to First Lady Chirlane McCray, has been under scrutiny in recent weeks after a story in DNAinfo revealed Mr. McFarlan had been convicted of fatally shooting a teenager over a down jacket as a teen himself, and later charged as an adult with drug trafficking crimes.
Such relationships are typically reported during the hiring process, but reports emerged last night that Ms. Noerdlinger had not noted on her background check that she lived with Mr. McFarlan, which Mr. Walzak's comments today confirm. When those stories first emerged last night, however, Mr. Walzak said the mayor's office was unaware of any investigation into Ms. Noerdlinger.
Since the first DNAinfo story emerged, other publications have noted risqué online postings from Mr. McFarlan about sex and violence and Ms. Noerdlinger's son's Twitter posts bashing white people and police, and have raised questions about a waiver she received to continue living in New Jersey. The Observer reported yesterday that Ms. Noerdlinger was hit with a $28,000 federal tax lien.
The administration has stood by Ms. Noerdlinger, with Mr. de Blasio saying he had "full faith" in her and that she wasn't responsible for her boyfriend's words.