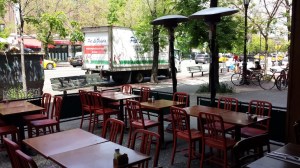 After an unidentified man crawled out of a subway grate to toss a road flare at West Village hotspot Bar Pitti, sources told the New York Post that police are combing through sites like Yelp in the hopes of linking the culprit (and potentially peeved patron) to an angry review.
Whether or not it turns out the smoke-bomber is a criticism-gone-too-far type of guy, the cops are in for a journey: one glance at Bar Pitti's Yelp page shows scores of disgruntled customers deeming the service the worst they'd ever experienced.
The long read is sure to lighten up the investigation with gems like, "I have been treated better at McDonald's," "Even the good reviews say the service sucks–why are you paying people to be rude to you?" and, "The best way to describe how I felt was a cattle drive."
The man disappeared back underground after throwing the flare. According to the New York Post, police are also interviewing area-prone homeless people, including those known to wander the tracks, and MTA workers are in search of potential witnesses.