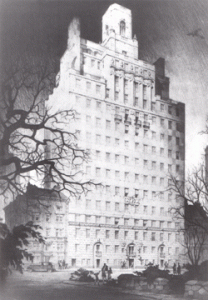 Airbnb has a new foe, Crain's reports: real estate megafirm the Related Companies, which has been telling its property managers to keep an eye out for residents using the service and even considered offering $500 gift cards for identifying culprits (a boon that was ultimately eliminated, perhaps because the company realized it would have been buying a whole lot of gift cards). Though few landlords are fond of their tenants turning apartments into de facto hotels, Related is also professes to be worried about losing millions of dollars in "favorable discounts in tax credits and bonds for buildings and maintaining rent-stabilized apartments."
Another non-profit has decided to cut and run from its stunning home: the Queen Sofia Spanish Institute is listing its longtime home at 684 Park in the hopes of snaring a buyer willing to pay $48 million, The New York Times reports in an "exclusive" that the Post, alas, caught wind of first. Too bad that $48 million does not cover the renovation budget, a significant amount of which, per The Times, "would be required to return the structure to its original incarnation as a grand residence… as well as upgrade the mechanical systems."
Something else the Post caught wind of: New York Jets owner Woody Johnson whisper listed his duplex at 834 Park Avenue for $75 million and bids closed this week. Two years ago such a price would have seemed insanely ambitious. Now it just seems normal. So it goes here.
There will soon be an "Arrogant Swine" in Bushwick, DNAInfo reports. And for those who already think Bushwick is overrun with arrogant swine, this one, thankfully, will offer beer and cuts of barbecued pork. True, Brooklyn needs another bbq and beer emporium like it needs another trustfunder, but it's a relief to read about a bar discussing its drink repertoire in language like "brown liquids."
Speaking of brown liquids… you know those annoying people who like to point out how much money you could save or donate for the same cost of a daily cup of coffee? You should continue to ignore those people unless you, like software programmer Rafael Lozano, are attempting to drink coffee at all the Starbucks in the world. According to Eater, Mr. Lozano has spent some $100,000 visiting 11,733 Starbucks. And he doesn't even like Starbucks coffee! Though like everyone else in the world, he is a big fan of the bathrooms and wi-fi. But as Eater points out, if you're going to drink Starbucks anyway, which most of us do, why not see the world?
Similarly, why spend your hard-won billions on a boring condo at One57 or 432 Park when you could buy a 196-foot yacht with a water garage for speedboats that doubles as a indoor ocean pool? After ogling the pictures of this pleasure craft on the Daily Mail, we couldn't help thinking how low-rent it was to worry about dull things like depreciation. Ships ahoy!
But what of those with champagne tastes on a beer budget? The Wall Street Journal recommends mansion hunting in cities like Detroit and Toledo, where $500,000 can go a very long way. The problem, of course, is that a life of luxury is constituted by more than a house. That, and those who pour hundreds of thousands of dollars into fully restoring a home often find that they've effectively priced themselves out of the resale market.
For those who can't afford to buy at all, let's hope that San Francisco-based consulting firm BAE Urban Economics, which the HDC and HPD just tapped to help them crunch the data on which neighborhoods should be targeted for inclusionary zoning initiatives, does a good job. According to Crain's. the firm will be tasked with analyzing real estate markets in different neighborhoods and drawing up prototypes for mandatory inclusionary zoning, which will require developers who take advantage of higher-density zoning to build a set percentage of affordable units.
Also: Goldman Sachs Urban Investment Group, which was headed up by Alicia Glen before she was deputy mayor and has made possible such projects as Jonathan Butler's Crown Heights beer garden, food truck and maker mecca 1000 Dean, announced in a release today that they will be launching a $75 million investment fund with BPR Companies to develop mixed use properties in New Jersey and New York.
Last of all, it's Friday, so why not get some free gin served by people in Victorian costumes at a pop-up speakeasy/corporate branding event at Chelsea market? Oh, right, because it's a corporate branding event held at Chelsea market.