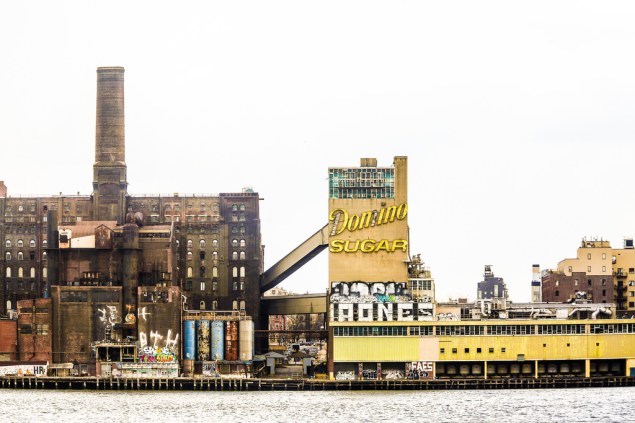 Two Trees is planning to start construction on the first building at the Domino Sugar factory redevelopment this year, according to DNAInfo. The building will rise on Kent between South Third and South Fourth and is slated include 100 affordable apartments with rents from $553 to $703 per month for studios, available via lottery to those making 40 to 50 percent of area median income, or approximately $20,000 to $30,000, with preference given to locals.
That said, the projected 2017 completion date may be overly optimistic if locals manage to block Two Trees' bid to get permits for Saturday construction at the site. As DNA reported, they're circulating a petition begging the DOB not to grant weekend work permits. One neighbor noted, "It's half your weekend for a decade. That's crazy."
Further inland, development is afoot at the site of Bushwick's Rheingold Brewery, six blocks that were rezoned for residential development at the end of Bloomberg's term. YIMBY reports that plans have been filed for a 8-story, 365-unit residential development, 123 Melrose, which would rise on the Southernmost block.
Nobody likes to pay rent, least of all hotelier Sam Chang, who just dropped $16.5 million to buy the land beneath his Holiday Express on West 48th, according to Crain's. Previously, Mr. Chang had paid a 99-year ground lease for which he paid rent. Notable: the deal was brokered by Douglas Elliman's new commercial division.
It's also the end of monthly rent checks for fashion designer Elie Tahari, who, after four years of renting at 15 Central Park West just spent $25.5 million on a rather boring five-bedroom combo, Curbed reports. Most recently owned by Mexican businessman Fernando Chico Pardo, the combo is done in the tasteful, impeccably beige manner of the building's other units and features a sizeable terrace, though not one with very impressive views.
Ryan Serhant of Million Dollar Listing fame clearly prefers to own as well and just paid a bit more than a million—$3.7 million, in fact—for a petite three-bedroom penthouse (1,800 square feet) at the Renwick Modern at 22 Renwick in Hudson Square, according to The Real Deal. When reached on the phone, Mr. Serhant unsentimentally noted that he's always been bullish on the area and that "you bet on the future, not on today."
As for the future of Clinton Hill's real estate market, things are looking up (or down, if you don't number among the very wealthy): a free-standing house at 86 Cambridge Place has just set a new neighborhood record at $4.1 million, according to Curbed.
But in Bloomberg, Megan McArdle argues that the New York luxury residential market is headed for a cool down, with the supply of super-luxe residences finally catching up to the market demand, which has been unusually strong these past few years because of the lack of new construction during the recession. And after the feeding frenzy of the last few years, we're now on the verge of a glut. This should, at least, lead to somewhat saner prices on the high end.
Crain's argues that the MTA's planned 4 percent fare increase for next year is too modest given the $15 billion gap in the agency's capital funding plan. But for the riders who have to pay the sizeable fare increases each year (monthly metro cards have shot up from $89 in 2010 to $112 today), many of whom do not have access to non-public means of transportation, 4 percent is no small thing.
Silver lining: at least New Yorkers who work for companies with more than 20 employees will be able to get federal transit tax benefits, after the City Council approved a new bill today, according to The Wall Street Journal. Employers will be required to give employees access to pre-tax benefits, which cost nothing directly for the company, though some have complained the program will be an administrative burden.
Former Parks Commissioner Veronica White, who served briefly under Michael Bloomberg, has taken to the former mayor's website, Capital New York reports, to hit back at the de Blasio administration's claims that Bloomberg neglected non-marquee parks. "The Bloomberg administration made $5 billion in capital investments in parks, the largest capital investment in the city's history, with the vast majority invested in the Bronx, Queens, Brooklyn, Staten Island and Northern Manhattan," Ms. White wrote.
A reminder that building security is important: A Lower East Side man woke up to being beat in the head with a hammer, after an intruder broke into his ninth-floor apartment at 160 Madison Street, DNAInfo reports. The perpetrator eventually fled and the victim is in stable condition.
And finally, for intruders of the spiritual variety, Curbed has a map guide of Ghostbusters locations. It's about time!