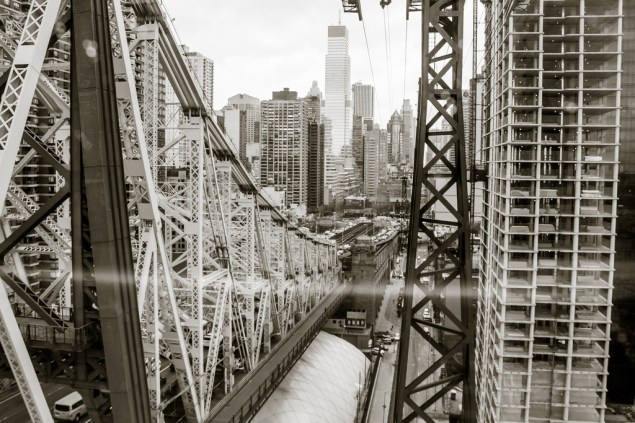 "New Yorkers cannot live in a percentage," Crain's editorial board argues, endorsing the 20 percent affordable/no subsidy mandatory inclusionary rezoning plan that the de Blasio administration is expected to soon make official. Quoting deputy mayor Alicia Glen, they argue that mandating percentages of up to 50 percent might mean that no new units get built, market or affordable, and that the only way to hit the mayor's 80,000-unit target is to encourage more construction broadly and spread out the subsidies.
As for worries that Russian oligarchs will be taking up residence in East New York? The New York Times reports that some developers are backing off the super luxury market, fearing that it doesn't run deep enough to justify many more $20 million-plus units. Still, it's not as though anyone is anticipating a sharp shift toward units the middle class might afford: i.e. Aby Rosen's "modestly priced" units rising on Lexington Avenue will run $8 million to $10 million for studios to two-bedrooms. Prices that a moderately wealthy European monarch could afford!
Speaking of incredibly wealthy pied-a-terre buyers, would a mansion tax wreck havoc on Manhattan's real estate market? The Wall Street Journal looks at London, where a proposed tax has been floated for some time, and reports that there is anecdotal evidence of some deals falling apart over fear (as, apparently, at least one in New York already has). But the Journal reports that uncertainty about a tax can actually be more harmful than a real tax:  When a set of lesser taxes on luxury properties was implemented in England, the market quickly resumed its normal roar: "A lot of people just regard the London market as such a good investment that even with a bit of tax on it is still pretty good." Besides, if both London and New York raise the tax rates at the same time, those in search of an incredibly stable, top-tier global city's real estate market to keep their cash might not have all that much choice.
For those lucky enough to actually be living in a super-cheap apartment—say, a rent-regulated one-bedroom for $800 a month overlooking Central Park—should you bug the landlord to fix stuff, or just be incredibly quiet and never ask for anything in the hopes that they never remember that you're there, paying way, way below market rate? Gothamist has the answer! If you actually live in a rent-regulated apartment, ask away, it's your right! Just try to avoid taking the landlord to court. And if for some reason the landlord is just giving you insanely cheap rent and the unit is not stabilized, keep very, very quiet.
Especially important now that firehouses in Williamsburg—albeit very cool ones with nice air rights and mixed-use zoning opportunities—are asking $6.4 million, as Curbed reported.
A landlord is trying to evict a tenant in a $4,477 Upper West Side apartment for renting out her apartment on Airbnb, according to the New York Post. The thing is, the woman sounds like a model host: she not only remains in one of the apartment's four bedrooms when guests come to call, but provides them with maps, wi-fi, snacks and fresh linens for a reasonable nightly rate. Thing is, the landlord says that it's a violation of her lease—and claims that she's making some $8,000 a month—setting up a case that could be a true test of whether Airbnb can withstand New York City landlord tenant law. (And as Gothamist notes, it will also be a real test to see if Airbnb rises to her defense.)
The MTA's $32 billion capital improvement plan has, not surprisingly, been rejected by a state review board, the New York Post reports. The plan, though approved by the MTA board, had one major flaw—the absence of $15.2 billion and not much of a strategy to raise it.
Also requiring some more thought and planning, argues The Atlantic's City Lab: embracing the growing diversity in America's suburbs rather than shrinking from the realities presented by the demographic trend.
A Swedish coffee chain to rival Starbucks? Crain's reports that Fika, which opened its first location in 2006 and specializes in handmade chocolates and espresso, has already doubled its number of locations from 5 to 10 so far this year, and is planning to open another two outposts this month and three more in November.
Starbucks certainly has enough enemies, among them the owner of independent cafe The West in Williamsburg, who according to DNAInfo, has started a petition to try and stop the chain from opening an outpost that serves beer and wine: "I can imagine Starbucks coming in there and creating Starbucks beer garden, a Starbucks sports bar," the proprietor told the paper. Which seems to be exaggerating more than slightly when it comes to a chain that has never even embraced non-pre-made food, even if the idea of a Starbucks bar is horrifying.
In related news, DNA reports that vegan eatery Champs is also trying for a liquor license, though not at the Ainslie location where it's already a persona non grata with neighbors. The owners want to move the restaurant to Meserole, turning the Ainslie location into a grocery. The only problem is that Meserole is just as quiet and residential as Ainslie.
Finally, The Real Deal has a fun round-up of six lost mansions in Manhattan that long ago met the wrecking ball.