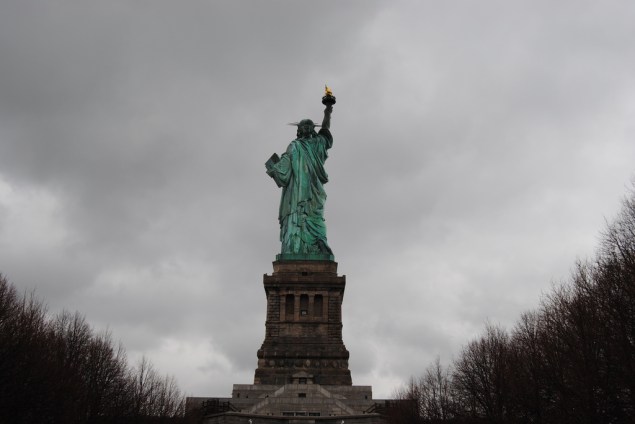 JPMorgan Chase has dropped its bid to get more than $1 billion in city and state subsidies for relocating its east side headquarters to Hudson Yards, according to The New York Times—an attempt that was roundly mocked since being made public last week, given the bank's assurances that it wouldn't lay off too many people in exchange for receiving unheard of subsidies to relocate to a site that already had pretty lavish public subsidies—$600 million in tax breaks.
Two years after Sandy, The Wall Street Journal sums up the situation in hurricane-ravaged neighborhoods as "it hasn't been easy to start over somewhere else. It hasn't been easy to stay, either." There are currently 14,000 applicants to the city's Build it Back program, with 800 homes under construction and 1,000 reimbursement checks having been mailed.
Red Hook was also seriously damaged by Sandy, but the neighborhood's real estate prices seem to have recovered and then some. BuzzBuzzHome reports that New York Dock Building conversion 160 Imlay has 49 of its 70 units in contract a month after unofficially hitting the market, apparently settling once and for all the question of whether Red Hook can support luxury housing—long walks to subways and history of flooding be damned!
While we're doing a tour of the boroughs: more than half the city's illegal subdivision and apartment conversion complaints come from Queens, according to DNAInfo, prompting more aggressive enforcement of the DOB. Though it should be noted that while a crackdown may be warranted, the city has pledged to look at ways of legalizing so-called "granny units"—accessory apartments in the attics or basements of single-family homes which provide a good deal of the city's illegal affordable housing stock.
Continuing on to the Bronx: an undiagnosed case of sleep apnea led to the fatal Metro-North crash in the Bronx last year, according to a just-released report by the National Transportation Safety Board, The Journal reports. Other less serious crashes were attributed to the lack of a track maintenance program and prizing punctuality over safety on one of the busiest commuter rail lines in the country, federal agencies found.
Finally, we've made it back to Manhattan. You may have wondered how One Trade Center intends to make a quarter of its revenue off tourists. Now we know: adult ticket prices for One World Observatory—the observation area occupying a small, prime spot at the top of the building—will be $32, reports DNAInfo.
Speaking of tourists, it's about time we check in with what people are saying about "Welcome to New York" and Taylor Swift, recently-arrived rich girl and perhaps befittingly, new New York's ambassador (as the Village Voice put it, a fitting ode for the transient oligarch class taking over our fair island). The Times has a wrap-up of what everyone's saying about appointing a bland out-of-towner as ambassador of our fair city. Should we care that Ms. Swift doesn't represent actual residents when it's tourists she's appealing to? As Brooklyn Mag wrote, "This is a campaign for visitors. And if anything, it's kind of a great thing that she's forcing us all to admit what the fetishization of this city actually looks like: a bland, boring version of what is actually still a vital, exciting place." Or does the selection of Ms. Swift represent something deeper and darker about the nature of New York now?
But besides an abundance of lattes and absentee oligarchs, Bloomberg also left behind some undeniably positive changes, namely, a legacy of improving and building parks—a broad vision for greening the city, if a controversial one. In The Times Michael Kimmelman takes Mayor de Blasio to task (and rightly so) for the meagerness of his parks vision, pledging $130 million to tiny community parks, $80 million of which was already set aside for such parks by Bloomberg. Calling out the move as a bid to score political points rather than a real plan to bring poor neighborhoods much better access to green space, Kimmelman argues that the city's residents, most especially its poor residents, deserve a real plan.
Sick of New York at this point? Why not move to Connecticut, where you can buy an impossibly quaint ghost town in Moodus for a mere $800,000 (or, at least, that's where bidding will start at an upcoming auction)? As Gothamist notes for Gilmore Girl fans, this is basically Stars Hollow.