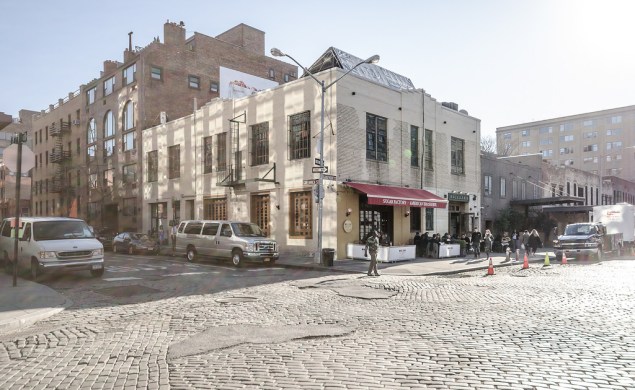 Developer Ashkenazy Acquisitions wants to replace the public space atrium at the base of the Bel Canto condo by Lincoln Center with retail, DNAInfo reports, complaining that the atrium is being used by a large number of homeless people in an application to Community Board 7. But even if homeless people do use the space, "homeless people actually inhabit the earth and they have to be somewhere," Richard Asche tells the website. "We didn't view that as a reason for eliminating the space."
Nor does the city lack for retail options, with the Meatpacking District turning into an ever larger mall: two new retail stores are slated to open at 345 W. 14th Street, Crain's reports, with Columbia Sportswear opening up a namesake store alongside an outpost for Sorel, its boot line. "West 14th Street is well on its way to becoming sportswear row. Lululemon Athletica, Patagonia and Ugg all have shops nearby. Asking rents in the area range from $350 to $400 a square foot," the paper notes. R.I.P. Meatpacking.
New Yorkers love shopping! Except when it comes to grocery shopping: Amazon is launching its grocery delivery arm in Park Slope, according to Crain's, promising same-day delivery for orders made before 10 a.m. Convenient, yes, but will Park Slope, of all places, really want to increase truck traffic, congestion and idling engines on its picturesque streets. Besides Fresh Direct, Fairway is also looking to pair with Google.
But can you get bottled water branded with the face of John Catsimitedes delivered by Amazon? Which Brooklyn Heights Blog notes is $2 more at the local Gristedes than other locations, removing any doubt that Brooklyn Heights residents are getting even more ripped off than other Gristedes customers.
The Real Deal is not impressed with the design of Two Trees' 60 Water Street. According to TRD, the project "seems to be channeling the anonymous and anodyne four-square white-brick mediocrity of 50 years ago. The present project consists of two fairly low-lying and interconnected slabs that make not the slightest effort to prepossess the viewer."
Might we add that we are not very impressed with the design of the new residential building slated to rise at 538 Union Avenue. Curbed spotted the teaser site for the development, which looks thoroughly unremarkable but for the fact that two bedrooms are to go for $1 million.
Speaking of residential development: dozens of Brooklyn churches are looking to sell their land, hoping the deals will keep their congregations afloat as well as potentially adding affordable housing to their neighborhoods, according to DNAInfo. A recent summit for churches interested in selling hosted by the Brooklyn borough president attracted hundreds of attendees and over the past two decades more than 20 historic Brooklyn churches were shuttered.
So much for the city getting tough on slumlords—The New York Post reports that the two landlords topping the public advocate's worst landlords list received more than $3.5 million in city and federal subsidies last year. (At least some of which appears to have come through the Section 8 program.)
Elle Macpherson has sold her Upper East Side pad for $2.4 million, also according to the Post. She bought the two-bedroom turned capacious one in 1993, but her broker says that "she is spending most of her time in London these days."
This looks great: the Bowery Boys have a podcast of four Brooklyn ghost stories, from the era before the borough was hipster heaven, back when it was a place of "old stately mansions and farms, with railroad tracks laid through forests and large tracks of land carved up, awaiting development."