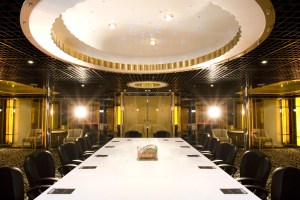 There's a new VIP club in town, and no, you won't have to wait on any lines or have a swank connection to get in.
Backer Cub is a private community for Kickstarter's most active and influential backers. Membership is limited and the admittance criteria is high, but if you've backed 50 or more projects, you just might be welcome.
"We are Kickstarter enthusiasts and are the 'sneezers' of the crowdfunding world," the site reads. "We are the first ones to back projects and most eager to share great ideas. We love innovation and cutting edge and creativity. We are the backbone of the crowdfunding world."
While 50 projects backed is the minimum to get in, the group is actually aimed at those who have supported hundreds or thousands of campaigns.
Membership to the free club — which will officially open its gates and begin accepting applications soon — comes with a number of perks. Members get early notification of upcoming campaigns, early access to campaign previews prior to launch, and are eligible for special rewards such as reduced rates and free add-ons. Since members can see campaigns before they officially launch, they also provide creators with early feedback to let them know what kinds of rewards and options backers would be most interested in.
These are only the base-level rewards available to those who join the community with a rank of "Crowdfunding Tenderfoot," meaning they've backed only 50 or so projects, rather than hundreds or thousands. As a Tenderfoot backs more campaigns and moves up in the community, more privileged opportunities become available.
Considering that a Kicktarter investment doesn't come with a stake in the company and backers usually make off with nothing more than an early-bird product and a T-shirt, it seems strange that so many people would invest time and money into hundreds or thousands of campaigns — but Kickstarter told Betabeat that 24,172 users have backed 50 or more campaigns.
Kickstarter isn't at all affiliated with Backer Club, but a spokesperson for the crowdfunding site wasn't surprised to find out the club exists. So many people are so obsessed with backing Kickstarter campaigns, that someone actually created a Kickstarter for a documentary about people addicted to Kickstarter.
An interesting fact, though, is that one of the Backer Club's creators has only backed 43 projects himself. Will he make it past the velvet rope? Only time will tell.